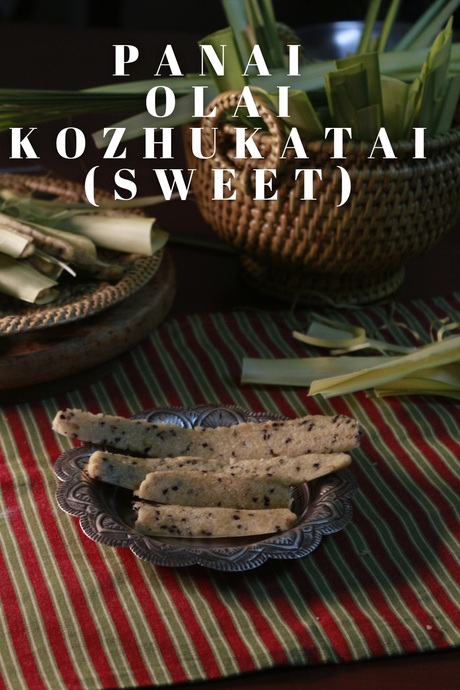 panai olai kozhukattai - a delicious and traditional recipe which is famous in Kanyakumari, thenkasi and Tuticorin districts. Tender leaves of palm is used to make this recipe. For sweetness palm jaggery should be used. Nowadays, depends on availability plain jaggery can also be used.
Steamed palm leaf dumplings is a special recipe to make during karthigai deepam and mahasivarathiri. I prepared this panai ola kozhukattai for sivarathiri this year.i used moong dal to make this kozhukattai. In authentic recipe, green gram should be roasted and powdered before adding in flour.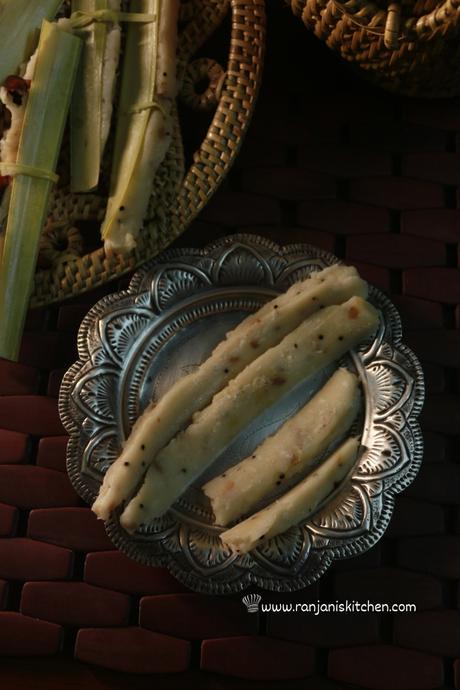 I recommend to make this olai kozhukattai recipe using tender palm leaves. So that the aroma will be good along with palm jaggery. I tried this savoury version with my own measures. I thought to try and taste how it comes. Luckily it came out really well so you can try that as well.
What is the shelf life for this sweet olai kozhukattai?
this nellai special recipe will last good in room temperature for a day. I would not recommend storing this recipe further.
Check out these kozhukattai recipes also
how to make panai olai kozhukatai:
To make panai olai kozhukatai, wash the palm leaflets and separate the leafelets from rachis as in video and picture.
Select tender ones to make kozhukatai. Cut them in to medium pieces. Make threads using the leaflets itself to tie the kozhukatai.
To make sweet dumpling, roast the flour if you want or else you can use it as it is.
Roast moong dal, sesame seeds and coconut separately and keep aside.
Prepare jaggery syrup by adding water in jaggery , allow it to boil and filter the syrup.
In a mixing bowl, add the flour, sesame seeds, moong dal, coconut , cardamom powder,pinch of salt and mix well.
Add jaggery syrup gradually and knead to a smooth dough.
Take small portion of the dough and fill in palm leaf as in picture and video and tie with the thread we made using palm leaflets.
Steam in idli pot for 1o minutes. Once done cool down and serve.
To make savoury dumpling, heat a wok, add oil, season with mustard seeds, red chilies and curry leaves. Add some pinches of hing.
To this seasoning, add coconut and stir well.
Add 2 cups of water and salt.allow it to boil.once the water starts boiling, add the flour gradually and make a dough.
Cool the dough and fill in palm leaflets and tie it. Steam for 10 minutes and serve hot.
(Visited 7 times, 7 visits today)