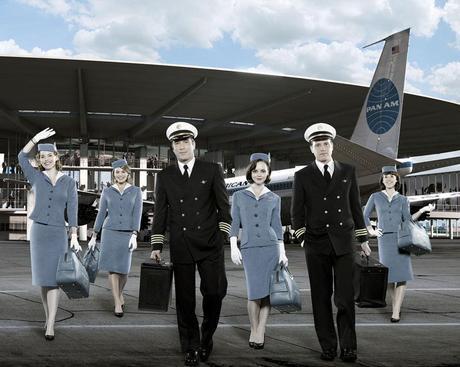 Pan Am is a new fall show that premiered on ABC a couple weeks ago and follows the lives of stewardesses and pilots working for the largest international airline during the 1960s. The women live a privileged life, jetting off to exotic locales each week, like London, Paris and Berlin, experiencing some of our country's most significant historical events.
While the storyline is clearly embellished for dramatic effect--and to please viewers--there is some truth in the series. The uniforms, daily attire and plane design are extremely accurate, proving that the shows' producers did their homework. Another aspect of the industry's history that the show touches on is the high standards that stewardesses had to meet, especially when it came to their appearance. They had to be a certain size--and that wasn't because the planes had a weight requirement--and were weighed every week to make sure the numbers on the scale did not inch up. Stewardesses were more than crew members who brought travelers meals and assisted them in boarding, they were objects to be looked at, especially from the successful business men sitting in first class. They had to be classy, sophisticated and always prepared, beacuse at every moment they were in uniform, they were representing Pan Am.
Apart from the period-appropriate outfits, settings and behaviors, the show also gives viewers today a glimpse into a completely different time for our country, when planes were considered a luxurious way to travel rather than just another commute to get through; when the Cold War and Communism were the main terrorist threats to America; when there was no such thing as a cell phone and people still wrote letters and postcards to stay in touch.
Perhaps my infatuation with the show is that each week they get to go somewhere else, somewhere new and exciting. It makes me envious of the stewardess lifestyle, because they get to see all these places I may never visit. Obviously, the life of flight attendants today may not be as glamorous as it was back then, but that's what I love about it, I can escape to another world for an hour each Sunday night, exploring the world with these women as they deal with their own personal dilemmas. I will admit, it has become my new guilty pleasure.