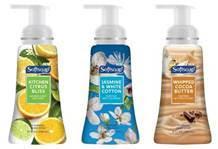 I just love having fragrant hand soaps next to the sinks in my bathrooms. Every time one gets empty, I get excited about putting out a new one with a different scent. I love trying various soaps and noticing how wonderful my hands smell after being washed. Recently, I had the opportunity to try a new line of hand soaps from Softsoap. The Fragrant Foaming Collection features three scents:
Jasmine and White Cotton: Impress your guests with the fresh scent of jasmine and white cotton. Its airy aroma makes every hand wash sparkle, while lush foam gently purifies the skin. I have this soap in my guest bathroom, and my parents remarked how much they loved it during a recent visit.
Whipped Cocoa Butter: Pamper your skin with the rich foaming lather infused with real cocoa butter extracts. The decadent scent of whipped cocoa butter makes every hand wash a treat. This one smells so yummy! It's like a tropical vacation!
Kitchen Citrus Bliss: Awaken your senses and brighten your home with the crisp, sun-drenched scent of Kitchen Citrus Bliss. Its vibrant aroma invigorates every hand wash, while lush foam gently cleans and soothes skin. I placed the Kitchen Citrus Bliss soap at the sink in my laundry room because it goes well with the lemony scent of my cleaning products!
My kids love foaming soaps because they're so much fun to pump into their hands and really build up a good scrub! If you have trouble getting your kids to wash their hands, try foaming soaps like those from Softsoap. And with their beautiful bottles, they make an impressive display in the bathroom for visiting guests. You can purchase Softsoap's Fragrant Foaming Collection nationwide at stores like Target, Walmart, CVS, Walgreen's, Kroger, Rite-Aid and more. Learn more HERE.

Disclosure: Sample products were provided to me by Colgate-Palmolive for review purposes. All opinions are 100% my own.