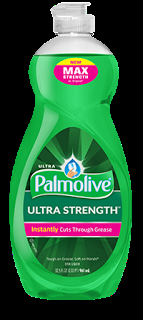 When I think about Palmolive dish soap, the first thing that comes to mind is grease-fighting power while being gentle on the hands. For years, people have known that Palmolive does a great job of cleaning your dishes, but won't give your hands a harsh workout. So, while Palmolive dish soap was always great, Palmolive has actually managed to make their product even better with 20% more active ingredients to battle grease, while still leaving your hands soft.
We have a dishwasher, so I naturally put many of our dishes in there to be cleaned, but none of our greasy pots and pans are allowed in the dishwasher. Therefore, our family needs a product that makes the dreaded chore of cleaning cookware as easy as possible. Thanks to new Palmolive Ultra Strength Dish Liquid, clean-up is a breeze after making a delicious dinner. All of our greasy pots and pans clean up beautifully with Palmolive, and it dissolves the grease quickly and easily.
Palmolive Ultra Strength Dish Liquid comes in five sizes, so it's perfect for anyone, from the single apartment dweller to the large family. It's certainly been perfect for our family! If you haven't tried Palmolive Dish Liquid for a while, or if you're already a fan, I hope you'll pick up the new Palmolive Ultra Strength Dish Liquid and give it a try! I think you'll be impressed by its cleaning power!

Disclosure: I received a complimentary product sample to facilitate my review, but all opinions are 100% my own.