These Paleo Chocolate Melting Cakes are incredibly gooey, rich and chocolatey! This easy, five-ingredient recipe is a healthier take on Carnival's Chocolate Melting Cake. You'll love the melting, gooey center!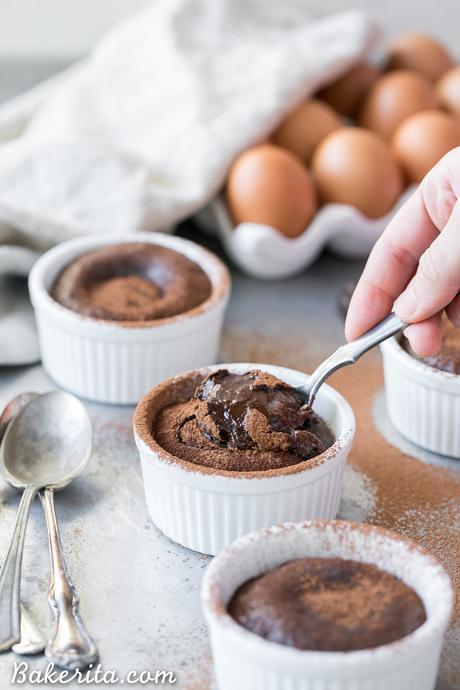 So, have you ever been on a Carnival Cruise? If you have, I bet you've ended one of your dinners on the ship digging into the gooey center of one their famous Chocolate Melting Cakes, topped with a big scoop of vanilla ice cream.
This past summer my mom's whole family piled onto a Carnival cruise ship in Athens and sailed our way through Turkey, Greece, Malta, and Italy, finally landing in Barcelona. Most of the nights that we had dinner on the boat, we would eat in the same restaurant.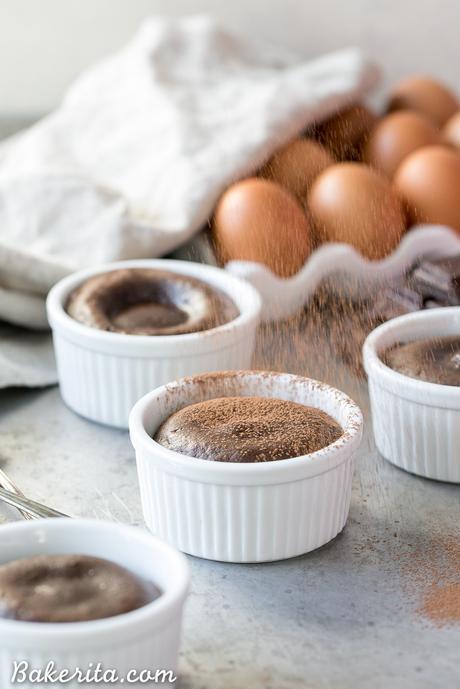 The menu would change depending on our port of call, but the Chocolate Melting Cake was a staple on the dessert menu, and at least one person at our table would order it for dessert each night. On the final night, we had a whole round of them on the table and we were all sad looking forward to our lives without readily accessible chocolate melting cakes.
I vowed to recreate it, and make it a little healthier, and though it took a little while…I finally made it happen! Even better? The recipe is super simple – only five ingredients needed and you can have these chocolate melting cakes in the oven within 15 minutes. What more can you ask from your desserts?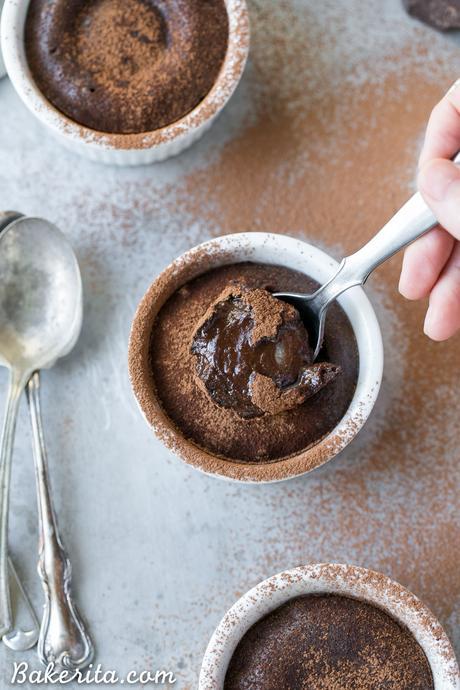 Because of the minimal ingredients, they all should be high quality. More importantly, make sure you use the best quality chocolate you can because the chocolate is flavor that's going to come through most predominately in your cakes. Great chocolate will make great cakes! I used a strong 72% which made these babies 
super 
rich, so if you prefer a less deep, dark cake, use a 60% or 55% chocolate.
These paleo chocolate melting cakes should be served immediately after they're baked, but they can be prepared ahead of time. After you divide the batter between the ramekins, they can be covered with plastic and refrigerated until you're ready to bake.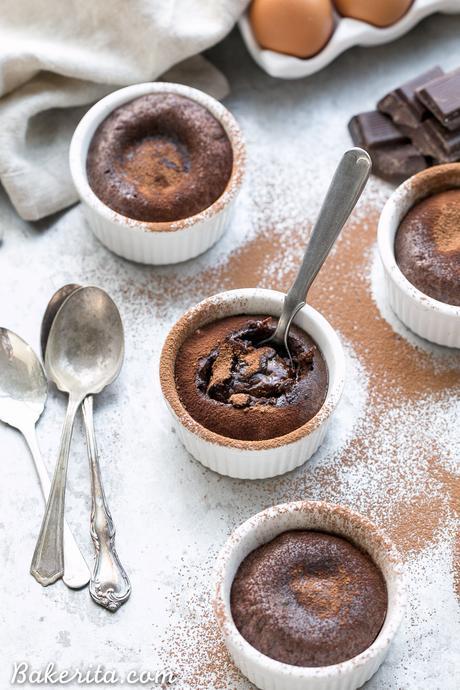 When these chocolate melting cakes bake up, the edges bake into a soft chocolate cake, while the center stays gooey and "melting". When your spoon breaks through, you get a spoonful of that rich cake mixed with chocolate "lava" sauce.
When they are served, hot of the oven, they deserve a spoonful of whipped coconut cream or vanilla ice cream – I added a big spoonful of vanilla bean Halo Top on mine :)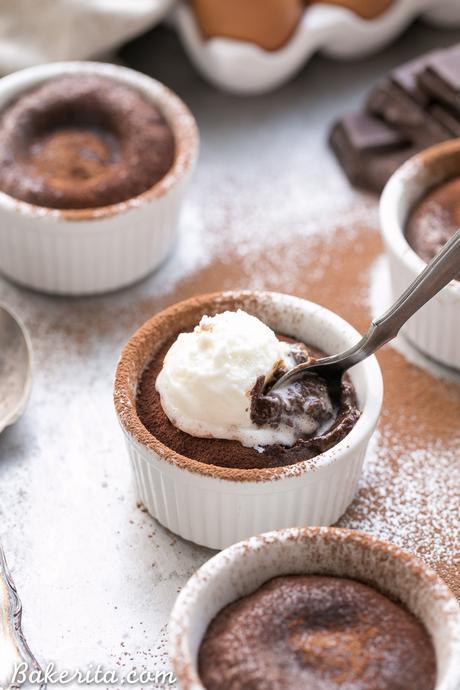 These paleo chocolate melting cakes are perfect to serve for any for the holidays or at any dinner parties. Any old night where you're needing a good dose of chocolate is a good excuse, too! Who doesn't love a gooey chocolate cake? Enjoy!
Remember to #bakerita if you try the recipe!
Paleo Chocolate Melting Cakes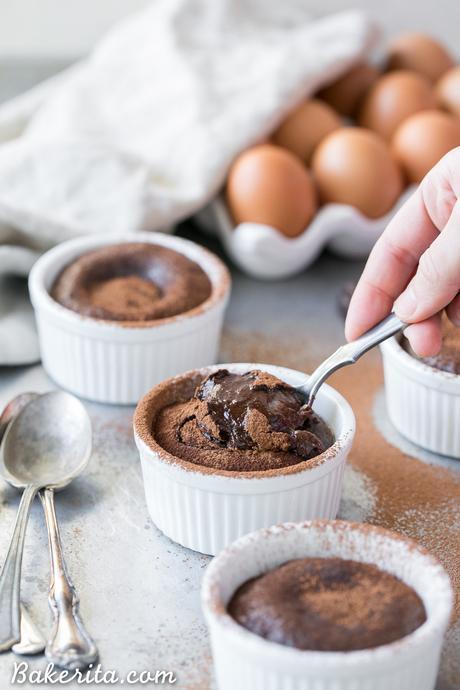 Save
Print
Prep time 15 mins Cook time 15 mins Total time 30 mins   Author:
Rachel Conners
Serves:
4 cakes
Ingredients
4 oz. dark chocolate (I used 72%)
½ cup (1 stick) unsalted grass-fed butter, room temperature
3 eggs + 1 egg yolk, room temperature
3 tablespoons coconut sugar
¼ cup blanched almond flour
Directions
Preheat the oven to 375°F. Lightly grease 4 3" ramekins with butter and place on a baking sheet. Set aside.
Melt the chocolate and butter together in a saucepan over low heat. Once melted, remove from heat.
Combine 2 eggs and coconut sugar together in a separate bowl and whisk until foamy. Add the almond flour and mix to combine. Add the remaining egg and egg yolk and whisk to incorporate.
Add the egg mixture to the melted chocolate and mix together until smooth.
Divide the batter evenly between the four prepared ramekins. If you don't want to eat them right away, you can put them at the fridge at this point until you're ready to bake.
Bake for approximately 15 minutes, or until the edges are set but the center still jiggles when you gently shake the baking sheet. Start checking on the cakes around 13 minutes to ensure you don't over-bake.
Serve immediately, preferably with coconut whipped cream or ice cream!
Notes Inspired by Carnival's Chocolate Melting Cake 3.5.3226