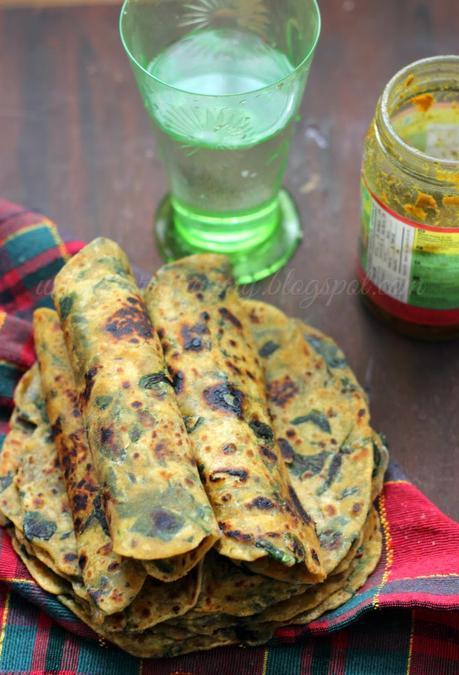 Happy Earth's Day everyone. Remember, earth doesn't belong to us, we belong to earth.
What is the difference between a  thepla and a paratha, someone asked me. I know, they both are flat Indian bread and have many similarities but they are indeed different from each other. So, I decided to make a table (like how we did in school) jotting the differences in between them.
Paratha Thepla
Is not always made with whole wheat flour. Paratha can be made with besan (chickpea flour) or even maida (all purpose flour) Theplas is always made using whole wheat flour.
Parathas can be plain. Theplas has to be made with some vegetable, else its not a thepla.
Parathas can be made in different shapes-triangle, round, square and even spiral (lacha). Theplas is always round in shape. Never seen any other shape.
Parathas are also stuffed. There is no stuffed thepla ever.
In parathas you can add chopped veggies and even vegetable puree in the dough. Theplas will always have chopped veggies or grated vegetables. Never pureed.
You need water to form the dough of parathas. You need yogurt (dahi) and water to knead theplas dough.
You may or may not add oil while kneading the dough. It is a must to add oil in theplas dough.
So, today's recipe is Palak Ka thepla and not parathas because there is oil and yogurt in the dough. If you omit these two above ingredients you can say these are spinach parathas. There is a fine line you see :-) So next time when you adding yogurt, oil and chopped or grated vegetables in the whole wheat flour dough ,then you are making theplas. I have prepared palak paneer parathas as well; in that I used pureed spinach in the dough which was stuffed with paneer (cottage cheese), I did not use yogurt or oil in the dough. Well that's too much info, I guess.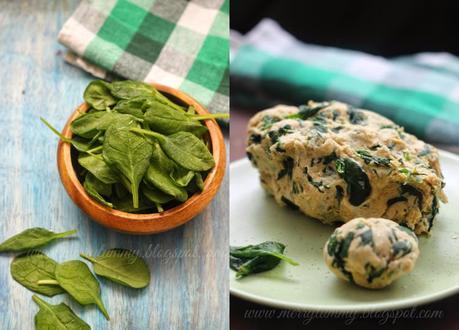 Palak Thepla is my everyday thing. It is the easiest way to use greens in your diet. I just break roughly the baby spinach and throw them in the dough. If you are among those who love theplas but doesn't like methi's (fenugreek leaves)  bitter taste then these theplas are a good alternative for you. The green leaves give the same vibrant color but the taste is not at all bitter.
The theplas have loads of flavours and spices added to it so they are good even if eaten plain. Else serve with any simple everyday dry side dish such as gajar methi mutter,marwadi aloo pyaz,punjabi gobi mutter

 or

bhindi do pyaza. Another way is to have them with yogurt (dahi) or pickle or chutney or jam.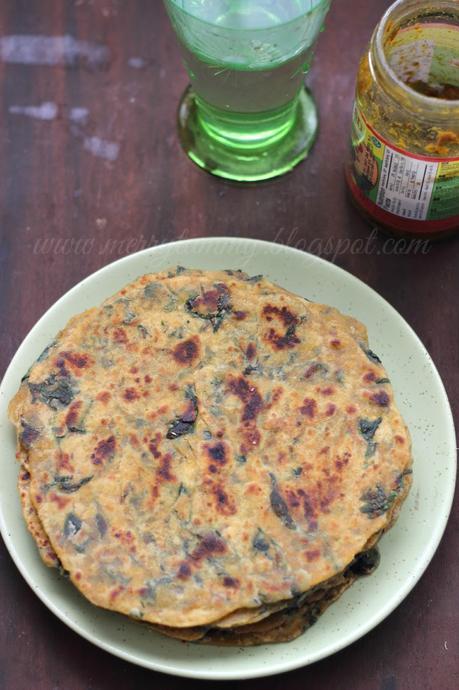 Ingredients:
2 cup whole wheat flour/atta
1 cup chopped spinach/palak
1 teaspoon cumin seeds/jeera
1 teaspoon coriander powder/dhaniya
½ teaspoon turmeric/haldi
1 teaspoon red chili powder/lal mirch
1 teaspoon green chilli-ginger paste/hari mirch-adrak
2 tablespoon oil
2 tablespoon curd/yogurt
Salt as required
Oil for fryingMethod:

Wash and chop spinach levees properly and strain the water.

Mix all the ingredients except yogurt and start kneading.

Mix yogurt and form a soft dough. Add water if required.

Keep the dough aside for 15-20 minutes covered with a kitchen towel. Then pinch out 15 balls from them.

Place a ball of dough on a flat surface. Using a rolling pin, roll it out like you would do for chapatti. Sprinkle flour on the thepla as when needed so it doesn't stick.

Heat a heavy skillet, griddle or tava. Place the rolled out thepla on it. Cook till brown spots appear on one side. Turn the thepla over, pour 1/4 teaspoon oil around it and let it cook till golden on both sides.

Repeat for all the dough.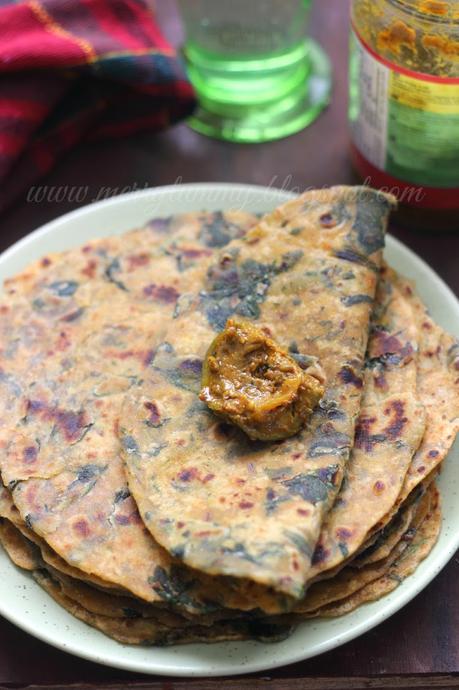 Notes:
You can omit the use oil, simply use a napkin to roast the thepla.
They are very good while travelling- just use more oil to fry them.
Serving Ideas:
Serve hot with chutney, raita or pickle of your choice.
Goes well with any side dish or curry.
These are perfect to be served at breakfast, brunch and as evening or picnic snack.
It is also great for traveling or tiffin boxes.