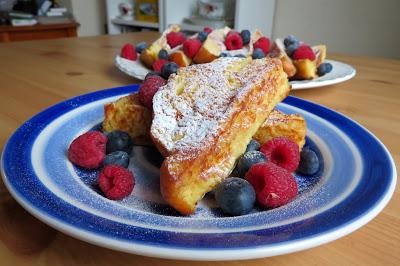 What is Pain Perdu.  Translated from French into English, the words mean Lost Bread.  It is a fancy name for French Toast, which was a great way of using up stale bread in the past. French toast is normally seen as a breakfast dish, and this certainly could be served for breakfast, but when you choose to make it with Brioche bread it becomes a bit more special and actually makes for a very fine dessert.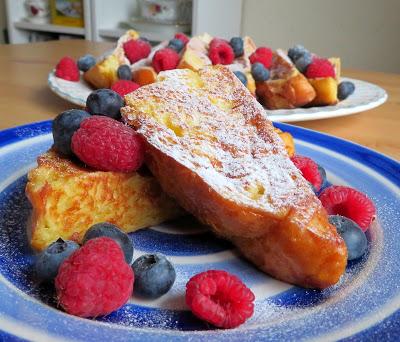 Brioche bread is rich and sweet and lends itself beautifully to dishes like this.  Soaked in the egg and milk it takes on an almost custard-like texture, very similar to bread pudding  . . .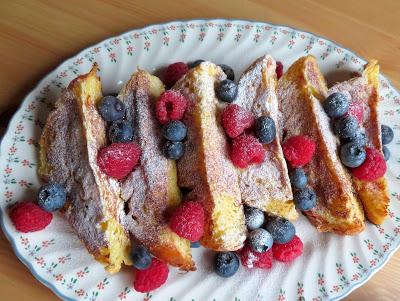 But of course, cooking it this way is a lot faster than making a bread pudding.  So,  if you are looking for a hearty dessert that is quick and easy, as well as being delicious, this is the dessert for you!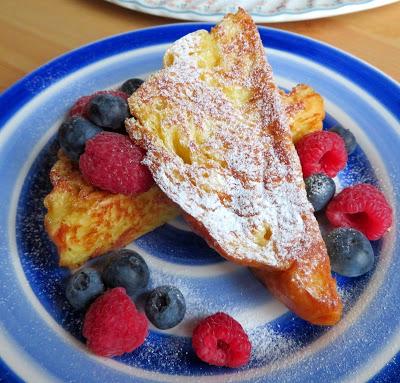 Our Brioche bread here in the UK is actually only about 4 inches square in size, so when sliced the slices are not overly large.  I cut my slices about 1 inch thick to use, which was absolutely the perfect size of thickness for this.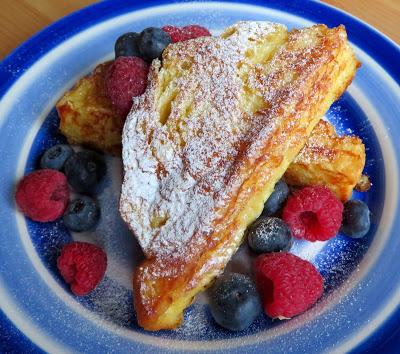 They were dipped in a simple mixture of eggs, milk and vanilla paste. I toasted each triangle on both sides in foaming butter, and I confess,  I also toasted the cut edges as well, along the centre, for an even nicer finish. Not necessary of course, but I thought it looked pretty.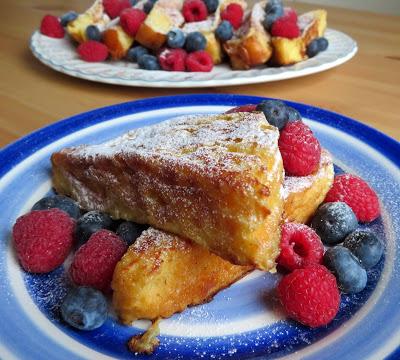 You could serve this with syrup or chocolate sauce if you wanted to.  Chocolate sauce with vanilla ice cream would be very nice. In that case I would use sliced bananas instead of berries.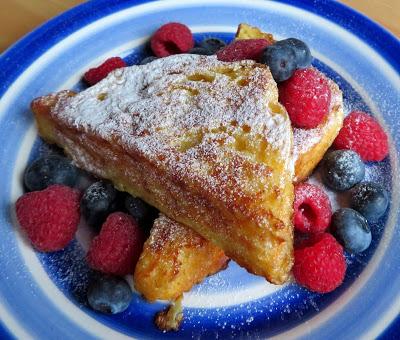 We enjoyed it just plain with a dusting of icing sugar and a mix of blueberries and raspberries.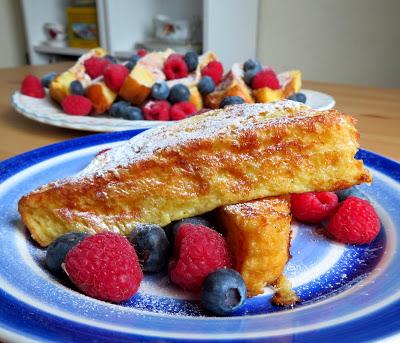 You could use sliced peaches and a raspberry coulis sauce, which you could call Peach Melba Pain Perdu.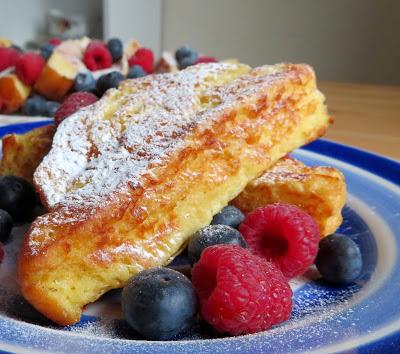 Caramel sauce would also be nice, again with bananas,  resulting in an almost  Banoffee-like  touch!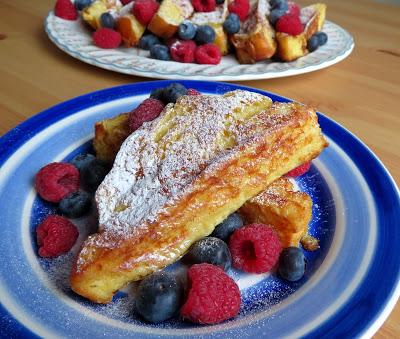 Of course a dusting of icing sugar really sets it off nicely.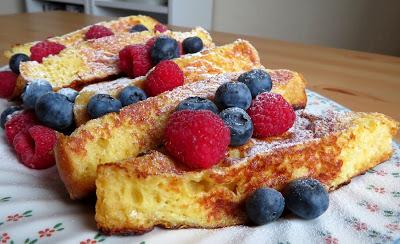 I can't think of too many people that would turn their noses up at this dessert. Of course, it goes without saying that it is a semi-hearty dessert, which makes it the perfect dessert to serve after a light supper.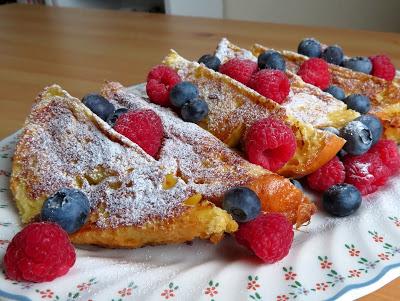 And yes, it would also make for an excellent breakast.  Personally speaking, I coud eat this any time of day or night.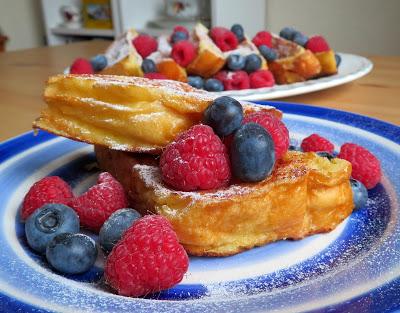 You can save any leftovers, wrapped up, and stored in the refrigerator, simply reheating them briefly in the toaster.  You can also freeze them for serving at a later date.  Just thaw and warm through gently in a frying pan. Easy peasy.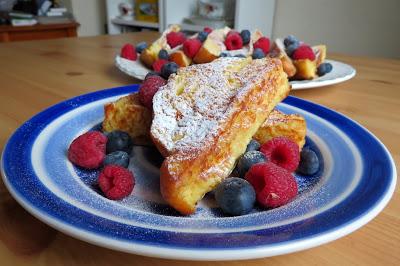 Pain Perdu with Mixed Berries
Yield: 4
Author: Marie RaynerPain Perdu makes a great breakfast but with a scoop of ice cream or a dollop of Greek yogurt and some fresh berries, it also makes a great dessert!
ingredients:
4 thick slices of sweet brioche bread
2 large free range eggs
6 TBS whole milk
1 tsp vanilla paste
butter for cooking
To serve:
Icing sugar to dust
vanilla ice cream or Greek yogurt (optional)
fresh berries
Maple syrup (optional)
instructions:
How to cook Pain Perdu with Mixed Berries
Cut each slice of brioche in half diagonally into triangles.  Beat together the eggs, milk and vanilla paste in a shallow bowl with a fork.
Heat a knob of butter in a large skillet or griddle pan until it starts to foam. Working quickly, dip each side of the brioche bread into the egg milk mixture and then pop them onto the hot griddle pan.  (Mine fits all of it at once, if yours is smaller you will have to work in batches.)  Cook until golden brown on the bottom side, then carefully flip over and cook until the other side is golden brown.
Arrange two triangles on each dessert plate, top with some yogurt or ice cream if using, sprinkle with berries and  dust with icing sugar.  Serve immediately.
NOTES:
For a delicious variation: Simmer 1 cup (150g) ready to eat dried apricots with the juice of one orange and 120ml of water (1/2 cup) for 10 minutes until tender.  Cut the bread as above.  Add 1/2 tsp ground cinnamon to the egg mixture.  Dip and fry as above. Serve hot with Greek yogurt and a spoonful of Apricot compote.
Did you make this recipe?
Tag @marierayner5530 on instagram and hashtag it #EnglishKitchenCreated using The Recipes Generator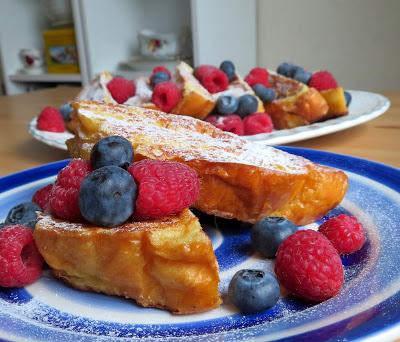 We are bracing ourselves for yet another wind and rain storm this weekend. My heart goes out to all who are affected and living in flood zones. I am not sure how much more we can cope with this.  Thankfully where I live in Chester we are quite high up.  My back yard however is a quagmire. I am not complaining.  Better that than that our house be under water.