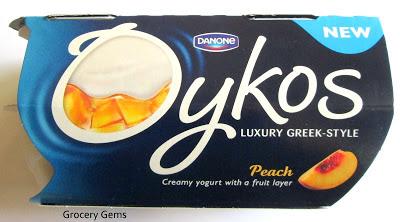 These yogurts were recommended to me by reader Jo S. who it turns out has very similar tastes in yogurt to me! :). The Oykos range by Danone comes in three varieties: Strawberry, Peach, and Pear, and are sold in multipacks of four individual yogurts.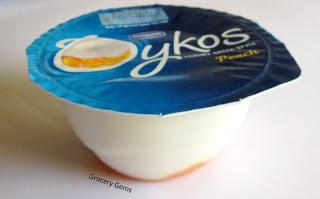 The Oykos brand is described as "a luxury Greek style yogurt layered with fruit". I usually go for low fat yogurts but despite being higher in fat, these are actually lower in sugar than my usual brand of yogurt. The calories are similar per pot to the low fat Danone Danio yogurts I reviewed earlier in the week, however these Oykos yogurts are much smaller (110g versus 160g).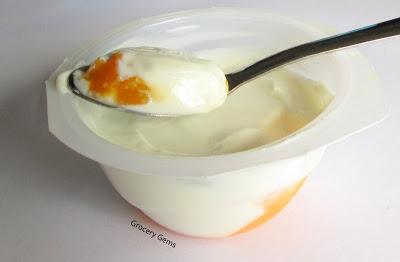 The yogurt layer is luxuriously creamy in taste aswell as consistency. It's not a thick creaminess, the yogurt has more of a silky smooth feel to it. The peach layer at the bottom of the pot is delicious. It's mainly made up of large chunks of peach rather than being in a syrupy sauce. The creamy yogurt is very much the dominant flavour, with the peach adding an extra burst of fruitiness. The result is a lovely treat for anyone who loves a full bodied creamy flavor in their yogurts.
Many thanks to Jo S. for recommending these yogurts - I'll be sure to try the Pear variety next!
Grocery Gems Verdict: Oykos Luxury Greek Style Yogurt

RATING: 8 out of 10.Buy them again?: Yes.
Nutrition: 

Peach - 153 calories, 3.4g protein, 14.7g carbohydrate, 14.5 sugars, 8.9g fat.


Vegetarian: Suitable for vegetarians.


Purchased

:

 Tesco


Price

: £2.19p for four pack of 110g yogurts.