I took a job recently altering a desk at a Sunglass Hut in the mall. I don't know, dudes, but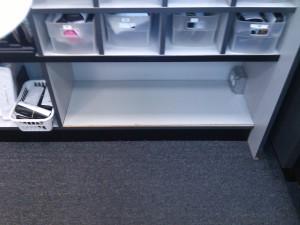 Sunglass Hut seems like a waste of money to me. Now hear me out, I'm glad for the work, but those sunglasses cost a ton of money!
Why do people spend so much on sunglasses they'll probably sit on? That happens to a lot of my sunglasses.
Anyway, the job was pretty standard. Their desk in the store didn't have anywhere to put stuff behind it and they wanted me to make little cubby holes. And I did. Looks pretty standard, right? Well, it was.
The dudes in there were nice, and it was empty so we got to shoot the breeze while I added the cubby holes. Nothing against those guys, but man, they sell overpriced sunglasses!