New to little Indiana? Subscribe for free to my RSS feed. Thanks for stopping by!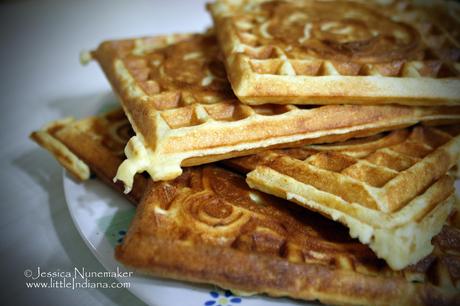 Overnight Waffles Recipe
recipe
It's easy to throw these together the night before. Let the yeast work its magic. The next morning, you add the remaining ingredients, give it a little stir, and get that waffle iron ready!
This is the only way I ever make waffles. It is a favorite of our boys–and of our own. They are from How to Cook Everything by Mark Bittman. Find it, buy it, it is a wonderful cookbook.
Overnight Waffles Recipe
Print Overnight Waffles Recipe: Crispy and Buttery
Rating: 51
Prep Time: 15 minutes
Cook Time: 20 minutes
Total Time: 8 hours, 35 minutes
Yield: 4-6 Servings
Serving Size: 2 Waffles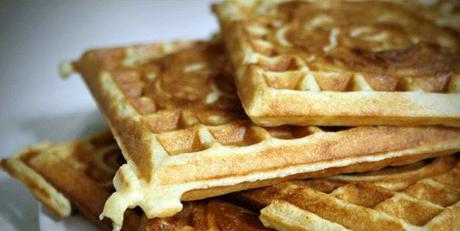 From "How to Cook Everything" by Mark Bittman. This is a phenomenal cookbook! I know a few Indiana town bookshops where you can find it.
Ingredients
1/2 teaspoon Instant Yeast
2 Cups Flour
1 Tablespoon Sugar
1/2 teaspoon Salt
2 Cups Milk
1 Stick Butter, Melted and Cooled
1/2 teaspoon Vanilla Extract
2 Eggs
Instructions
Before heading off to bed, combine the dry ingredients, then the milk, and finally the melted and cooled butter and vanilla.
Cover with plastic wrap and set aside at room temperature.
The next morning, preheat your waffle iron.
Separate the eggs (or not, it's up to you) and stir the yolks into the batter. Beat the egg whites until they hold soft peaks. Stir these gently into the batter as well.
Spread batter onto iron and bake 3-5 minutes or until golden brown.
Serve immediately or do like I do and keep an oven-proof plate in the oven to keep them warm.
Notes
If you have time, separate the egg, otherwise--these are delicious no matter what you do!
Schema/Recipe SEO Data Markup by ZipList Recipe Plugin2.0
http://littleindiana.com/2012/08/overnight-waffles-recipe-crispy-and-buttery/
Photos are the Property of little Indiana. Do Not Use Without Permission.
Find pictures in Indiana on my Flickr photostream or on the new little Indiana Tumblr blog.
Just don't forget to tell 'em that  little Indiana sent you!
Don't miss a moment. Subscribe to little Indiana and receive instant updates to stay on top of everything "little."
little Indiana: Where to Stay, Play, and Eat in Small Towns in Indiana. Discovering Indiana's best small towns! Now get little Indiana on your Kindle.
Targeted. Relevant. Affordable! little Indiana advertising.