You always desire for both beautiful and healthy manicures, but usually, you win some, you lose some. After reading this article, you will be surprised to know that Overlay nails or Shellac nails can meet all your needs.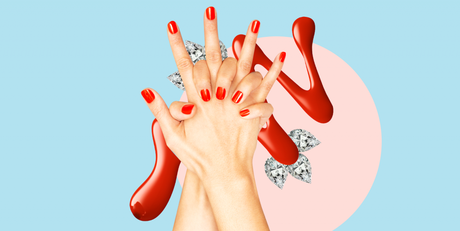 Overlay Nails Vs Shellac
What is Overlay Nail & Shellac Nail?
Overlay nail is kind of directly applied to the natural nails with acrylic or hard gel but skipping the extension step. It is usually shaped by hand or the forms, suit for people who fancy the natural manicures. 
Shellac is also a type of overlay nails but it is a brand name created by Creative Nail Design (CND). The combination of both acrylics and gels is in Shellac. It is similarly applied to the natural nails without filing or sculpting. 
Overlay Nails vs Shellac: What is the difference?
How do they look?
Overlay nails give your nail a natural look more than 90%. The overlay makes your manicures so strong, shiny and durable. 
On the other hand, Shellac nails are appreciated as absolutely 100% natural nails. Shellac applied on your nails will be thinner, more glossy than overlay nails.
Which will last longer?
Overlay nails, thanks to durability, last up to 3 weeks. They create a decent base, so women prefer to overlay it before applying the following layers. In contrast, Shellac nails are thinner than overlay so it will start to slough out after 2 weeks. 
Can you apply them by yourself at home?
Sadly, if you want Shellac manicures, you have to go out because the office CND Shellac just only provides service in salons. Instead,  you can buy products like Gelish for a close effect.
For overlay nails, you can find it easy to make at home. Just purchase the best quality nail polish, clean your nails, apply a base coat then one more glossy topcoat. 
How to remove them? Which one is easier?
Removing overlay nails is a little bit hard that you may make your nails painful. Firstly, you have to file your nails to 60-65% overlays with a hand file or electric file. Soak your nails in pure acetone with cotton pads and wrap them in aluminum foil for 20-30 minutes. Then, taking off the aluminum foils, scrape off the layer and file them again until all the paint is peeling off. 
Unlike overlay nails, removing Shellac nails is much kinder to your nails. Skipping all the filing process, soaking in pure acetone and wrapping it in aluminum foil in just 10 minutes and scraping off gently. Finally, clean them up again with cotton pads.
To sum up – Which is better?
Both overlay nails and Shellac have pros and cons, it depends on what you're looking for. If you want natural, glossy, easy-to-remove-at-home nails, you can choose Shellac. If you are often exposed to housework, you should choose best overlay nails because of durability. All in all, this Overlay Nails Vs Shellac: Which Is Better? provide you enough information along with the difference between overlay nails and Shellac. Now, let's choose the right one for you.