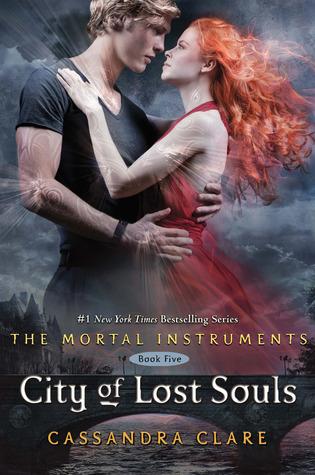 Genre: YA Paranormal
Published: May 8, 2012 by Margaret K. McElderry
Series: #5 (The Mortal Instruments)
Length: 535 pages
Rating (based on GR): 4.32 stars
"The New York Times bestselling Mortal Instruments continues—and so do the thrills and danger for Jace, Clary, and Simon.
What price is too high to pay, even for love? When Jace and Clary meet again, Clary is horrified to discover that the demon Lilith's magic has bound her beloved Jace together with her evil brother Sebastian, and that Jace has become a servant of evil. The Clave is out to destroy Sebastian, but there is no way to harm one boy without destroying the other. As Alec, Magnus, Simon, and Isabelle wheedle and bargain with Seelies, demons, and the merciless Iron Sisters to try to save Jace, Clary plays a dangerous game of her own. The price of losing is not just her own life, but Jace's soul. She's willing to do anything for Jace, but can she still trust him? Or is he truly lost?
Love. Blood. Betrayal. Revenge. Darkness threatens to claim the Shadowhunters in the harrowing fifth book of the Mortal Instruments series."
———-
Okay I'm not even gonna say anything. Let's leave it all to the Mortal Instruments expertssssss. All I know is it's going to become a movie next year therefore making it more overexposed and talked about. (;
PEOPLE WHO ENJOYED IT…
"This book was action packed! That aspect of this series never changes. There's were so many twists and turns that kept the anticipation going crazy. So many things happened. Each character had some task to accomplish and that made the book even more better. They had the same goals, but end the end, they each had to accomplish something for themselves." – Synchronized Reading
"City of Lost Souls is definitely one of those books that throws everything at you. There's some fabulous romance, betrayal, shocking moments, action, murder, heart break, sacrifices that are made, and that perfect balance of good vs evil. In true Cassie fashion she throws in humor when it's so appropriate, which is one of the many things I LOVE about this series." – Mundie Moms
PEOPLE WHO DIDN'T LIKE IT SO MUCH…
"There was SO much politics involved. It was hard to remember who was who, especially at the beginning when Clare ambushed us with a bunch of names and no background about who they were and what they did. And there was so many parties involved that it was hard to keep up with what was happening and who was friend or foe." – A Girl A Boy and A Blog
"This series is getting past the point of ridiculous. I mean, you can only kill a character so many times before it becomes absurd. The only two characters I still like are Izzy and Simon. There was no plot. That's a lie, there was a plot, sort of, but it would have taken her about 100 pages to start and finish it; the other 434 pages were just fluff and wow. Let's see how you fix this mess. I'm pretty sure you can't but let's see you try." – Camille

ENTER THE GIVEAWAY HERE (RAFFLECOPTER) INTL.