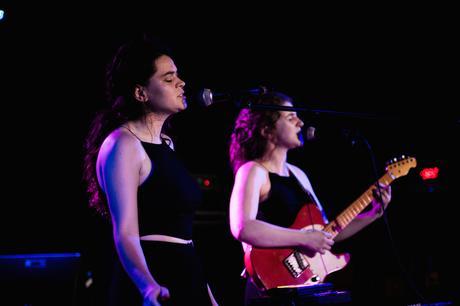 Photos by Katherine Brennan
Overcoats, comprised of Hana Elion and JJ Mitchell, brought Mercury Lounge to life on Tuesday night at their last big show for a while (they're going back to the drawing board to write more music). With matching black halter tops and wide leg pants, powerful beats (produced by Hana and JJ), lyrics saturated with stories and dance moves that extended the soundscape, the duo came poised to move the crowd. Their set, which integrated older songs and new originals, delivered on every level. Mesmerizing harmonies were amplified by the live electronics, which continue to evolve (and become more advanced), with each passing day. Take "Smaller Than My Mother" as an example — the song, off of their first EP, was not only intensified by the sheer proximity of the thumping beat, but also by the interplay between Hana and JJ on stage, who effortlessly weave introspective lyrics into a tantalizing melody.
It was only fitting that the encore was the first song the duo ever wrote. "Little Memory" was as harmonically sound as it could ever be, creating a retrospective of the past year and representing just how far Overcoats have come. As they go into hiding to write more music, we can only hope an album is in the works.