In August 2015, landed on our radar when they won the Emerging Artist Showcase at Boots & Hearts. In 2016, the band made waves when their first single, Lawn Chair Lazy hit the radio, climbed to #3 on the charts - and started the ride they've been on ever since.
James Barker Band's new single, Over All Over Again is out now, they're back playing live shows in the United States, and they've made a significant move in their career by signing a new record deal with Villa 40/Sony Music Nashville.
Recently, we caught up with James Barker Band in full over Zoom to talk about what's new, what's next, and have a look back at their career so far.
It's a weird thing to talk to anyone these days about fantastic and exciting news while so many people have been through so much. But for James, Taylor, Bobby and Connor, this record deal was the positive thing to hold onto and look forward to. And that's a good thing.
James said, "It has been a year of highs and lows. Hopefully, we never experience on the low-end anything like this again. Who would have thought in a year where we didn't play any shows, that we would then sign an American record deal? I mean, it's literally the holy grail of being an artist, to sign with a major in America. So it's been crazy. We kinda had been working on it almost for a year by the time we had signed it. And it was literally just that little glimmer of hope, where we're like 'we don't know what's gonna happen, but come on we're gonna sign this thing with Sony.' So I'm so thankful that we had that and I feel like it would be so much more depressing this past year, so much more of a down if we didn't have that one thing to say we're working towards this thing."
The live shows we mentioned were the first that the band has plugged in to play for a long time. They opened for Trace Adkins but had to take the time to get ready first. The band told us that they'd rehearsed for a couple of weeks, and it was a little weird because other than some acoustic things, they hadn't been together for a full production show in over a year and it took a minute to get back into it. They also said there were more nerves than usual, not because of the Kentucky crowd or Trace Adkins, but just because they needed to get back into the rhythm and flow.
The good news is, it all went well. They enjoyed themselves. The crowds were good. It was live country music and they were doing their job and what they love to do.
What shone through during our conversation though is how excited James Barker Band is to come home to Canada to play live concerts. James promised that when things open up they are "gonna play a crop tonne of shows." for their home country fans.
I asked the boys how ready they are to come home to play Canadian shows and not be able to sing their songs because the crowd will be singing for them. And almost before I could finish the question, Taylor was ready with "15 out of 10."
"I feel like we're all gonna burst into tears when we hear that first 'Beer, Beer, Beer!'," James added, "That's the one that I'm like, when the crowd yells 'Beer, Beer, Beer!', I don't know what it is about that, but I'm like 'OH YA!', we're back!"
Note: Along with the new music and live shows and all the rest, it's new dad life for Taylor and James these days. Congratulations to them and their families!
The other thing 'return to action' live shows will provide for JBB is the chance to play their new music live. And not just Over All Over Again. At those Trace Adkins shows, the band played their 2020 summer single, Summer Time live for the first time.
In the absence of the chance to play new music for live crowds, they have relied on social media and streaming numbers to gauge the reception of the songs. They see your posts, and they see the numbers. And they appreciate them.
But there's nothing like playing them live.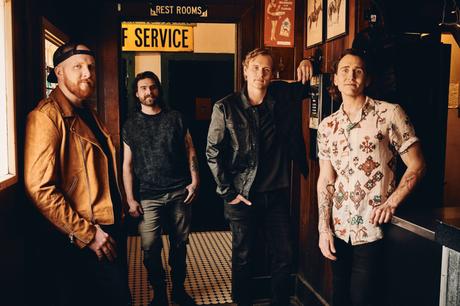 The band also shared that they've written a lot of songs in the last year-plus. And they've recorded a bunch of them too. Right now they're working on plans for an EP or album, but James assured us that there is "an astronomical amount of music we'll be releasing." and Bobby added that he may be biased but he believes, "The new music coming is next level and the best JBB product we've ever put together."
So be ready for that!
After we'd talked about a lot of the recent news and what's next, we started looking backwards. I asked the band about taking time to reflect back on the milestones and achievements that have come in their career, and if that's something they've been able to do. They told me that they're getting better at it. That in the beginning, it was all about the grind, about putting in work to do what was next or what would take them to the next level. And they have no regrets. James said that he thinks it has to be that way for new artists, that if you take a week to pat yourself on the back and celebrate, someone else is writing and rehearsing and working to take your spot. But, now that they're a few years in, they look for the right time to celebrate. It might not be on the day something big happens because of their schedule and responsibilities, but the next day works just fine.
James also wowed the call (band included) when he quoted Ferris Bueller's philosophy about life moving fast and needing to slow down. It was a smooth pull.
Ferris Bueller: Life moves pretty fast. If you don't stop and look around once in a while, you could miss it.
I also asked the band to look back for me and think about a moment when they thought to themselves that this was going to happen, that James Barker Band was going to be their way forward and that it was going to work (other than the Boots & Hearts Emerging Artist Showcase). Each band member had their own answer, and you can read them here!
James: "I feel like for me it was earlier than that, which might seem wrong or whatever but we used to play this thing in Woodville, the Woodville Family Festival Dance, and I remember the last time we played it before things took off, literally everyone was there to see us. It was like people were like 'this thing that's going on over here is really cool and seems legit,' and you could tell that people feel like they want to be in this. I feel like that to me was like 'this is a thing that people seem to be into,' that was the moment for me, and then probably two months later is when we won the Boots thing. That was it for me."
Taylor: "In a kinda strange way, I think the Dean [Brody] tour. I think, being the first of three, cause you have dreams and perceptions of what you think it could be and that dream of touring and Dean and his crew were phenomenal, Madeline's crew were phenomenal, so being a part of that was insane. Getting to travel across Canada was insane. But doing that all at the same time, grinding, learning what to do, learning what not to do, learning that 'hey, in order to be at your best you do this, you do that,' I think that, for me, was the moment where it was like, hey if I work my butt off, I can do this and we can all give it our best shot and stay super hyper-focused on moving forward and being at our best, then we stand a chance."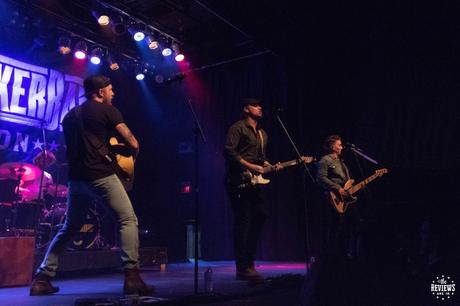 Bobby: "For me, there's a moment where we were driving to a show in Nashville after I just started playing in our band that we started and I was filming you [James] singing your first EP you did. And I don't know what it was, I just filmed it secretly and I posted it. But I think that was my most, 'this guy's good' moment, and we're gonna go."
Connor: "Mine was actually way back too. I mean, Europe, when we toured Europe it kind of like solidified, cause it's one thing to do a bunch of Canadian tours, but when you go overseas and you're like 'Wow, people are actually aware.' that solidified it. But there was definitely a pivotal moment way back before we were even James Barker Band. You [James] and I were playing, going to a rehearsal and we were both super stressed, we were like 'what are we gonna do for money, how are we gonna get shows, what are we gonna do?' trying to put together a game plan and you [James] said something like, 'I don't know, but we're doing this. This is what we're doing now.' You just told me, you just made the decision for me. And I was like, 'I guess I'm in it now.' But it was just like confidence. Like we had no name, no money, no anything, but the confidence from him being like, 'this is what we do now so figure it out.' I was okay. That was the moment I was solidified that I was doing music."
The way things are going, there are going for James Barker Band, there are going to be a lot more moments to celebrate and look back on. It's been less than six full years since that Boots & Hearts weekend, five years since their debut single, and now they feel like they've just always been here on the Canadian country music scene. There have been #1s and awards and tours and festival dates and record deals. But we know that Canadian fans are ready for more - and the fans in the United States better be ready too.