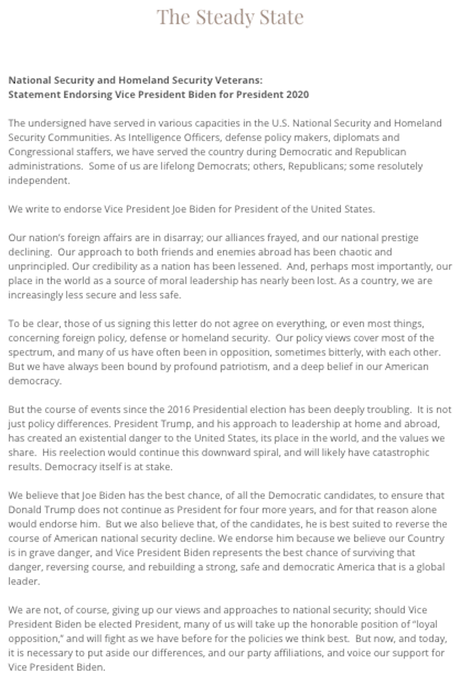 Over 80 former national security officials have signed an open letter endorsing Joe Biden to be our next president. You can go here to see who these officials are -- but they are officials who have served under the administrations of both Republicans and Democrats.
Here is part of how The Washington Post reports it:


More than 80 career national security professionals have signed an open letter of support for Democratic presidential candidate Joe Biden, saying that President Trump "has created an existential danger to the United States."

Most of the signatories, who include career diplomats, intelligence officers and defense policymakers, have served both Republican and Democratic administrations. They noted that their policy views cover a spectrum and as officials they "have often been in opposition, sometimes bitterly, with each other."

But in a letter published online Wednesday, they expressed a shared belief that Trump's approach to leadership has undermined the country's role in the world.

"His reelection would continue this downward spiral and will likely have catastrophic results," say the signatories, most of whom have never publicly endorsed a candidate for president.