&version;
I felt like that I had discovered gold when I had the first piece of these paper wrapped pandan chicken and I was like... Gosh! This is one of the best and easiest way to cook chicken that is so moist and delicious!!! Oh!!! LIKE! LIKE! LIKE! LIKE! LIKE!!!
Can you imagine? ... I was literally jumping with joy! LOL!
Unlike most traditional paper wrapped chicken recipes, these healthier paper wrapped chicken are NOT FRIED and yet the chicken are so moist, tender and flavorsome!!!
Prior trying out this oven-baked recipe, I always assume that all oven-baked wrapped meat will tasted rather soggy, lifeless or simply "steamed" in their enclosed package but I was totally wrong!!! These chicken are really good and in fact, I reckon that they are 
as good as the fried ones and minus the oil!!! And, this is why I was in cloud 9 when I tasted my first piece of these chicken... I knew immediately that I have found a prized treasure!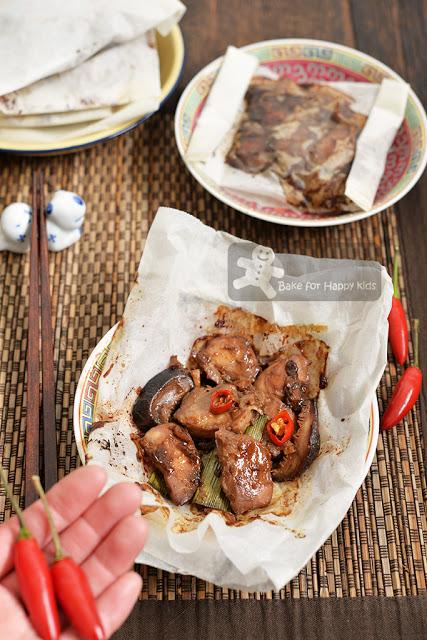 Healthy, Tasty and Very Fragrance Oven Baked Paper Wrapped Pandan Chicken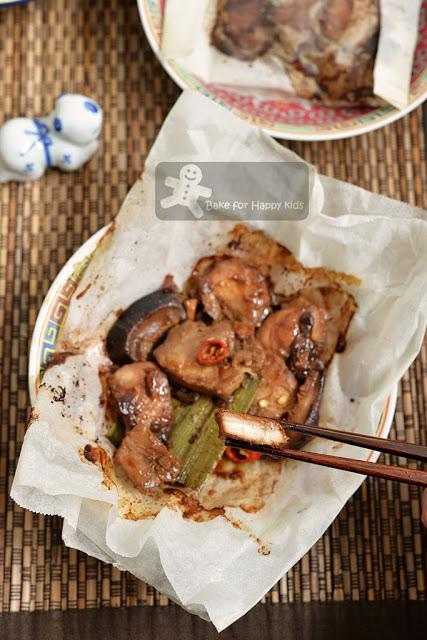 Every bite of these chicken is so juicy, tender and succulent!!!
Needless to say much... Do you want to see how I baked these paper wrapped chicken in a one-minute video?

Do you think you will appreciate these yummy chicken as much as I do? Try this recipe... I bet that you won't regret!
Here's the recipe that is modified from the book, Peranakan Snacks and Desserts by Julie Yee
Make 12 packages
For the seasonings:
2 tbsp finely minced garlic
1 tbsp finely grated ginger
2 tbsp oyster sauce
2 tbsp Chinese Shaoxing cooking wine
1 tbsp light soy sauce
1 tsp dark soy sauce
1 tsp caster sugar
1 tsp sesame oil
1 tsp cornflour
1 tsp ground white pepper
Combine all seasoning ingredients in a bowl.
To assemble:
800g chicken thigh fillets, boneless and skinless, cut each into 5cm pieces
12 dried chinese mushrooms, soaked in hot water for 15 mins or until soften and sliced
2-3 pandan leaves, cut into twelve 5-cm pieces
2-3 chilies, de-seeded and sliced thinly, optional*
12 x A4 size (about 20 x 30 cm) baking papers
*If you prefer your chicken to be spicy, you can use bird's eye chilies with seeds. In my video, you can see that I made some packages with this extra spicy chilies for my husband and he loves it! If you are baking this chicken for children who can't take spicy food, you can omit this addition or use mild type of long red chili and de-seed it to remove the excess heat. My spicy-food-intolerant son said that he likes the chicken with the mild de-seeded chili and he can't taste the heat!
On the day before the bake:
Add the combined seasoning ingredients into the chicken and mix well until the chicken are well coated with the seasoning. Cover and refrigerate overnight.
On the day of baking:
Preheat oven to 200°C fan forced or 220°C. Line baking trays with aluminum foil for easy cleaning.
Divide chicken and mushrooms into 12 equal portions.To assemble each, place one baking paper with its portrait orientation on your work surface. Place each divided portion of chicken pieces and mushrooms in the middle of the paper without over-laying each other. Then, place one pandan piece and 1-3 chili slices on top of the chicken and mushrooms.
Fold the top one-third and the bottom one-third of the baking paper towards the middle. Then make two folds at both ends towards the back of the packages. All packages should be nice and flat and do not pack too many ingredients in one package. My video will show how I wrapped the packages.Repeat the assembly steps with the rest of the ingredients.
Arrange the chicken packages in the prepared baking trays in a single layer. The over-lapping top and bottom paper part of the packages should be facing up so that the excess steam can escape from the top of the packages and the folded sides should be facing down and nicely tucked behind the packages. Do not over-lay or place too many chicken packages in one tray. Bake at 200°C fan forced or 220°C for 30 mins or until the chicken is completely cooked and tender.
Remove from oven and serve immediately.Happy BakingPlease support me and like me at Facebook...