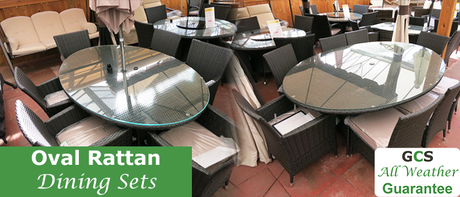 Oval rattan dining sets are really popular here in our garden centre, and are fully customisable online, with a choice of sizes, chair combinations, as well as a new color rattan (Grey – arriving in July 2014).  They are all made of premium quality, 100% all weather rattan, which can be left outside 365 days a year, and will not rot, rust, or fade, no matter what the UK weather throws at it!
Choose from the two sizes of oval dining sets below: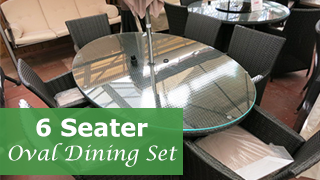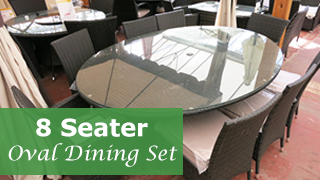 6 Seater Oval Rattan Dining Sets

The 6 seater oval set is perfect for a medium sized patio area, with ample space for 6 people to sit comfortably.  You can choose between 3 chair combinations; either 6 dining chairs (with no arms), 6 arm chairs, or a combination of 2 arm chairs, and 4 dining chairs.  This set is currently available in multi-brown coloured rattan, however will be available in gray from July 2014. All cushions and the glass top are included in the set.
Click here to start customising your 6 seater oval rattan set today.
8 Seater Oval Rattan Dining Sets

The largest oval set we do is the 8 Seater, which again can be cusomised with different chair types, and equipped with added extras, such as a parasol, base, and lazy susan.  The rattan is of course,
100% all weather
, so you don't need to move this heavy rattan table during the winter,
you can leave it outside
, and it will look like new for years to come.  This set will also be available in a gray coloured rattan in July 2014.
To start customising your 8 seater oval rattan set, click here.
Alternatives to the oval rattan sets
If the oval rattan sets aren't quite what you were looking for, why not take a look at our range of round rattan dining sets, which come in various colours and sizes!
You can also see our whole selection of rattan garden furniture sold online here, and our range of outdoor reclining furniture here.