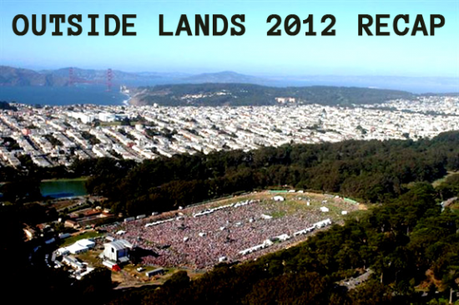 Photo Credit: Outside Lands
For a festival that tries to be all things for all people, Outside Lands comes pretty close to hitting the mark. Sure, the food is overpriced and for the most part sub-par (although Wine Lands was a very good time), and I'm not entirely sure who found the time to check out the comedy shows, but when it comes to music (which was the point after all), this was definitely a line-up that delivered.

Number of Attendees: Roughly 60,000 a day.
Overall Crowdedness: Not overwhelming given that astronomical attendance number. The stages are spread out throughout Golden Gate Park, giving concert goers plenty of space to mill around and plenty of exercise transitioning from one set to the next. That being said, trying to get out of the crowd after Stevie Wonder's set was like trying to swing dance through molasses.
Not your festival if: You can't handle cold weather. What everyone has been saying is true: it was really very, very cold at night considering it was August. You also feel overwhelmed by options: whether it was food, wine, beer, or the schedule featuring competing bands, comedians and DJs, there was a choice to make every 30 minutes.

The three young men behind New York City's Yellow Ostrich delivered an impressively rich sound by way of percussion, a vocal looper and the electric bassist's occasional rotation of three horns. Their songs have the repetitive lyric structure of classic rock tracks, and even the love ballads morphed into rock anthems before long. Alex Schaaf dedicated the band's song "The Shakedown" to Neil Young (who had closed out the festival the night before), remarking "I'm sure you're out there somewhere watching… I can't see you right now.  We'll talk afterwards."
Local San Francisco band Geographer had their enthusiastic audience dancing and clapping along throughout their high energy set. Their percussive sound is enhanced by an electric cello, synthesizer and intermittent vocal looping, and lead singer Mike Deni knows how to work a crowd.
Then there's Josh Tillman, who, after departing from Fleet Foxes has been turning heads as Father John Misty. He and the five men sharing the stage with him were jamming, their rock songs colored by the blues and accented with Tillman's flamboyant poses and reckless dancing.  His very dry humor coupled with his long pulls off of a bottle of Bulleit bourbon gave him an intriguing appeal, while also making him seem like somewhat of a loose canon.
Of course, Alabama Shakes put on a great show;  their crowd was packed in so tightly there was no hope of getting in on that action. Caveman, though clearly not as well known on this side of the country, drew in a sizable crowd with their consistently appealing vocals and alluring rhythms. There was a whole lot of crowd surfing going on throughout Dr. Dog's rollicking set. The Philly boys played through songs from their new album as well as old favorites, even coming back for a rather rare encore.
Though it came as no surprise, one of the most impressive sets was by Michael Kiwanuka. This British man just plain rocks. He and the six men behind him onstage had a jazz-like jam going as Kiwanuka's brand of soul, R&B and funk poured off of the stage. Someone in the crowd tossed him some black, heart-shaped glasses which he wore for his cover of Jimi Hendrix's "Waterfall" (and continued wearing throughout the rest of his set).
When the fog rolled in, as it inevitably does, and hung over the tall trees of Golden Gate Park, the setting seemed to be specifically intended for the mystical sounds of Sigur Ros. Even the pyrotechnic show that Metallica put on to supplement their simultaneous set across the park, couldn't compete with the eerie magic of this Icelandic band and their accompanying orchestra.
Jack White, of course, lived up to and surpassed expectations, playing for over an hour before introducing the last act of the festival: Stevie Wonder. White and his band, wearing suspenders, topcoats and black hats, played through songs that spanned the musical spectrum.  The pedal steel and mandolin were particularly fitting for the band's single, but also lent a unique complexity to the classic rock and blues songs when coupled with White's slide guitar, an upright bass and a violin. White was serious and focused, only breaking the momentum of the set list on a couple of occasions to make dry remarks to the revelatory audience.
And finally, there was Stevie Wonder, whose performance arguably stole the festival. He let his band start in on Marvin Gaye's "How Sweet It Is", and after only one verse,  he took a moment to preach "It's time again for us to elect Barack Obama as President … It's time for us to come together…no matter what we look like, 'cause I'm not lookin' at you."  And though his own looks have changed, his voice is as sweet and pure as it was when he took Motown by storm some forty years ago. In addition to his own collection of hits, he played a Michael Jackson cover in tribute. He led the crowd in several sing-alongs, although no encouragement was needed for these 50,000 people