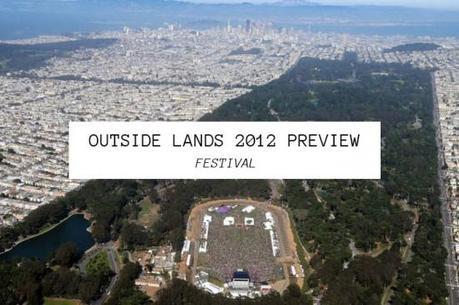 Summertime is festival time, there's no two ways about it. Music festivals, food festivals, wine festivals, art festivals; basically come up with any reason to gather a community of people outdoors and you've got yourself a festival.

The secret to success lies in either A. being in a unique location (Govenor's Island, Telluride CO), B. serving a unique community (Burning Man), C. having a stellar line-up (fill in the blank) or D. fusing various types of festivals into one big affair (Googa Mooga, anyone?). A festival that satisfies all of these criteria?  Outside Lands, my friends.
Only in its fifth year, this celebrated festival is taking over Golden Gate Park in San Francisco from August 10th to the 12th. Being that it's San Francisco, the festival encourages sharing rides, refilling water bottles and volunteering to help clean up the park during the off hours.  Beyond that, it's the place to be to grab some of the best food the Bay Area has to offer (plenty of tacos and empanadas plus BBQ, curries and, of course, vegetarian delights). In addition, there's also a respectable focus on wine and beer (appropriately designated as Wine Lands and Beer Lands) and an impressive line-up of comedians (David Cross, Reggie Watts), DJs, visual art and even panel discussions with the musicians. Yes, let's not forget the musicians. With over 50 bands rotating across 4 stages for 10 hours a day, there's absolutely something for everyone.

A little something different: Let's say you want to groove. Well, Fitz and The Tantrums from Los Angeles will get you going with their explosive soul, or you could check out Colombians Bomba Estereo with their infectious Latin rhythms. The Dirty Dozen Brass Band will be there too, to satisfy your yearning for some New Orleans Big Band love, and the rolling African percussion from Amadou & Mariam will surely get toes tapping and bodies moving.
Blues: If you're looking for down and out blues, Father John Misty and Honey Island Swamp Band have you covered, while Michael Kiwanuka will melt your heart with his stripped down melodies and honeyed voice.
Old faves: Maybe you're curious about the latest and greatest from your favorites. Chances are, Regina Spektor, Norah Jones and Andrew Bird will be playing songs off of their new albums, and Beck will likely be giving a sneak peek of his forthcoming album due out this fall.
Pop: Looking for some solid pop? You got it. Tennis is bound to delight with their bright, beach pop and Jukebox the Ghost has a new library of catchy songs colored by theatrical piano stylings that are similar to the slightly more mellow songs from Fun., who are another band that should be on your personalized festival schedule.
Rock: Blurring the lines between pop and rock is PAPA, a band out of Los Angeles whose poppy melodies are colored by serious electric guitar lines and persistent percussion. From the opposite coast, the New York City guys behind Caveman deliver a consistently satisfying blend of gentle vocals, ringing synths and sparkling electric guitar. Aussie band Tame Impala has a similar sound but they turn up the synths, adding an element of electronic grunge to their version of rock pop.
For something with a little more rock, don't worry, new favorites Alabama Shakes and Of Monsters and Men will be there to get fans dancing to their irresistible beats and infectious melodies.
For a change of pace, Sharon Van Etten and her haunting, melancholy songs are not to be missed and Trampled by Turtles will be on hand to serenade audiences with sweet folk songs rife with rich melodies.

Oh, and then there are the headliners, who need no elaboration: Metallica (That's right, they're back, but were they missed?), Stevie Wonder, Neil Young & Crazy Horse, Foo Fighters and Jack White.
Not enough options for you?  Then take a gander at the complete line-up  and schedule here, and feel free to add your own highlights to the Comments field below. Also, when all is said and done, don't miss our recap on not only the best performances and biggest surprises, but possibly a shout out to some of the funniest sketch comedy and the more noteworthy snacks and wines, too. Jump on board; it's gonna be one helluva ride.