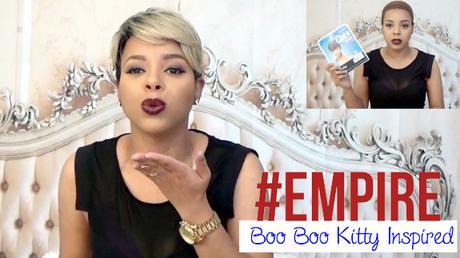 It's the most electrifying TV show on right now. EMPIRE! Today's Outre Vicky wig review is inspired by the Boo Boo Kitty (or Anika) character on the show. Let's jump into it! It should be short and sweet — just like the wig.
Boo Boo Kitty Empire TV
I purchased Outre Vicky Wig because I was inspired by Boo Boo Kitty (Anika) character on the Empire TV show. She is beautiful and stylish with a short sassy cut. You know… very Halle Berry-like. Her hair is all black on the show. But I somehow managed to pick up the unit in blonde and black. It's ok though. It's an inspired look. We could make this work!
Outre Vicky Wig – Empire TV Show Inspired (Youtube Video)
Empire has been the most talked about show on TV. So much so, that I dedicated an entire weekend to binge watch just so I wouldn't be left out. I HATE not being in "the know"! Sounds a little pathetic. I know. But – I fell in love with it instantly. So today's wig review is going to be dedicated to this breakout show being called a TV phenomenon.
From Halle Berry to Peter Pan
Once I put the Outre Vicky wig on, I didn't feel it at all. I was hoping for Boo Boo Kitty….but I got Peter Pan instead. LOL! I ended up combing all the curls flat on the Outre Vicky Wig (more like Anika wears it).


Outre Vicky Wig Construction
This is a full cap unit. There is no lace to cut before wearing. There is no parting space either. Outre Vicky Wig's style is part-free. The cap is a good, comfortable size. There are 3 combs to secure it down: 2 at the temples and 1 in the back. It also has adjustable straps for even more security. The unit is heat-safe up to 350 degrees. The hair is synthetic. The cost ranges from $19 to $25.
Tell Me Whatcha Think?
What do you think about Outre Vicky Wig? Did I overact about the unit? Be sure to tell me in the comments below. Also like GRW on facebook, follow on instagram and subscribe on youtube. Posts and vlogs are updated weekly so be sure not to miss out. Thanks for stopping by and my next review is coming up real soon!