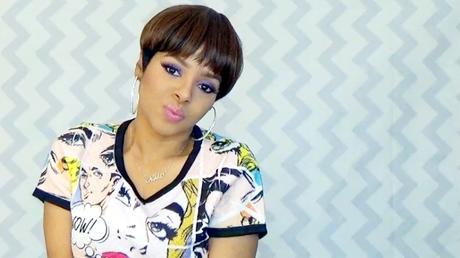 The Acacia unit by Outre is fun and fabulous. It's a synthetic unit that short and to the point. It is an easy to style unit that is perfect for the spring and summer. It's very similar to hairstyles worn by celebs like Halle Berry, Mary J and T-Boz from TLC. Sassy. Sexy and Simple. The perfect Triple 'S' combo for summer fashion and style.
Outre Acacia Wig Review – Youtube Video
I have the Acacia wig in color DB2/30/33. I am so amazed by the color blend in this unit. It is a very similar to human hair texture. The coloring was way beyond my expectations. The hair is soft and I love the way to side burns are tapered. The unit lays snugly on the head. It doesn't lift or bulk up in anyway. It's very comfortable and a great everyday hair style. Be sure to check out more of my hair reviews on youtube as well as here on GirlRatesWorld!
Acacia Wig Construction
Acacia is a synthetic, full cap unit. It is really easy to style Acacia because you don't have to blend it with your natural hair. The cap was a perfect fit. A little snug — but in a good way. I hope you can understand my wig logic there . Acacia comes with 2 combs: 1 front, center and one back, center. It also has adjustable strap for more security.
A photo posted by ‼️girlratesworld‼️ (@girlratesworld) on May 15, 2015 at 9:13am PDT
Get Social with @GirlRatesWorld !!!
Show your support by following @GirlRatesWorld on all social media outlets. I post weekly and even daily on instagram, youtube and facebook. Follow and Like so you don't miss the next update or review. Don't forget to let me know what you think of Acacia in the comment section below. I think she is a very cute (and somewhat edgy) unit!