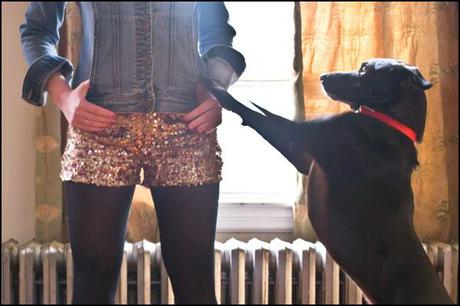 "STOP TAKING PICTURES OF YOURSELF AND PLAY WITH ME."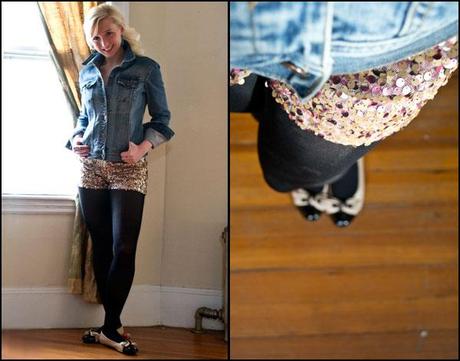 Earrings: Forever 21/ Jacket: HM (old) / Shorts: Rampage / Tights: Hue/ Shoes: Adrienne Vittadini
I became obsessed with sequin shorts when I spotted a pair at TopShop last year. Unfortunately they were $100 and that seems like a high price to pay to make your butt sparkly. As luck would have it, though, I found a similar pair on sale for $30 in the Macy's junior department last week. (I shop juniors A LOT.) They're totally fabulous and I dressed them down with a denim jacket to make the entire outfit more appropriate for where I was going: a sports bar.
Yes, I'm occasionally THAT girl.
(Also, I realize there's a massive window behind me and my photos are overexposed. I was trying to do something cool but I clearly failed. Whatever. At least my shorts are super awesome and shiny. And my dog is cute.)