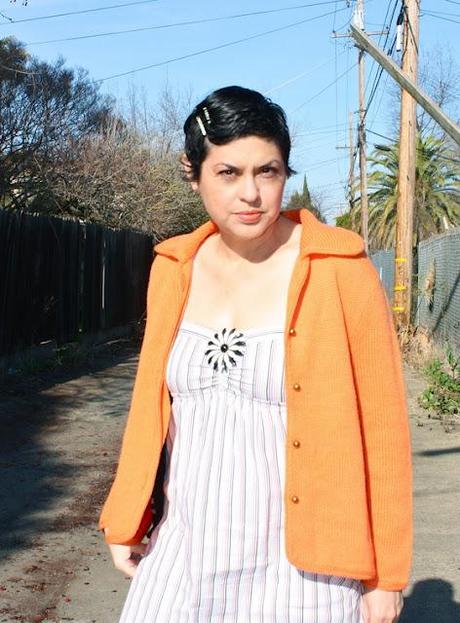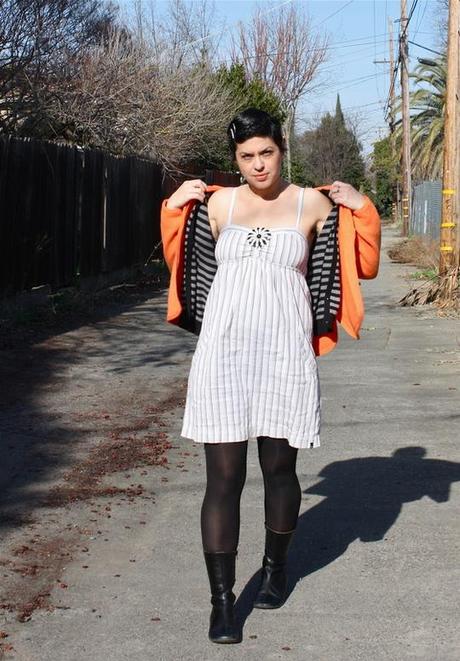 Orange you glad you love vintage? Bella sports a splash of color in her outfit.
California winters are bright and tangy, so I'm NOT going to complain about how I can't wear adorable but heavy vintage coats because my winters are so mild this year in California. Instead, turning uh, lemons into lemonade I'm going to enjoy the ridiculous fact that I can pull out a sweet summery sundress (in this case a freshly picked frock from the Goodwill) and throw on a citrus-hued vintage sweater over the top and take on the day.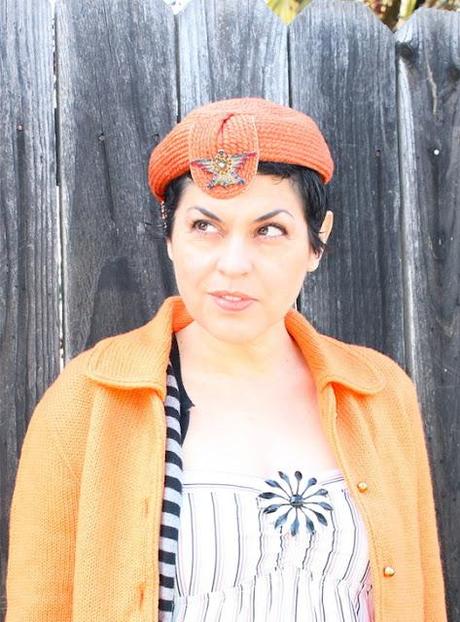 Vertical vs the Horizontal: Stripes rule. Did you notice that I'm "breaking" some rules here? I'm wearing (gasp!) both vertical and horizontal stripes together. I'm calling it Sunny Delight, a tasty mix of a classic pattern. What makes it work it the fact that the two stripes are varying in size AND that they share a common factor: in this case the colors gray and black. And to make sure you

get the idea that I LOVE stripes,
I pinned on a black/white vintage floral broach the echos the stripe effect. Speaking of rule breaking, Vix gave some great non-advice over at her blog, the Vintage Vixen. I loved this quote in her post entitled How to wear Flares: "Well, I'm wearing mine over a tiger print Mary Quant catsuit but you can wear yours on your head if that's what you want to do." She goes on to advise us all to "dress to suit yourself , mix your eras, clash your prints & colours and pile it all on at once if it makes you feel good" I love Vix's opinion, AND her style of dress. So if this give YOU some permission to break some fashion rules and wear clothes in a way that makes you feel good, you are going to be in some very good (and stylish) company.  
AND... to make sure you get that I'm all about the wicked deliciousness of the color

ORANGE

, I threw on this phenom little vintage hat that I bought a few months ago at the FRINGE hosted Blogger's Closet Sale. I got this prize for $5 bucks from vintage adorned local comedienne, Mary Van Note. Who happens to blog by the way, so you might want to check her out by clicking HERE.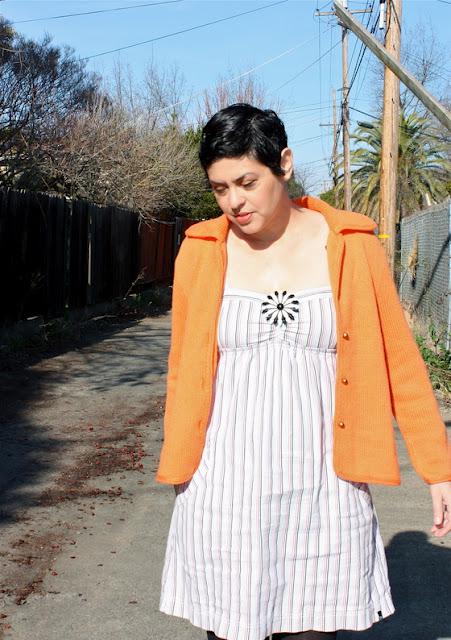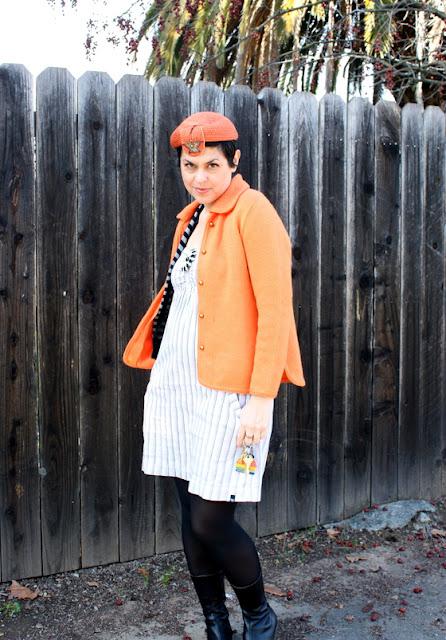 Juicy Color: Brighten up your winter with a squeeze of citrus hues.
Now Wearing: 
vintage hat, thrifted
vintage orange wool sweater, Goodwill
pre-loved striped dress, Goodwill
vintage floral brooch, thrifted
black tights

Camper booties, (similar model sold

here

)