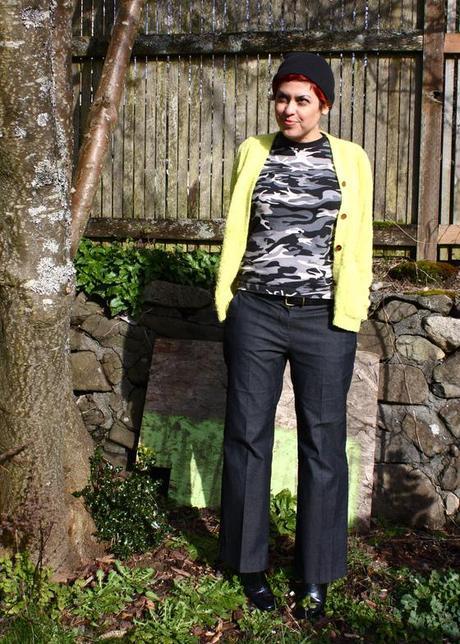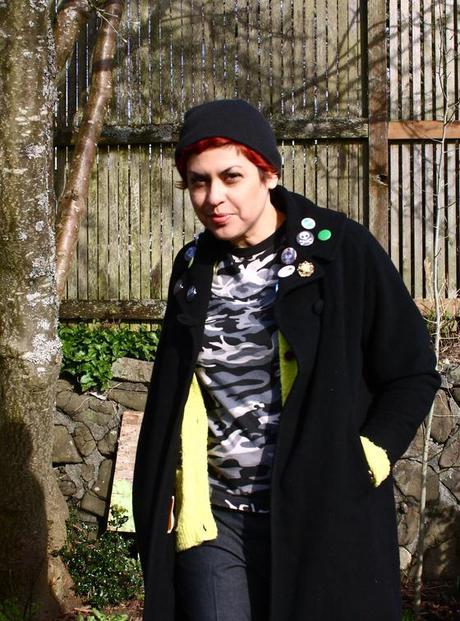 There's no hiding it: Neon Sweater + Camo T-shirt + Wide Legged Jeans = 100% Thrifted.
My recent visit (ok, it was a month ago!) to the Goodwill has been gracing the pages of this blog lately. Boy, did those sweaters, coat and whatnot come in handy! Seen here for the first time: yours truly wearing wide-legged jeans. Seriously, I've been a devoted TEAM SKINNY JEAN player for years now, but this pair of stretchy creased denim pants really captured my heart. To be honest, I'm not sure what to wear with them or how to wear them so you may see some future fashion missteps. Bear With. Still gonna try. Today, they are paired with a vintage neon yellow men's sweater and a T-shirt found in the boy's department. The cardigan has been my constant companion (READ: been wearing it non-stop) for over 2 weeks now. And there's no sign of abatement. Expect to see more of it in the coming months; it's neon cheerfulness is my panacea for Seattle's cloudy gray days.
Wanna see some other great blogger stylings of 100% Thrifted? Click, my darlings, and fall in love: 
La Sophia: Polka Dots and Palazzo
Fashion Turd: Sweet Charity
Vintage Vixen: Charlie's Angels Meets Woodstock
Helga Von Trollop: A View From the '60s
The Equine Bovine: Hoochie Coochie (Wo)Man
Ethical Fashion Bloggers: The Thrifty Outfit Challenge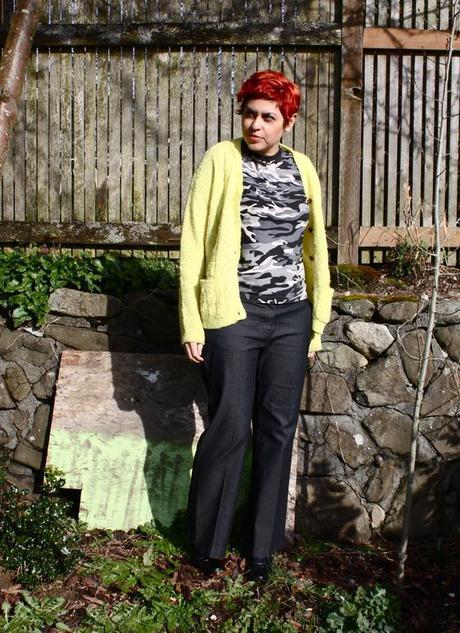 Mix it, Thrift it: this first rate secondhand outfit set me back less than $25. Score!
Now Wearing: 
Knit cap, freebie
Vintage '50's cashmere black coat, gifted
Vintage '60's men's neon yellow acrylic cardigan, Goodwill
.99 cent camo T-shirt from the Boy's Dept, Goodwill
Leather belt w/ brass buckle, This N That Thrift
INC. wide leg stretch jeans, Goodwill
Ruby + Bloom Chelsea non-leather boots, Thrift Town