Need more space in your home? Focus on your backyard. Outdoor areas have become an extra room and the line between indoor and outdoor design is less defined. Furnishings that were once relegated to the interior, are making their way outside. Even city dwellers have come up with creative ways to enjoy fresh air in style. In need of some inspiration? Look no further: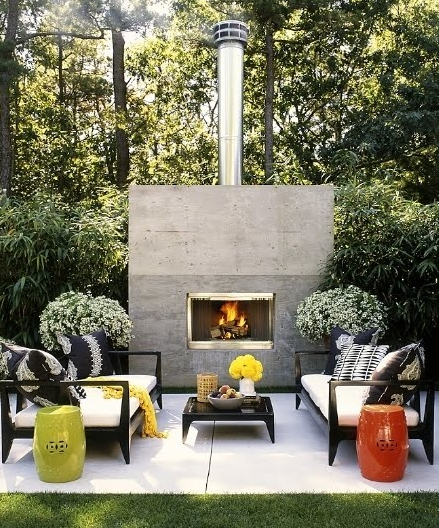 Photo via Roger Davies Photography.
This is one of the best outdoor living spaces I've stumbled upon. The woodsy retreat features a patio among the trees, a huge modern stone fireplace, chic black furniture, and garden stools that provide a splash of color. I could envision myself lounging here on every single sunny day.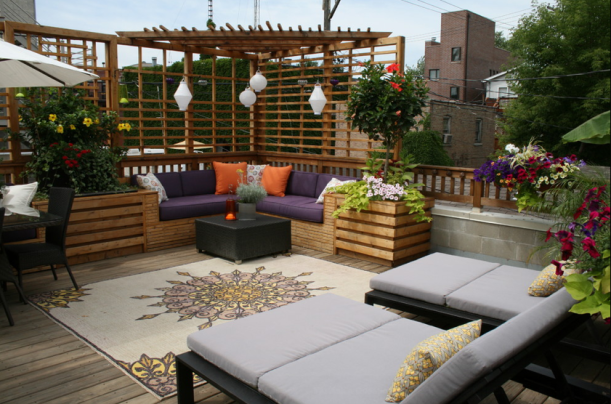 Photo via C. Marie Designs, LLC.
A perfect combination of purple and tangerine. The eclectic Chicago rooftop garden is set up for relaxing or entertaining. Durable outdoor upholstery really allows you to channel your favorite indoor design elements.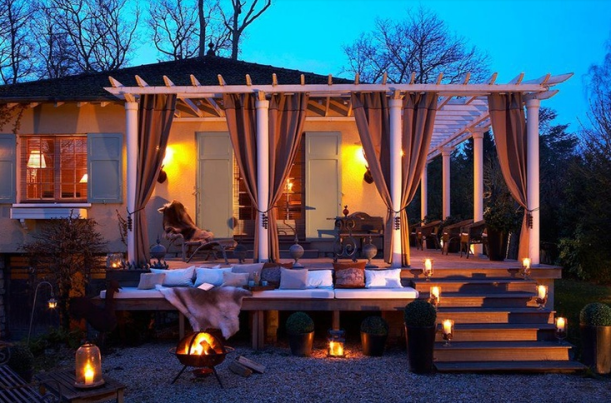 Photo via Copper and Vine.
Rich neutrals, texture, and lighting create a romantic ambiance. The wrap around porch has plenty of seating and I love the addition of the cozy bench.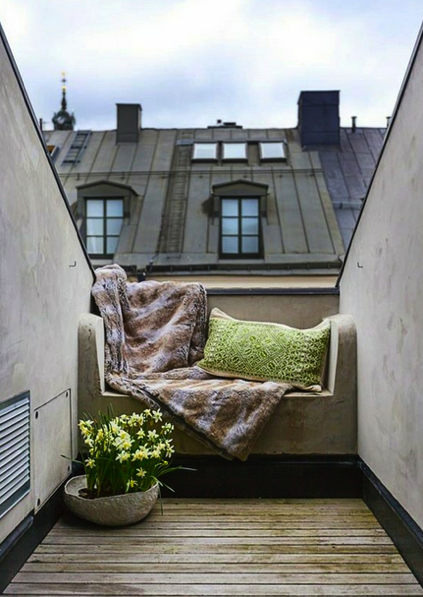 Photo via Sanctuary Decor.
This tiny balcony nook proves that you don't need a sprawling backyard or a rooftop for an outdoor oasis.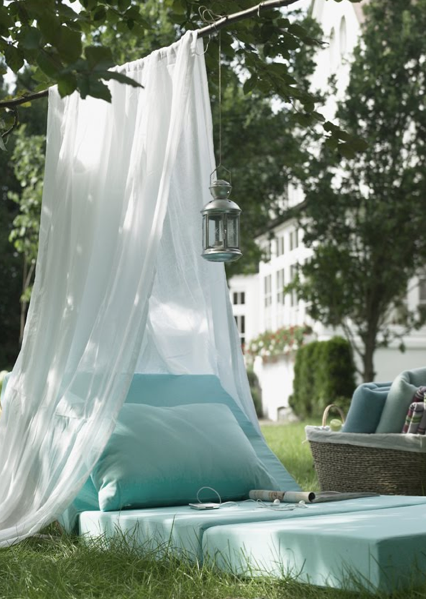 Photo via Desde My Ventana.
DIY idea? Fashion your own light and airy reading spot. All you need is outdoor cushions, fabric, a rod, and sunshine.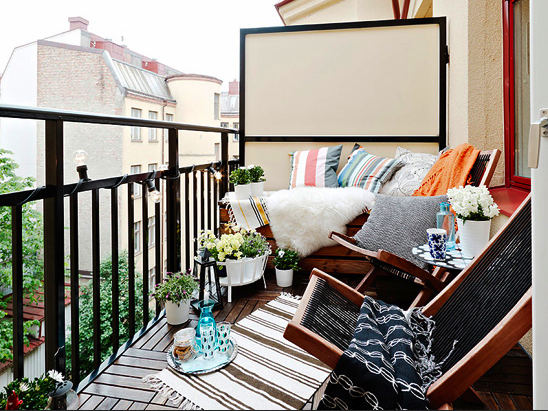 Photo via the Marion House Book.
Another example of a small balcony turned into an inviting sitting area. The ample amount of blankets, pillows, and textures make for a comfortable place to unwind.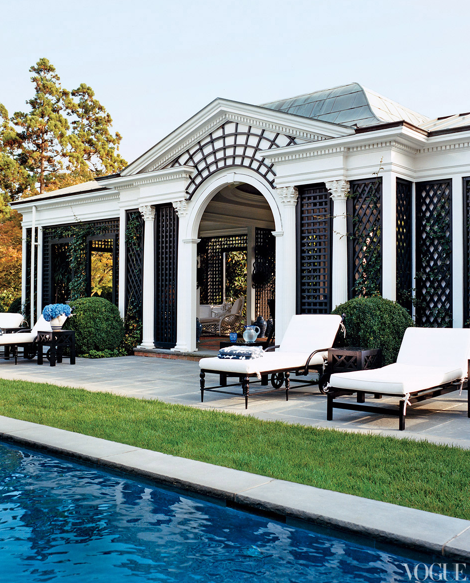 Photo via Vogue.
Tory Burch's pool area is the epitome of sophistication. The pavilion even houses a dining area.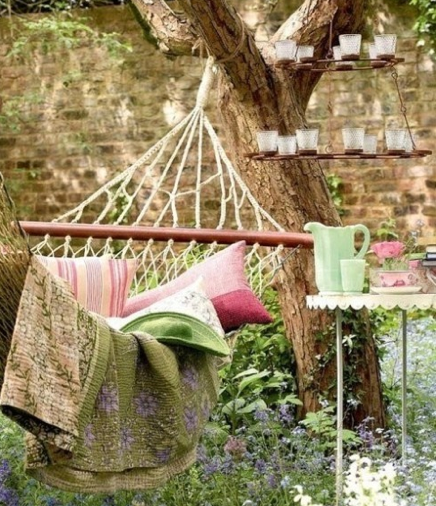 Photo via junegir.com.
Create a plush and dreamy vibe by adding an eclectic mix of pillows and blankets to a hammock.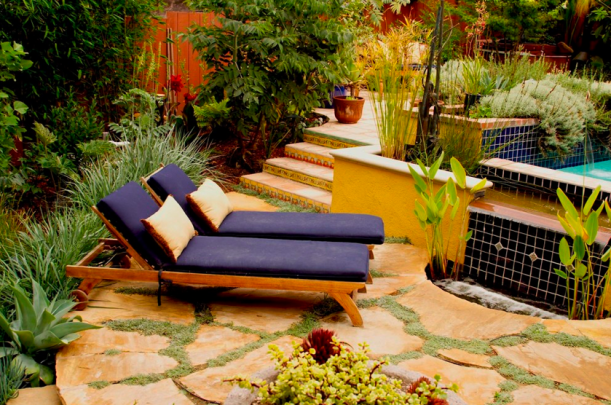 Photo via Jeffrey Gordon Smith Landscape Architecture.
The Mediterranean-influenced backyard is an extension of a Spanish bungalow. Peach flagstone, funky stairs, lush plants, and a blue tiled pool lend themselves to a cheerful atmosphere.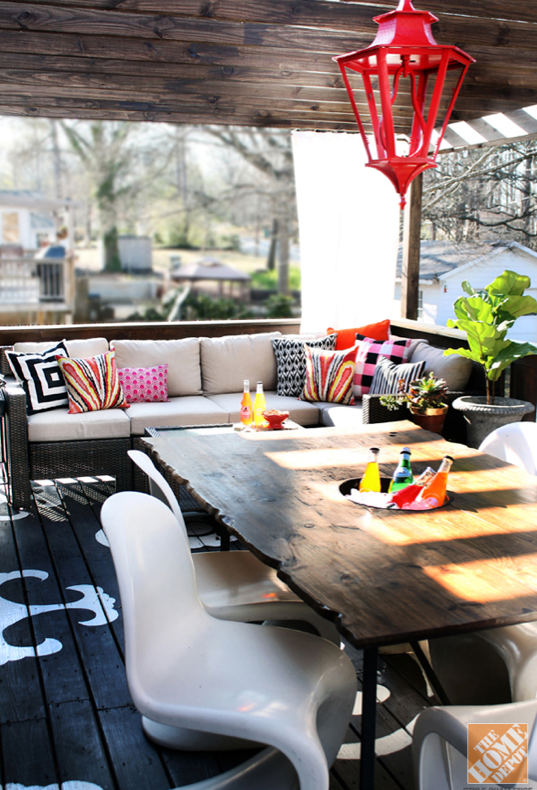 Photo via Home Depot.
Designer Kristin Jackson won Home Depot's Outdoor Challenge with this re-designed deck. The vibrant space includes a painted floor, dining table, colorful textiles and accessories, modern chairs, and a vintage lantern. Love the unexpected touches.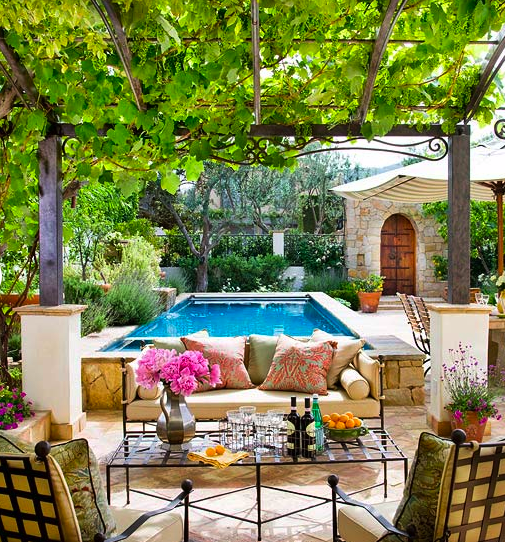 Photo via BHG.com.
This multifaceted outdoor space has separate areas for swimming, al fresco dining, and enjoying conversation under the shade of a vine-covered pergola.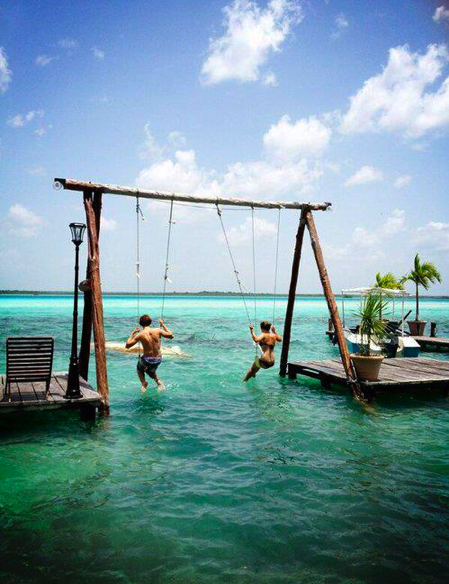 Photo via Tumblr.com.
If you happen to live in a tropical locale, turn your dock into a swing set! Amazing.
Do you have any plans for creating an outdoor space? Which photos do you like the best?