I have contemplated a blog layout change for some time. I've generally been feeling pretty uninspired and (oh did I mention super-busy and distracted?) lately, and the blog has suffered a bit.
I do hope that a layout and theme change helps me to be a little more active on this space. As of now, the look is still a work in progress, and things are broken here and there, but already I feel better about the blog. I think it really needs this face-lift.
Anyway, enough about the blog. On to what life's been like lately.
As expected, it pretty much revolves around the kids these days. Ferrying Piglet to horse riding classes on both days of the weekend pretty much means my mornings are shot to pieces. Instead of a relaxing weekend lie-in, Piglet and I are up at the crack of dawn, getting ready, breakfasting, gathering up the gear, and off on our way for our tryst with the horses.
Once he's off riding, I sit and gossip with the other moms, check my Instagram feed (rapidly becoming an embarrassing addiction), or try to read my book. The operative word is try. I've been gamely lugging around The Blue Between Sky and Water by Susan Abulhawa everywhere I go, but sadly I've not really made much of a dent in it.
I have cleverly scheduled Snubnose's art activities and classes on Sunday afternoon, which although smart of me, means that now a tired Piglet (after horse riding) gets to enjoy an afternoon nap with his dad, while I again make the long drive to drop Snubnose for her art sessions.
Of course, it's all worth it when she comes back with such sweet stuff for the house (such as this butterfly wind chime).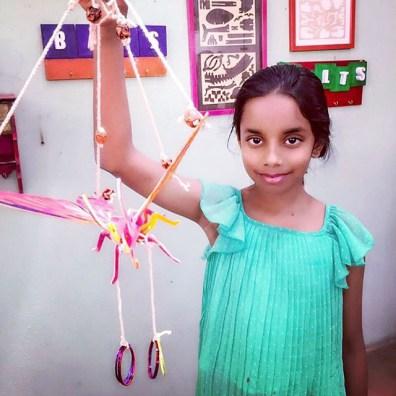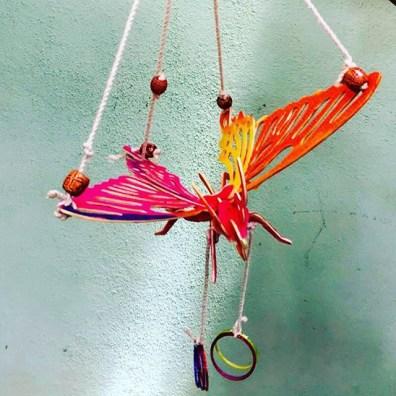 A thing to note though is that our entire house now reflects Snubnose's princessy design ethos. Practically, every piece radiates feminine energy. I wonder how K and Piglet take it. All the pinkness, fairies, and butterflies around the house gets a bit much even for me sometimes.
Evenings are devoted to long rambles with the kids and Coco - our new pup (whom I've meant to introduce formally on this blog but never quite got to it). Now that he is four months old, I don't think an intro even makes sense anymore.
Anyway, Coco is our chocolate lab and he is four months old. He is also a lazy lug. All my experiences with dogs so far have been of the frisky puppy varieties. But then I never knew a lab before. All my fellow lab owners assure me that all labs like to do is eat and sleep, and I need to be very careful that ours doesn't become overweight.
On weekdays, only short walks are possible, so I try to extend Coco's stamina with long walks on weekends. Unfortunately, he seems to be a typical lab. He starts out with great gusto for a couple of blocks, and after that it is a series of coaxing to get him to move.
One excellent way is to have the kids run in front of me, which excites Coco enough to give a bit of a chase. So, that's what we are doing here.
So after all this, you are thinking...hmm...I spot a free Saturday afternoon here. That's not too bad. Well, saturday afternoons are dedicated to Piglet's date with his friend, a visit to the library, grocery shopping, and cooking a special treat for Snubnose (because let's face it, Piglet is quite happy with his standard fare). If not, then I am generally booked in for a media invite or two.
Saturday nights - well, that's my luxury time. No one dare disturb it. That's when I retreat with my magazines and a glass of beer or wine (I am not picky), and just chill.
Last saturday, I was really thrilled with the July edition of Elle India that I picked up from the library. I have generally enjoyed this magazine, but of late, they have been just rocking it. Their book recommendations and literary picks are spot-on pretty much always. But the July edition had the author Arundathi Roy on the cover - looking just absolutely smashing, her interview was great too - not just fashion-y chit-chat, touching very sensibly on a lot of topical subjects. I also loved the age-appropriate beauty editorial, and, and well, pretty much everything in this edition was perfect.
Aah, the bliss of that Saturday evening!
Well, now you know why this blog space has been sporadic of late, don't you? 🙂
If you think my life sounds super-scintillating, go ahead and follow me on my Instagram, where you get real-time updates on what's up.