Is there anything better than reading about someone else's vacation? Nope? NOPE! Sit on down, lets do it.
Prior to the Great Summer Vacation Trip of 2014, my entire family descended upon Chicago like locusts.
Ok fine, just my parents and my nephew. My brother couldn't get away for the week so his son got an entire week of being spoiled rotten by his grandparents and aunt/uncle (that would be me and B) before we gave him back to his parental units. And it wasn't locust-like since they were invited, but nonetheless, they all arrived in Chicago. After finishing up the work week vacation officially kicked off and we all headed down to the Chicago Yacht Club to check out the boats & do boat-things, like play my favorite game "Yachter/Not-A-Yachter" which involves watching girls in stillettos try to walk around the docks to catch themselves a sailor-man. Every year like clockwork……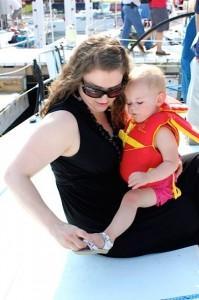 (We take water safety seriously and although there were a few mix-ups that led to no life jacket on the dock (but child firmly in someone's arms) we have been really pleased with the Stohlquist Infant jacket for our under 30 lb girl- she doesn't mind wearing it and it is easy to get on/off. Amazon affiliate link, but we bought ours on sale at a sailing event. It has a handle/hook for scooping out of the water, a neck support, crotch strap and a buckle across the front to help stop unintintentional unzipping, although some of Amazon's photos seem to show an older model w/out the front buckle.)
Saturday morning B and Dad took off sailing the Mackinac Race and my Mom and I quickly shelved all ideas of the zoo and other fun activities when we realized how much we had to do before we took off. We were renting a house for the week and while we had plenty of plans of eating out, we wanted a few casual things in, so we made many pans of lasagna and cinnamon rolls and stocked up on snack food and things you want at vacation spots, like coffee and booze. Sunday morning dawned way to early and after playing Stuff Tetris packing the car (when did our spacious SUV become so small? why did the sailors have such large bags of clothing for us to bring? why can't our cooler hold 5 Pyrex 9×11 pans and yet takes up this much space in the car?) we hit the road. Now, when you travel with a 5 year old and an 18 month old, a car trip is a bit of an adventure but with a few stops along the way and a lot of this really terrible CD of kids songs, we pulled into Harbor Springs, Michigan and promptly went out for pizza at Turkey's with the kids and our  friends who were also renting the house with us. Turkey's is a Habor Springs staple, and it is perfectly fine, but I think part of its glowing reviews is the nostalgia – it is the place where kids are sent to eat out alone for the first time, crumpled $20 in their pocket and all the freedom in the world. So expect your food to be perfectly fine, but most likely it isn't going to blow your hair back or anything. After dinner there was Yummies because, hello, vacation = ice cream.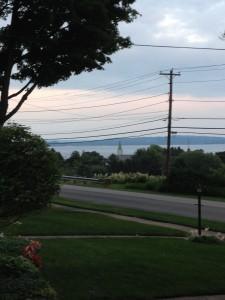 Sometime early Monday morning the sailors made it onto Mackinac Island so obviously the next morning we decided to decend upon them (unlike-locusts) and we took the ferry over to Mackinac Island and enjoyed the day. The race weekends are a total frenzy over there so we didn't really see a whole lot and we stuck to the little downtown shopping area/grassy knoll where we atched the horses go by, ran around in the grass and enjoyed the sunshine.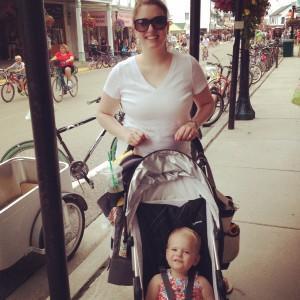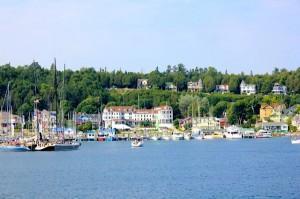 Drinks were had by various members of the party at the Pink Pony & Horns. My favorite store was Poppins, a boutique full of whimsy items that were wholly unnecessary but fun to browse through. Then we meandered and sat on the boat and took in the scenery before a BBQ followed by a ferry ride home. Gracie didn't nap the entire day and was zonked by the end of it and the pans of lasagna waiting at the house were much needed.
Tuesday we kicked the day off with cinnamon rolls and then spent time walking around downtown Harbor Springs, which is adorable and fantastic and about the point in time when I realized, hey, I have no pants. Seriously, not a single pair of pants made it into my suitcase. How this happened I haven't a clue, but alas, my shirts felt very lonely and I became irritated at the thought of nothing but the 2 skirts and dress that I brought and began searching for a pair of pants in each of the adorable but low-inventory boutiques in town. Yay? Through much trial and tribulation I found acceptable (i.e. non-$220) options at Craig Ryan and Dressed L'esprit, settling on a pair of white jeans from the latter. Luckily we had laundry facilities in the rental house so I was able to wash as needed (and lets be honest, they needed it). We had lunch at the Pointer Room on the pier, which has great views and some amazing chowder. Later we stopped in for coffee at the Stained Cup, which I ended up visiting every day for coffee, bagels, or sandwiches to take back to the house – a really nice little spot and much friendlier than the more entrenched Hollywood Market, who seems to be in the business of selling coffee to locals and locals only. (Seriously, I tried to order a pastry with my coffee there and was ignored- twice- before I gave up and walked down to the Stained Cup for something to go with my coffee). That night we were down in numbers as the boat was being delivered from the Island to Harbor Springs, we ended up back at Turkey's, where I enjoyed a calzone filled to the brim with fresh garlic.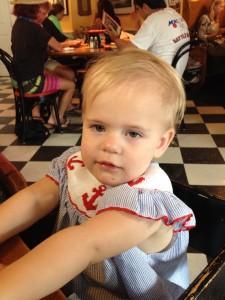 Later in the evening, after the little kids were in bed under the watchful eye of the older kids (aka the babysitters), the non-boat delivering adults headed down to the Pier for the always famous Hummer – the tastiest cocktail in the United States.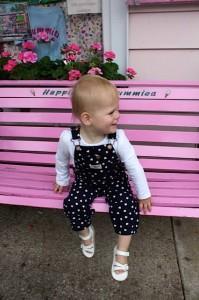 Harbor Springs has a very cute farmers market so we started there on Wednesday morning, and my child promptly helped herself to a few blueberries at the first stand. As I apologized she ate some more, so then I guilty bought the pint and tried to figure out how to explain to her that no, you cannot just eat the display fruit. My nephew participated in the kid's scavenger hunt (earning him some Michigan cherries) and Gracie jammed out to the band in between blueberry eating breaks.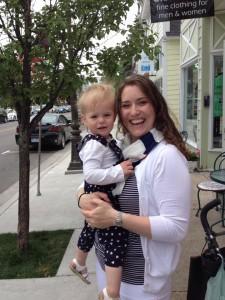 By Wednesday afternono the boat and all of the adults were back in the greater Harbor Springs area. We spent time down at the dock and around the boat, had a casual lunch at the house and let the weary water travelers rest. The house had a great front porch (and a baby gate) so we spent a lot of time just enjoying the view, books, and company. Wednesday evening the older kids babysat while the adults had a fancy crew dinner down at the Pointer Room, where planked whitefish is the speciality and Hummers were consumed by everyone.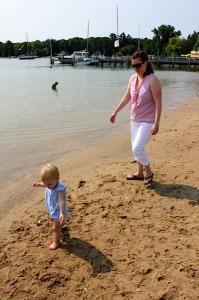 On Thursday athe Harbor Springs regatta began so we lost the sailors to that while we continued the time honored vacation tradition of relaxing. At one point my Mom and I took Gracie and Z to the park- the park which I thought was right by the beach but is actually on the beach much to my sand-hating disdain- and we stumbled upon the craziest car either of us had ever seen. Filed under "yer doin' it wrong".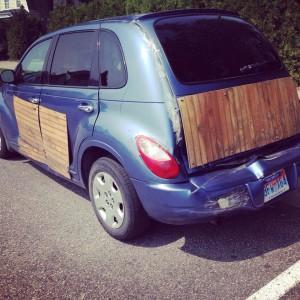 We eventually picked up sandwiches from the Stained Cup, and that night, after walking around and hanging out with all of the other regatta participants down at the dock, we had a chicken dish and biscuits back at the house, along with wine and good conversation on the front porch.
Friday morning rolled around and we decided we'd walked the streets of Harbor Springs more than enough so meandered over to Petoskey which was holding its annual sidewalk sale extravaganza. I wasn't sure what to expect but it was really fun- after almost buying a new Dash & Albert rug a few times I held off, bought a baby gift and had fun poking around the downtown area before enjoying a casual lunch at the Grand Traverse Pie Company, where we all had a chance to cool down and rest our feet, with an end note of delicious baked goods. We made our way back to the house to rest up before the annual Ugotta Regatta party down at the boat shop, which is the social event of the summer (or at least to us!). The party is casual- after all, the participants show up in their race gear- but there are hotdogs and bratwurst and a band and activities for the kids. Gracie had fun playing with her friends and she even had her first bratwurst (devoured it). She loved all the little toys and activities set out for the wee ones, although I was mean and wouldn't let her open a bottle of colored "scented" bubbles – seemed like a bad idea.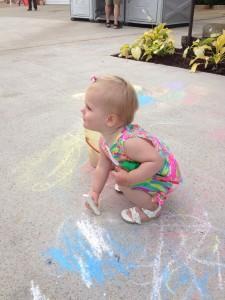 By Saturday I suspect we were getting a little vacation weary, (and it was rainy and cool) and we spent the morning in, coloring and lounging around the house. There was ice cream (vacation!) and walking around and in the evening we headed down to the pier for dinner in the casual dining room, The Chart Room, which serves my favorite Dijon chicken and spaetzle and I highly recommend it to anyone. My Great Aunt was able to come join us and it was a lovely evening of catching up. The dining room of the restaurant was filled with all the families Gracie and Z had been playing with all week and they spent a lot of time waving and going outside to play with various subsets of kids/adults while they waited for food. It was the perfect end to the trip and it even included a few Hummers.
By Saturday most of the vacationer-s had gone, save Gracie, B and myself (B had one more day of sailing). Gracie and I met up with some Chicago friends and we headed up to Pond Hill Farm and let the kids check out the animals, steering clear of the biting pig (SERIOUSLY, WHY?) and spending a lot of time with the ducks, goats and tire swing.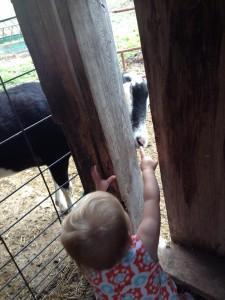 The chickens and geese were only moderately amusing, and rather than stick around for a wine tasting we opted to drive over to Legs Inn for some famous Polish food. The setting has to be seen to be believed and the food was amazing. Gracie enjoyed her non-Polish french fries immensely. After that we drove the Tunnel of Trees back to Harbor Springs where Gracie took a car nap and I sat in the car and watched the boats come in and chatted with B as they cleaned up/packed up after racing. And then, just like that, we hit the road home…but this year no one got a speeding ticket on the way home and we took a pit stop in Grand Rapids to visit friends with a new baby and let Gracie stretch her legs while we got in some snuggles. By 11 pm we had picked up the dog, and were home, with a hallway of laundry and an air conditioner working in overdrive to cool the house down….