The lovely people at New Look has asked me to create a wish list for expectant mums. It has been more than three years since my last pregnancy and I don't think New Look had a maternity range back then.
There is a New Look store close to me so I popped into the store before writing this post.
New Look clothes have a decent quality and are generally good value for money.
Both my children were born in January. I am one of those unfortunate people who have severe morning sickness. Therefore I didn't used to put on much weight until I am halfway through the pregnancy. I just could not wait for my bump to grow and show it off! For me, pregnancy clothes have to be stylish yet comfortable. You can only wear them for a few months, therefore you want them to be at a reasonable price and ideally, the clothes should  accommodate your growing bump. 
New Look say that their maternity wear  consists of a wide selection of garments, making it easy for you to find exactly what you're looking for, whether it's trousers, tops or dresses to wear with your favourite 

shoes

, 

ladies boots

, or 

handbags

. Their

 range of designer maternity clothes includes maternity wear from reputable brand such as John Zack, Mamalicious and Heavenly Bump, to name a few.
I really like the maternity dresses at New Look. They are perfect for the summer and can be dressed up or down depending on the occasion.




Maternity Navy Butterfly Print Dress

£21.99
This 

d

ress is just gorgeous, perfect for a special occasion:
This skinny jeans looks great for everyday wear:

When I was pregnant with my son, I used bump bands. They come very handy to turn your normal clothes into maternity ones.
Whether you are going on a holiday or are visiting your leisure centre, New Look's swimsuits are great for these months:

Maternity 3 Pack Orange Stripe and Black 3/4 Sleeve Tops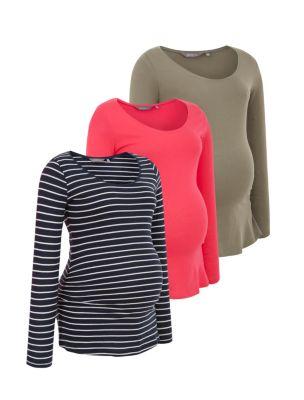 At the moment New Look offers free delivery for orders over 45 GBP and you can also use the click and collect service if available at your local store.

Thank you so much for stopping by! If you enjoyed this post, please join us on Facebook,Twitter,Pinterest and G+. Click on the buttons on the right hand side to follow us on these platforms.