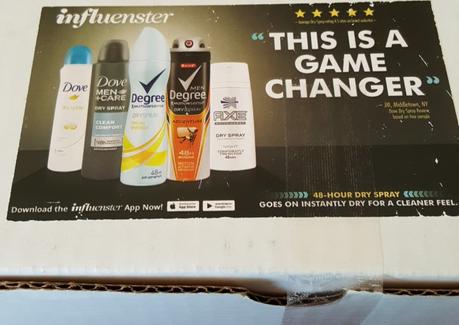 We're starting the new year off feeling fresh and clean with our #TryDrySpray VoxBox thanks to Influenster and Target! I was excited when I got the voxbox in the mail. It meant a complimentary product had arrived for me to review! I'd seen numerous commercials on dry spray deodorant but my current stockpile has pushed my deodorant buying days later on into the year. I wasn't sure what might be in it exactly so I opened the box when I got into the car. I couldn't wait until I got home to see what goody came to review. The following Youtube video is the grand unveiling of the #Target #TryDry Spray VoxBox. Read on to view it and reveal its contents!
As you saw the #Target #TryDry Spray VoxBox features the Dove brand spray deodorants. For Daniel there is a Dove Men+Care Dry Spray Antiperspirant, Extra Fresh, 3.8 oz. to try out. And for me there is a Dove Dry Spray Antiperspirant, Cool Essentials, 3.8 oz bottle.
We're both very familiar with the Dove line. It is our current choice for soap. I use their deodorant. Daniel uses a majority of their Men+Care line. Have you tried any of the dove products?
Until then,