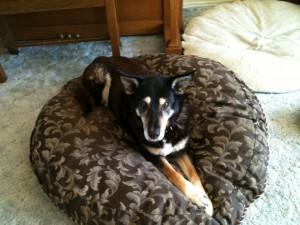 Have you ever had someone come into your life for just a short while, but it changes you forever? This is our family's story of this experience.
It was a cold night on December 22, 2011, when my husband Eric headed home from work. He called me on his way to say that he had done his 'good deed' for the day. He saw something stumbling in a ditch off of a range road near our subdivision. Two cars had pulled off to the side of the road. He pulled over too and got out quickly to see what was happening. Two women were trying to get a dog to come to them.
Eric ran back to his truck, and us being such 'dog people', he grabbed some dog treats he kept in there and called the dog to him. She came to him immediately. He picked her up and put her into his truck. The other women thanked him for getting her as they were very worried about her well-being and she wouldn't come near them.
Eric brought this girl home. He noticed her hips and rib bones sticking out. She had been starving. She had a 'far away' look in her eyes but she took to Eric right away. When he got home, he put her into one of our dog houses in the run and gave her some food and water.
When I got home, I knew from the energy I was feeling, and from our dog Rufus, that the dog in that house was dying. I didn't see her that night as she stayed in the dog house. I laid in bed and did hours of Reiki on her to heal her. I had to be out to work early the next morning. She didn't come out to see me. Eric came home early that day and found she was still in the dog house. He got her out and she ate for him. She could hardly stand though.
We had called around and if we had brought her to the SPCA, she most likely would have been put to sleep because she looked very old and was obviously very ill. After talking to a vet friend, we decided to nurse her at home. We got her to start drinking more and more and her appetite was increasing. Eric is a Reiki practitioner as well, so both of us were very busy giving her treatments. We knew whatever happened, she was feeling the love we both had for her.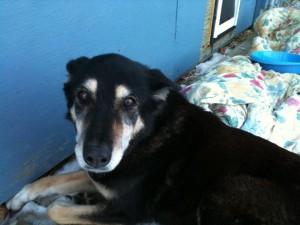 On
Christmas
morning, this beautiful girl perked up, her ears were standing straight, and her tail was wagging. Eric said it was our 'Christmas Miracle'! We were so happy! We had a lot to celebrate that day. Eric said he wanted to name her 'Sera'. He didn't know why, but he knew it was her name and we had to spell it with an 'e'. When I looked up the meaning of the name, it  meant 'heavenly winged angel'. It was definitely her name. One of my friends actually thought that when Sera had her ears up, they looked like angel wings.
I posted Sera's pictures on various 'lost dog' sites online and we put up posters but there was no response. We thought we would get her back to good health and then find her a 'forever' home. We already had three dogs and two cats and thought she would be happy in a home where she could get all of the attention.
Our animals were amazing as they took her in as one of the family. Even though Mazy was still a puppy, she decided to lay out with Sera in the family room and keep her company and sleep with her there. Mazy would look after Sera all the time. Rufus seemed to be very in tune with her. I knew when Sera was really becoming healthy again by how Rufus would act around her. Our cats loved her right away too. Oscar (our orange tabby) is especially loving with all of the dogs and gave Sera a lot of attention. Luckily Sera had no desire to chase cats!
We knew that Sera had been living out on the streets but we also could tell that she had been beaten at times. We had to be very gentle with her and slow in our movements.
Sera would never make a sound. We didn't hear her bark even when all the other dogs were barking like crazy! We found out very quickly that we couldn't kiss Sera on the head. She would cry out as if you had hit her if you did. I literally felt my heart breaking when this would happen. Sera was also scared if I went to put a collar on her and take her for a walk.
Earlier in 2011 we had other strays come into our lives, whom we loved and helped find homes. Eric had cats and stray dogs come to his job site that year as well. He found the  owners or got them to the SPCA. 
We weren't sure why this was happening so often but we knew the animals were finding us so we could help them. With all of this, we thought once we knew Sera was healthy again, we could adopt her out. We had found some friends who were happy to take Sera. The morning that we were to bring Sera to her new home, we took all the dogs for one last walk together.
While we were walking, I kept getting a message from Sera that she had to stay with us, that this was her pack now and her 'forever home'. By the time we got home, I was crying. Eric looked at me and said, 'we aren't bringing her, are we?' Through my tears I answered, 'no'. Luckily when we talked to our friends, they understood that we had her for so long at this point (a little over two months) that we had developed a strong attachment and love for her.
So Sera officially became a part of our family. We went out and bought her an even bigger pillow than she already had as her 'welcome home' gift. She was very happy!
About a month later, around 2am the dogs asked Eric to go out. He let them out and then witnessed Sera having a major seizure. I started to do Reiki on her immediately and eventually she calmed down.
We brought her into the vet and got her checked out. She was put on medication to prevent any more seizures.  Eric and I were happy that she had found us and knew now why she had to stay with our family as we were prepared to give her whatever special care she required.
After being medicated, she never had another seizure and was doing quite well except I knew her back end was sore. I started to feel from her, when I was treating her with Reiki, that chiropractic and acupuncture would be beneficial to her. I found a vet in the city that gave these treatments and started to bring her regularly. It was wonderful to see the shift and change in her. The x-rays showed that she had spondalosis in her back but obviously these treatments were giving her relief. She started to run out on our walks and she was always smiling.
Sera was trusting us more and more. I was so excited the first time I could kiss her on the head! She was really becoming a member of the pack and started to mimic the Shar Peis in the house. She had quite a few of their mannerisms which was so adorable on a Shepherd cross! Then one day she barked when the other dogs were barking. We noticed as time went by that she was barking more and more and we encouraged her to use her voice! Then she even started crying when we would get home. We'd hear her crying for us until we got into the house and let her in.
She would be as excited as the rest of the gang that we had arrived home and she started jumping! She started to do this little 'dance' when we got home and right before we put her dinner dish down. She was certainly coming out of her shell and feeling more free! She loved it when we gave her baths. She loved the warm water and having the full attention of mommy and daddy. We would take her out of the tub and she'd turn around and try to jump right back in! None of our other dogs ever did that! She was so sweet and we could feel how grateful she was for the life she had with us.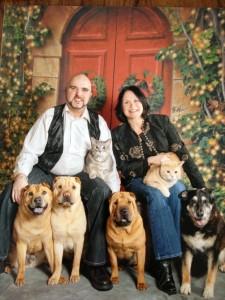 Every year Eric and I get a family picture of us done for our families for Christmas presents. We packed up all four dogs and the two cats and headed to the vet! Sera was very excited and posed nicely for the family portrait.
We decided that we would celebrate Sera's birthday as the day that Eric saved her, December 22nd. And of course at Christmas we always have stockings and presents for the dogs. Sera was absolutely thrilled with this! Rufus taught her very quickly (since he is the oldest and has had the most Christmas stockings out of the group) what was happening. It is always so much fun to watch all the animals enjoy their treats!
With the Reiki, chiropractic, acupuncture and herbal treatments, Sera's health improved and she was living life to the fullest with her pack. Every morning we would start the day with a tummy rub and waking her up slowly. She would sleep so deeply now. When she was initially with us, we had noticed that she would never allow herself to go into a deep sleep. I am sure living out on the streets, she had to always keep herself in a state where she could wake up easily to protect herself.
I would make up her capsules every morning with her food and hand feed her them in some meat to make sure they didn't get lost in the rest of her breakfast. She liked being spoiled and hand fed. Mazy would try to jump in on that special treatment too but for the most part, the dogs knew that Sera just needed it. She loved her walks and would cry out in protest if she wasn't on the first round of walks (I'd have to do two walks with two dogs at a time).
Sera loved all the dogs but especially Sam. She would get on her toes, perk up her ears and awkwardly dance for him sometimes. It was so cute! He did let her cuddle with him at times. She would share her pillow with Mazy once in a while too.
Sera was really now a very happy dog! She had found her way into all of our hearts.
Then one day I came home from work to find that she had gotten very sick that afternoon. We brought her into the vet and discovered she had pancreatitis. We were hopeful and came home with medications and special foods. The next day she already seemed to have improved. I was doing a lot of Reiki on her and kept getting a message that there was something much worse happening that we were not aware of. Since she seemed better, I just wanted to ignore the message I was getting.
The next day I woke up and found Sera in a lot of pain. I was doing Reiki on her and kept feeling pain even though I had given her pain relief medication. I rushed her back into the vet. We did more x-rays and tests and came home with more medications. The next morning, she really took a turn for the worst. She had a very high fever and a bad infection and I could feel she was in terrible pain. The vet said she might possibly be able to come back from everything that was happening, but it would be a very long hard road for her. She was spiraling downward and my heart was breaking.
Eric came in to have a talk with her and be with her as well. She was in such bad shape and she said that was enough. She wanted to go even though she loved us so much. Because we loved her so deeply, we needed to honor her wishes and let her go.
Sera was only with us a total of a year and a half, but she left paw prints on our hearts that will last a lifetime. It was so wonderful to see her appreciate everything in her life, grow, open up and be free and happy. She has forever changed us and truly made our hearts grow bigger. We love you Sera. We bless your soul to heaven and look forward to seeing you again one day. You have been and will always be our Heavenly Winged Angel.
~ This story was written by Mary E. Stevenson
Tags: animal reiki, animal rescue, in memory, loving memorial, memorial, personal story, pet memorial