Our first makeup swap!

Hey everyone!

It all started when Khaddu mentioned this casually that maybe we can do a makeup swap and well, we did it!

We both were doing this for the first time and were very excited about it! Basically a makeup swap means two people send each other some surprise stuff within a set budget.
We first set a budget of Rs.2000 and then shared 'hints' with each other of what kindof products we want!
I basically wanted products from Indian brands like Lakme, Colorbar. I was having an overdose of Revlons and Maybellines! I also really like Bourjois, she does too

And she mainly wanted Sephoraaa!!

And we both got our wishes!
She'll be sharing what I sent her soon and I'll link that post here then

At first, we were quite scared because the parcel she sent me came back to her

but then she sent it again and I have it with me nowww!!!! I'm so excited seriously!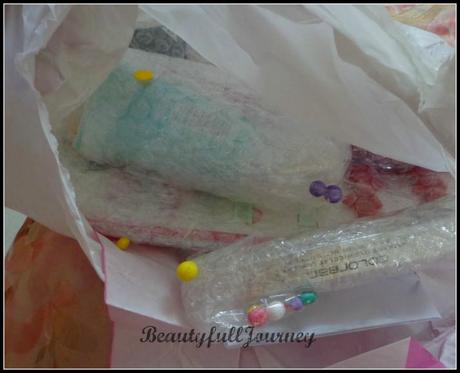 As soon as I opened the package, there was a candy like scent coming from it! Aahh!!

and also, the package had these cute little colourful bubbles all over.
I mean thermocol balls, please excuse me, I'm extremely kiddish that way

Then I started opening it all and here's what came out!

this post is almost like an unboxing post, as I'm sharing pics and my thoughts exactly as I opened this!
These adorable slide on clips with…. BOWS! My sister and I have this crazy fetish for bows. We recently bought some from Claire's too and she even got a belt with a bow recently. And these ones that Khaddu has sent are just so pretty, aren't they! Thank youuuu :*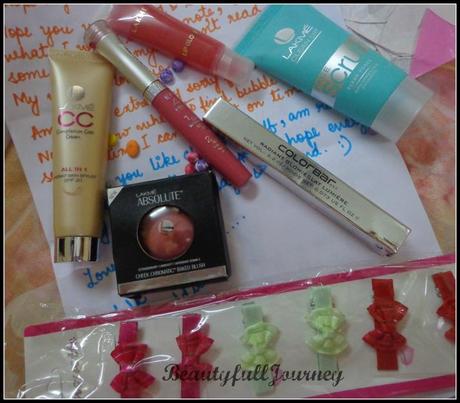 Yes, the Lakme cc cream and green tea scrub I've already bought, but that's totally because I'm highly impatient, she had told me not to buy any new stuff

but I don't mind as I'm loving the CC cream and this will be a backup for when I run out of it! And I never mind more scrubs

Then the Bourjois Effet 4D lip gloss in shade Rose Metallise. It's a super pretty soft pink lip gloss! She had ordered this from Slassy and I received this last week itself and I've used this 2-3 times and it looks very pretty and natural on me! It's perfect for me for everyday wear

Then the Lakme lip gloss in Strawberry! Okay, a confession – when I got into the makeup and blogging world last year, when I was new to reading makeup blogs, I had started making a kindof wishlist in my phone and kept adding random stuff to it! I still do that btw!
To be honest, this is the first lip gloss I had on my wishlist that time! but I never got around to buying it, as to a beginner there are so many attractive things in the market, I remember I used to check this out often and then the SAs used to start showing me other and more expensive stuff and this cutie lay forgotten! And now I have it and this is also the source of the heavenly fragrance in the whole package!
Next, the Lakme absolute blush in Day Blushes. Okay, this one I'd already told Khaddu directly. This is on my wishlist since forever and it's always out of stock in stores I go to and even most online stores it's not there. They have the other variants like the sheen ones that I don't like at all but they never have this but now I have it in my hands! It's such a beauty!

Saving the best for the last, Colorbar Radiant Glow illuminator pen.
I think Khaddu has superhuman powers. Believe me, she is not as innocent as she looks! She can read other's minds or something! OMG, I honestly can't believe she got me this! When I took this out of the bubble wrap, I thought it's an i-glide liner as she had mentioned it that she might get it and all Colorbar stuff come in the same carton. But this totally took me by surprise! I used to lust for this then I got the Lakme moon-lit highlighter and forgot about this. Then the Sleek contour kit and I forgot about it more! My sister had just started college and she was going to some party last week and usually she's the one who doesn't like the hassle of makeup but would love some instant thing in which she doesn't have to do much work and that brightens up her look. She asked me how to use highliter and I applied it on her. She liked it but she's like, don't you have some pen thing that's instant and easier and does the same job! I went into nostalgia about this colorbar pen, wishing I had got it and now I always see its OOS on all sites online! And can you believe Khaddu got this for me? She has some supernatural powers, I tell you! Sigh!
And well that's it, and then there's the 3 page note she sent me! Which is so sweet and her handwriting is so good! And she says it's bad! That's why I've given you only a glimpse of the letter so you can see how pretty her writing is!! But you can't read it as its personal and very special

And guys, if you are not following her blog already, you're really missing out on some great stuff! She has an amazing sense of humor and all her posts are a joy to read!
I love you sweetheart :* and I'm so glad we became friends and I wish we always always remain so

thank you so much