This came into my mailbox today. Here's the official announcement for OUAT magazine release!
—-
For Immediate Release
Once Upon a time magazine – On Sale Now!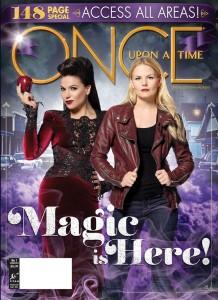 Click to enlarge
MAGIC IS COMING TO NEWSSTANDS IN 2013
Following the success of ABC's hit TV-show Once Upon a Time, Titan Magazines will publish two collector's edition special magazines. Go beyond the fairytales and open up the book to discover the truth about Storybrooke for yourself in the official Once Upon a Time collector's edition magazine. Issue #1 hits newsstands on February 26, 2013 and will be the ultimate companion to the show.
The TV Guide Fan Favorite Award-winning Once Upon a Time from master storytellers Edward Kitsis and Adam Horowitz (Lost, Tron: Legacy) features a world where fairytales and the modern day collide. Once Upon a Time stars Ginnifer Goodwin as Snow White/Mary Margaret, Jennifer Morrison as Emma Swan, Lana Parrilla as the Evil Queen/Regina, Josh Dallas as Prince Charming/David, Emilie de Ravin as Belle, Colin O'Donoghue as Hook, Jared S. Gilmore as Henry Mills, Meghan Ory as Red Riding Hood/Ruby, and Robert Carlyle as Rumplestiltskin/Mr. Gold.
The magazine is the must-have companion to the show with 148 pages bursting with exclusive cast interviews – Jennifer Morrison discusses how the extraordinary script offered her a challenge as an actor and opportunity for character growth; Jared Gilmore talks about playing Storybrooke's little bookworm; Meghan Ory contemplates what it's like to play a wolf in a sassy waitress's clothing; Lana Parrilla talks about what it takes to be the Evil Queen – and revelations from the show's creators, including Adam Horowitz and Edward Kitsis themselves. Plus there are in-depth making of features, from the costumes to the stunning fairytale settings to the magical special effects. There is also a guide to the first season and secrets about what's in store for fans in the rest of season two. This all-encompassing guide brings you closer than you ever thought possible to the world behind Once Upon a Time…
Issue #2 will be available in summer 2013 with more exclusive interviews with the cast including Ginnifer Goodwin, behind-the-scenes secrets, and lots more!
Once Upon a Time Magazine issue #1 will be available on newsstands and in specialty comic book stores in the U.S. on February 26, in the U.K. on March 7., and in Australia and New Zealand on April 13.
For more information on Once Upon a Time Magazine visit:
http://titanmagazines.com/once