Do you know the meaning of embarrassement ? In my life I have had many occasions to feel embarrassed. Like when I fell in a manhole (don't ask me how I did that, I don't even know it myself !) or when I..mmh something is telling you want to know more but I'll just stop here for my own sanity.  
Almost two weeks ago I had another of this embarrassing moment. Everything started with a "Basically if I ride this or I'll kill myself or I'll kill someone else". It was all about riding an ingenious scooter by

www.unumotors.com

. This small Munich based company had the idea to create an electric scooter named Unu with a really cool design (by the way you can choose your own).  You can charge it when at home, at your office, to make it short wherever you have a plug. Isn't it a brilliant idea ? No need for a gas station, just your batteries and a plug !
So now can you foresee my embarrassing moment of fame ? I fell. I fell and in lieu of my skin I currently have a big hole on my right leg. Fortunately I didn't kill someone nor break the lovely Unu but I almost got myself in a huge accident. 
A pecky leg, a swollen foot and a ban on walking. That's what happened to me when I was just confessing

my attempt to fit into the german lifestyle

. That is a very sporty one. I was going to show you another of my stylish attempt but as bandages oblige I can't. Hence no outfit but instead my vision of the sporty chic look.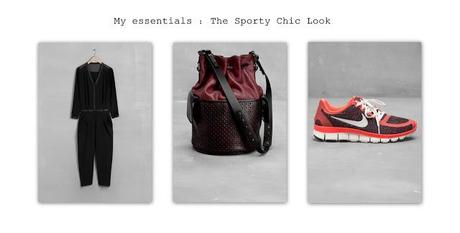 1. & Other Stories Jumpsuit (not yet available) 2. & Othe Stories Bag 3. Nike sneakers
Funny how changing country influences your fashion. Who would have told me that I could have imagined an outfit with a pair of Nike when for me sneakers mean Converse and Vans ? Actually, I didn't see a lot of german people wearing Nike BUT they are wearing a lot sneakers for sure. I think I went for this pair because they look great for a good walk. You can take the tube, your car or your Unu (none of these options are valid for me and even more the Unu one now you know my little story, but still don't hesitate to visit the site and use Google Translator to get all the info you need about

www.unumotors.com

) when in Munich but nothing is better than a good walk or a good ride on a bike.
Why every item from

& Other Stories

? There is no other reason than my

fascination for this brand

! Though it is pretty much out of my reach, owning one of their piece is a sweet dream.
What is your vision of the sporty chic look ? So far, what is your opinion about & Other Stories ?