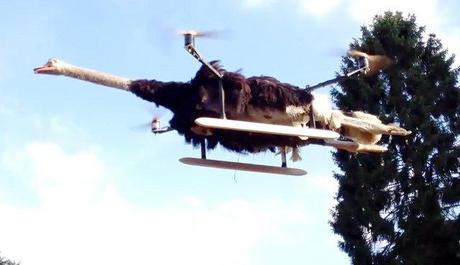 It's a little sad that Ostrich, the fastest running bird in the world that can't fly. Well, it's not like they haven't tried to fly but they fails every time.This particular ostrich however never gave up, it has even come back from the dead to fulfill its' destiny and fly while singing the song " I believe I can fly".
According to Gizmodo, this Ostrich/cyborg quadcopter comes from the same folks who made the creepy flying cat copter. And, was made using a stuffed corpse of an Ostrich. As creepy as it sounds, this OstrichCopter looks pretty funny in the air.
Check it out in the video after the jump.

(All the images, trademarks, logo's shown on this post are the property of their respective owners)
Roshan Jerad Perera