Oscar Fingall O'Flahertie Wills Wilde (1853 - 1900) Irish poet, wit and dramatist studied at Magdalen College, Oxford and in 1878 won the Newdigate prize for his Ravenna. In 1881 he published Poems; in 1891 a novel, Dorian Gray  and in 1893 the play Lady Windemere's Fan. Three  other plays followed; in 1894, A Woman of No Importance : in 1895, An Ideal Husband  and in 1899  The Importance of Being Earnest.
His works The Ballad of Reading Gaol (1898) and De Profundunis (1905) give life to his imprisonment and two years hard labor for homosexual practices revealed during his abortive libel action (1895) against the Marquis of Queensberry, who had objected to Wilde's association with his son Lord Alfred Douglas.
Wilde died an exile in Paris, having adopted the name Sebastian Melmoth. While Wilde was alive his controversial 'art for art's sake' personality and the notoriety of his trial made an impartial assessment of his work difficult. He was strongest as a dramatist, his brilliant epigrams lending distinction to his writing and making a penetrating commentary on the society of his time.
Did you know that Oscar Wilde's mother was a poet herself?  Lady Jane Frances Speranza was a Dublin socialite whose salon was the most celebrated in the city. 
Born in 1821, young Jane Elgee was exceptionally bright and eager to learn, but the denial of a formal education to women left her dependent on her own resources. In an interview published in Hearth and Home towards the end of her life, she recalled her studious nature: 'I was always very fond of study, and of books,' she said, "My favorite study was languages. I succeeded in mastering ten of the European languages. Till my eighteenth year I never wrote anything. All my time was given to study."
The first poems from the pen of Speranza were translations of suitably rousing verse from Russian, Turkish, Spanish, German, Italian and Portuguese, but she soon gained the confidence to write poetry of her own.
During the famine year of 1847, Jane's words had a galvanizing effect: 'a nation is arising from her long and ghastly swoon', she declared. In 'The Voice of the Poor', she railed against the horror, writing 'before us die our brothers of starvation'. In 'The Famine Year', she condemned the arrival of 'stately ships to bear our food away'. In 'The Exodus', she lamented the 'million a decade' forced to flee. Her most popular composition was 'The Brothers', a rousing ballad eulogising Henry and John Sheares, one a lawyer, the other a barrister, both United Irishmen hanged for their part in the uprising of 1798. In tone and theme it resembles her son's Ballad of Reading Gaol and it was taken up by the street balladeers of Dublin.
Throughout her life, Jane was bitter in her condemnation of the neglect of women. Harnessing her finest revolutionary rhetoric, she raged:  "Women truly need much to be done for them. At present they have neither dignity nor position. All avenues to wealth and rank are closed to them. The state takes no notice of their existence except to injure them by it's laws."
Following her husband's death  she was contributing wide-ranging, learned articles to the Pall Mall Gazette, The Burlington Magazine, The Queen, The Lady's Pictorial, TheSt. James's Magazine, and Tinsley's Magazine. She wrote several learned, humorous and eminently readable books, the last of which, Social Studies, contains essays exploring her distinct take on feminism.
Jane's progressive, albeit slightly erratic, views on the position of women in society were uncompromisingly frank and she injected much of the revolutionary fire she had harnessed in the pursuit of Irish nationalism into her arguments for gender equality. In 'The Bondage of Women', she expressed despair at the universal disregard shown for the intellect of women: 'For six thousand years,' she wrote, 'the history of women has been a mournful record of helpless resignation to social prejudice and legal tyranny'. She finished with an exceptionally powerful passage; "Genius never unsexed a woman, or learning culture ever so extended; but the meanness of her ordinary social routine life, with all its petty duties and claims, and ritual of small observances, degrades and humiliates her of all dignity, and leaves her without any meaning in God's great universe."
I would definitely have agreed with her on that one.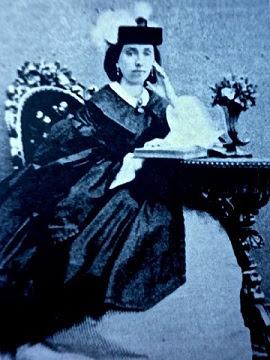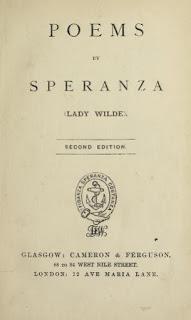 Thanks for reading.  Adele
Email This
BlogThis!
Share to Twitter
Share to Facebook
Reactions: