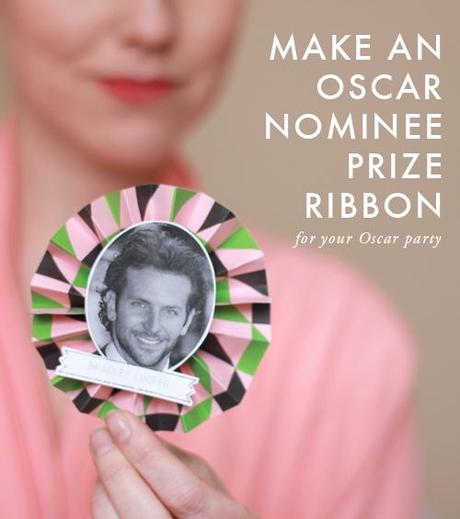 Admittedly, I've never been nor have I hosted an Oscar party, but my friend was recently talking about how she has her nieces and nephews over for the big day and they all dress up. How fun is that?! SO, I thought these prize ribbon badges (what's the official name, anyone?) would be a fun accoutrement. I cannot take credit for the idea. You see, I have a very clever friend who is an amazing illustrator, Michèle Brummer Everett (you might remember her as the pencil), who hosted a presidential waffle night on Monday and made badges like these but with the faces of the presidents (take a look on my Instagram account). I asked her if she would show me how to make it and she was kind enough to agree. Thank you thank you! I turned them into the Oscar nominees so that you can use them tomorrow for your Oscar parties. Are you having one? Attending one?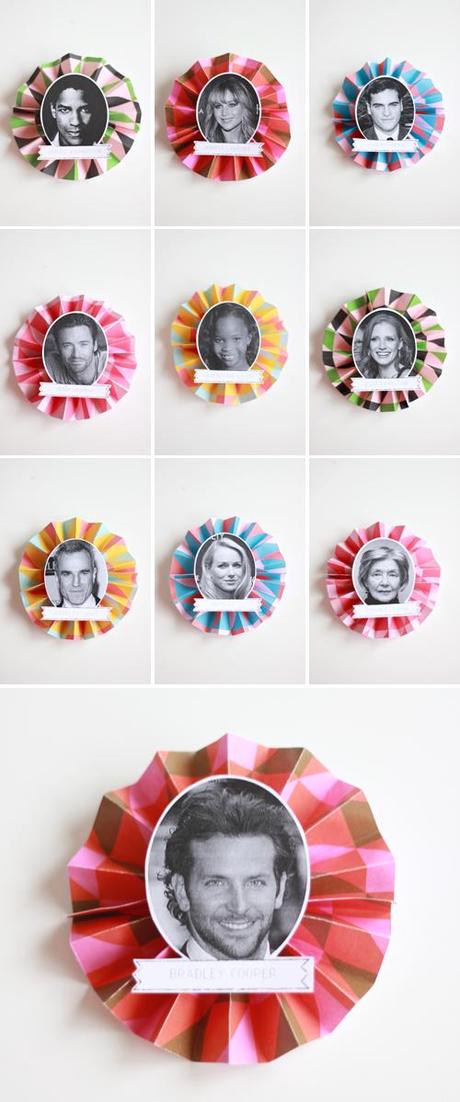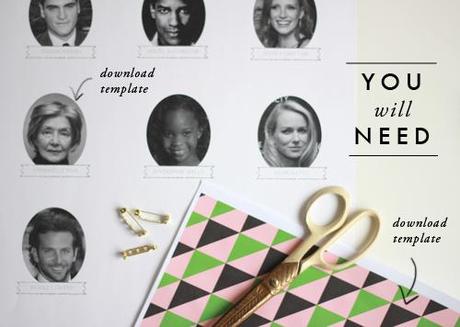 You will need: template of the Oscar nominees (download here), geometric backgrounds (download here, here, here, here) designed by Michèle Brummer Everett, scissors, pin backings (or safety pin should work fine too), glue gun, long stapler
Step 1: Print out the Oscar nominee template on sturdy laser paper cardstock on 11x17" (A3). Office paper is fine too.
Step 2: Cut out all of the heads. I left a small white gap around to act as a border.
Step 2: Print out the geometric background paper on 8 1/2 x 11" (A4) on thinner office paper.
Step 3: Cut out the geometric pattern leaving no white space.
Step 4: Fold the geometric paper in half so it's long ways.
Step 5: Cut it down the center.
Step 6: Fold up the bottom in half.
Step 7: Fold it up again.
Step 8: Fold it up one more time. These fold will act as guidelines for the next step.
Step 9: Unfold. At the bottom make sure the first fold stars by folding up. You'll basically make an accordion fold halving the folds you already made.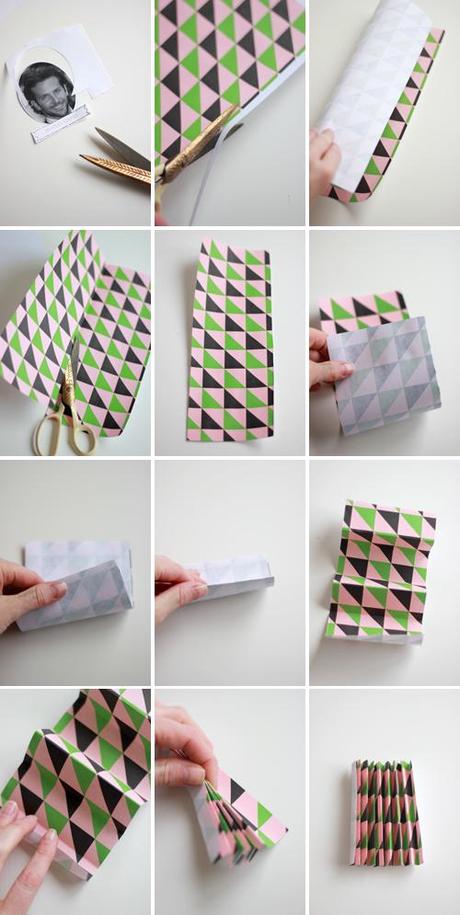 Step 10: Fold the accordion in half. Step 11: With your long stapler, staple the center together. Step 12: Glue the two sides together where the staple is. Make sure you put some in the very center so it glues without bubbles. Step 13: Hold together for a few moments. Step 14: Repeat on the other side. Step 15: Unfold your accordion badge and fix it up a bit so that the folds are even.
Step 16: Now take your chosen Oscar nominee (I choose Bradley Cooper) and glue the back and attach to the ribbon. Step 17: Take your pin and glue it to the back. Make sure it's not dead center or it will tilt when it's attach. About 1/3 down from the top should be fine.
Voila!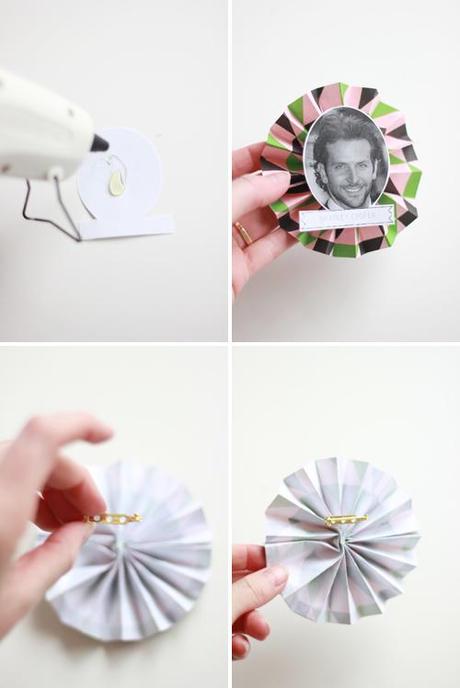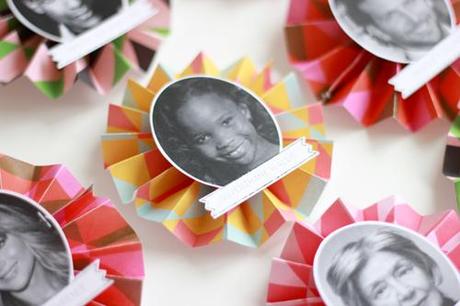 How cute are these? Everyone thank Michèle for showing us how to make them. She's currently redoing her portfolio website and it's going to be absolutely charming, but in the mean time, visit her here.
Alrighty, if you do make them, I'd love to see them! Use #LarsOscarParty so we can all keep track. Happy Oscaring! Here are some more ideas for your Oscar party from StudioDIY
Oscar nominee actor pictures:
Denzel Washington, Jennifer Lawrence, Bradley Cooper, Emmanuelle Riva, Naomi Watts, Daniel Day Lewis, Hugh Jackman, Joquin Phoenix, Jessica Chastain, Quvenzhane Wallis