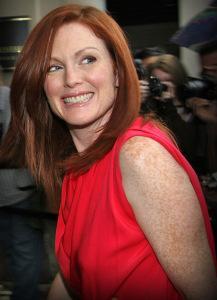 Here's another Hollyweirdo to shun.
I've avoided anything with Julianne Moore in it ever since I made the mistake of watching The Hours, the repellent critically-acclaimed 2002 movie about three self-indulgent, utterly-selfish feminists women which garnered 9 Oscar nominations. Now I have 3 additional reasons to shun Moore.
I read this very long, butt-kissing puff piece by Stephen Galloway for The Hollywood Reporter so that you don't have to read it. Here are the relevant excerpts, beginning with the sickening flattery:
Choosing to live in New York, she [Julianne Moore] has built an enviable private life, with a 19-year (and counting) relationship and two kids. On the career front, she has defied one of the truisms of Hollywood — that an actress is finished at 40 — and has done much of her best work since then: 2002's Far From Heaven and The Hours and 2006's Children of Men…. Moore also has established herself as a beauty and fashion icon, signing seven-figure deals with such brands as L'Oreal and Bulgari.

And so, at age 54, she finds herself very comfortable in the spotlight. She already has racked up Golden Globe and SAG Awards for her performance in Still Alice as a college professor suffering from early-onset dementia, and many Academy Awards prognosticators pick her as the favorite for best actress, which would be her first win in five career nominations….

"The idea that you're the center of your own narrative and that you can create your life is a great idea," she says…. "I totally believe it. I've been really lucky, but I feel I've completely created my own life."

…She's a writer, too: In 2007, she published the best-selling children's book Freckleface Strawberry, and she now has a five-book contract with Random House (all works for children), with the first, Backpacks, due out in July.

…She says she makes friends readily. "I fell in love with Ellen Page," she notes of her co-star in the upcoming Freeheld. "She's a new friend. Ellen Barkin is an old friend. Anybody named Ellen."

Despite her ease, she doesn't want for strong opinions and has drawn angry responses to her tweets in favor of Planned Parenthood and gun control. "I get more reactions on Twitter about gun safety than anything else," she says. "I don't understand how we're threatening the Second Amendment because we're talking about gun safety rules. That, to me, is really shocking."

…Turbulence is not unknown to her; she acknowledges that a peripatetic childhood left its share of instability, and she returns over and over to the theme of impermanence. She says she doesn't believe in God and has a strong sense that meaning is imposed on a chaotic world.

"I learned when my mother died five years ago that there is no 'there' there," she reflects. "Structure, it's all imposed. We impose order and narrative on everything in order to understand it. Otherwise, there's nothing but chaos."
More blah, blah, blah here.
Just remember if you fork over your hard-earned money to watch any movie or TV with Julianne Moore in it, or buy L'Oreal cosmetics or Bulgari watches, you are enabling her to use the media to spread her pro-abortion, gun control and atheist propaganda.
See also:
Abortion accounts for 94% of Planned Parenthood's for-profit business
Planned Parenthood: No need to tell sex partners you have AIDS
Calif. high school students taught sex toys & porn by Planned Parenthood
~Éowyn