Counting down the hours until Hollywood's most golden of awards galas? So are we! Semi-obsessively. Join us at noon for the next ten too-long days as we mentally prep our Oscar pool ballots and give each of this year's Best Picture nominees a once over and half.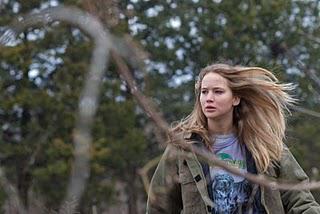 Photo: allmoviephoto.com



WINTER'S BONE
THE RUNDOWN: A 17-year-old (Jennifer Lawrence) and her uncle (John Hawkes) go on a hunt for her crack-cooking dad in an attempt to salvage the minimal life her younger siblings and mentally unstable mother are struggling to keep up in the Ozarks. You see, Dad's got a court date coming up and he's put their house up for bail.
WHY IT'S GOLDEN: Winter's Bone is just one example of why you shouldn't shy away from indie films on the sole basis that it's indie: it's a story that explores what it means to be family, gently tugging on human emotions, both depicted and in the audience. What this film does best is shed light on actress Jennifer Lawrence, as she brings forward a strong, heartfelt performance as the nurturing but take-no-crap Ree Dolly. John Hawkes as Teardrop, Ree's uncle, plays his role fittingly, holding a fierce wall of intimidation for Ree's protection but letting it down to reveal an honest heart for family, which is ultimately what this film is about. - Michelle
WHY IT'S NOT: This film is one hell of a tough watch. The setting is bleak and decaying, full of dead trees and animals. The plot is basically a display of dead dreams. And worst of all, the actors don't try to make any of it seem otherwise. There's no nicely-wrapped resolutions or hints of hope in their eyes. Some may argue that this is a refreshing, realistic approach but for moviegoers who like their award-worthy movies heartwarming and escapist, it could prove to be far too depressing to even put up for consideration. - Emily
THE FINAL VERDICT: You know that saying about a big fish in a small pond moving onto a big pond? Well imagine Sundance as the small pond and the Oscars as the big pond.
Check in tomorrow for our breakdown of The Social Network!