Counting down the hours until Hollywood's most golden of awards galas? So are we! Semi-obsessively. Join us at noon for the next ten too-long days as we mentally prep our Oscar pool ballots and give each of this year's Best Picture nominees a once over and half.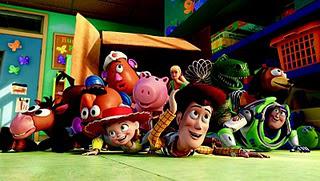 Photo: allmoviephoto.com


TOY STORY 3
THE RUNDOWN: It's time for Andy to grow up and move onto college in this Toy Story threequel. As he packs up, he's forced to decide what to do with his beloved Buzz, Woody and the crew: bring them with him, stash them in the attic or donate them to Sunnyside Daycare. Only Woody makes the cut, going with Andy to college, while the rest of the gang is packed up for storage. Except his mom mistakes them for trash. But the clever toys escape and unintentionally make it into the donation box headed to the daycare, where they face grimy little palms, teething gums and a dictatorship.
WHY IT'S GOLDEN: This may be the only movie of this year's Best Picture nominees made for audiences aged 3-103, but don't think that makes it any less legitimate. In fact, that's precisely why it deserves such a coveted spot. Like it's predecessors, which also aimed right for the hearts and the funny bones of the 8-year-olds within all of us,

Toy Story 3

is pretty much perfect in every way. It's sweet but not saccharine, funny but not frivolous, and SO sad (the hand-holding scene!) but somehow, not sappy. It took them a decade and a half to make this and it shows. Every aspect - the writing, the animation, the voice acting - deserves a score of infinity...and beyond! (Sorry, had to!) -

Emily


WHY IT'S NOT: While the film may be fresh on many other aspects, there are far too many predictable, rehashed moments, ie. the unrelenting, mighty villain who is inescapable without a sneaky plan, the whole sole hero-saves-the-day theme, and even the much-talked-about heartbreaking climax. Of course though, it's primarily a children's film and as such, must follow an old redundant formula, or otherwise potentially risk losing it's target audience. Unfortunately, that leaves the rest of us with all-too-easy to guess storyline. - Michelle
THE FINAL VERDICT: Although the Academy obviously loves their Disney-Pixar movies (

Up

got a nod last year), they have never officially dubbed an animated flick Best Pic. They might see a lifelong friend - and Best Animated Feature winner - in Woody, Buzz and the rest of Andy's top toys, but sadly, probably not a front-runner for the big night's biggest prize.
Check out Emily's original review here! And join us tomorrow as we take on The Kids are All Right!