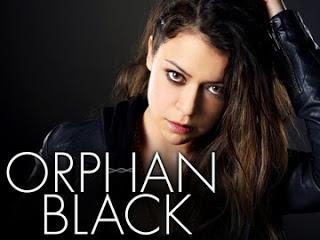 Spoilers to follow!


BBC America just became a major player in the original series game by airing this extraordinary sci-fi thriller.  Orphan Black follows the adventures of Sarah (Tatiana Maslany), a British grifter who comes to the States to reclaim her daughter, only to land in the middle of a huge mystery involving human cloning.  It turns out that Sarah is a clone, which she learns after witnessing the suicide of Beth, a woman identical to herself.  At first, Sarah takes over police officer Beth's life (because she obviously read The Lying Game and enjoyed watching Ringer, while taking notes), and I was wondering if the show was going to sort of collapse into being a week-to-week police procedural with the cloning myth arc on the back-burner.
Surprisingly, Orphan Black quickly slides off that snakeskin and turns into something much more complex and unpredictable.  Sarah begins encountering more and more clones, and it is remarkable to see Maslany completely disappear into each woman's identity.  I have never seen an actor play multiple roles concurrently with such success.  Each of the clones is fascinating and wonderful in her own way.
My personal favorite is Alison, a tightly wound, control freak soccer mom whose life flicks from the comic to the intensely, absurdly tragicomic at light speed.  Between the tart one-liners, the car ride performance of "Bitch" by Meredith Brooks, and the events one can only refer to as "The Glue Gun Incident" and "The Garbage Disposal Incident," Alison is one of the most quirkily brilliant new characters in recent television.  Long may she sip white wine and work on her scrapbook.
The other clones include Cosima, a hipster lesbian scientist, and Helena, a deeply disturbed and violent fanatic.  They all have their own awesome plotlines that converge in the investigation of their origins, as seemingly masterminded by mad scientist Dr. Aldous Leekie (Matt Frewer).  Love interests, family, and friends may at any point be revealed as spies observing the clones for inscrutable, but certainly nefarious reasons.  And events culminate in a series of crazy cliffhangers that leave one checking the calendar to see if it's April yet (when Season 2 premieres!).
A few elements of Orphan Black could do with some smoothing out.  While Paul (Dylan Bruce) has great chemistry with Sarah, we don't learn enough about him in Season 1 to really sympathize with him or understand his character.  Frankly, as he's written, he is really a creep.  But I see more than that in his feelings for Sarah, so we'll see how that continues to unfold.
I'm not sure we really need Art (Kevin Hanchard), Beth's police partner, or that whole subplot of the police investigation of the Sarah/Beth mystery.  It functioned as if it were cliffnotes for new viewers, but surely that need has fizzled by now.
I am desperate to learn the true identity and motivations of Mrs S. (Maria Doyle Kennedy), as well as those of the person revealed as Alison's watcher in a moment of supremely painful irony.  And, of course, to find out where Kira (Skyler Wexler) is!  Naturally, we need more of Felix (Jordan Gavaris) and his fabulously nonchalant observations on life.  If Felix didn't already have a totes BFF in his sister Sarah, I'd recommend Nolan from Revenge.  With its intriguing blend of suspense, humor, poignancy, and scientific/philosophical dilemmas, Orphan Black is definitely one of the best new shows on tv.