In the early morning hours on Sunday, June 12, 2016, a lone gunman named Omar Mateen, after exchanging fire at the door with an armed security guard and two "nearby" police officers, entered Pulse, a self-described "gay dance club" in Orlando, Florida. There, Mateen shot dead 49 and wounded 53 of the club's estimated 320 patrons inside the club.
That leaves 218 people alive and unwounded who, including some of the wounded, we are told, sought shelter in the club's two bathrooms.
Mateen retreated to one of the bathrooms, taking an indeterminate number of hostages with him. While county sheriff and city police officers waited outside for three hours, Mateen managed to send text messages, as well as a 911 call in which he declared his allegiance to ISIS/Islamic State. Eventually, SWAT teams blew holes in the exterior walls of the club's bathrooms, exchanged shots with Mateen, killing him.
It turns out Mateen himself was "gay," according to his ex-wife, his use of a gay hookup app, and Pulse staff who said he was a regular club habitué. The latest news is that, according to a self-identified 2-month male "lover" of Mateen, the shooting spree was motivated by revenge against Latino men who might have infected Mateen with HIV/AIDS.
There are more and more anomalies that the Alternative Media have unearthed about this worst mass shooting in U.S. history, including professional actors (here and here), a laughing policeman, and a "victim" being carried toward, not away from the crime scene (see "Orlando gay-club shooting: The pieces that don't fit"). This post is about the curious Pulse nightclub itself.
In the videos below, Harold Saive, a Vietnam War veteran and a 30-year hospital administrator, and YouTuber "Changing Reason", make astute observations and ask some good questions about Pulse.
First, some information about Pulse:
Location: In Orlando's downtown south, at 1912 S. Orange Ave, Orlando, FL 32806.
Founded in 2004 by Barbara Poma and Ron Legler. (Wikipedia)
Originally painted white, sometime along the way, the nightclub was painted all black, making the building something of an eyesore next to newer buildings like Radio Shack and Wendy's.

Pulse consists of three rooms, described by Orlando Weekly as "three glitzy, throbbing rooms of club boys, twinks and twinks at heart. Every night has something different in store, but Pulse is known to have some pretty impressive drag shows, and the bar's dancers are usually gorgeous." ("

Twink

" is gay slang for young men in their late teens to early twenties.) Here are 2 views of the interior: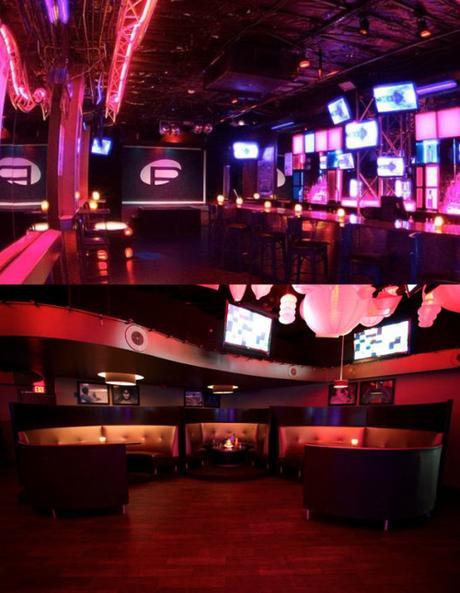 Below are some oddities about Pulse:
1. A "shell game" of registration
Pulse was registered with State of Florida in 2003 not as Pulse, but as 1912 Orange Avenue LLC.

The registration had expired in 2013.

The owners are Barbara and Rosario Poma.
But the principal place of business of the entity called "1912 Orange Avenue LLC" is 5728 Major Blvd., Suite 550, Orlando, FL, which is miles away from Pulse night club at 1912 Orange Ave., Orlando.
The mailing address of the business entity called "1912 Orange Avenue LLC" is in Raleigh, North Carolina — an office suite at 3110 Edwards Mill Rd., which is also the same address as Pulse's manager, Rosario Poma.
2. Size & Parking
The city of Orlando is in Florida's Orange County. The Orange County property appraiser has Pulse's gross indoor area as 4,853 sq. ft., which comes to 16.17 sq. ft. per person. How can a building the size of a residential home accomodate 320 people, with only 11 parking spaces?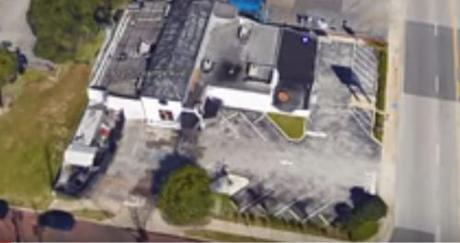 Here's USA Today's diagram of Pulse's interior floor-plan: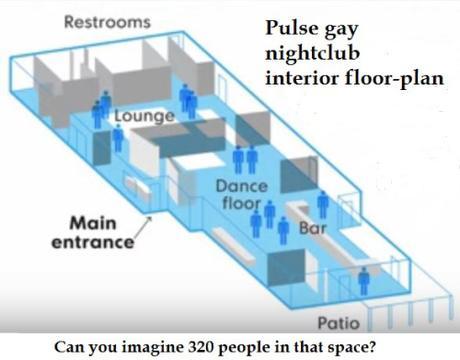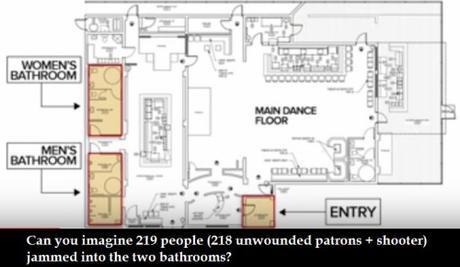 Note that the women's bathroom had two stalls, the men's had only one stall and several urinals.
The parking spaces question is partly answered by a review on Yelp — Pulse had valet parking. The reviewer said:
"The worst thing about this club is the parking. There really is no parking and the valet looks like they will not take good care of your car. I washed [sic] the valet parker car [sic] basically in the street because they ran out of space."
That being said, to think that Pulse's parking valet(s) could find space on the street for 320 patrons stretches credulity.
3. Was Pulse actually in operation on June 12, 2016?
I went on Pulse's Yelp page. Excluding comments/reviews left by people on June 12, expressing their sympathy and condolences, the most recent review was published to Yelp on March 13, 2016, written by Dakota W. from Greensboro, NC:
"Yet another nice club that doesn't accept cards for cover. ANNOYING. The drinks are great but priced high. This is one of the most fun clubs I've been too."
YouTuber Harold Saive notes that the replacement value of Pulse, built in 1957, is less than $500,000, and wryly asks if (like the Sandy Hook Elementary School) the shooting massacre will also lead to Pulse being torn down and replaced with a swanky new building. (See "Sandy Hook hoax: 6 signs that school was closed before massacre" and "Was Sandy Hook Elementary School already abandoned before the massacre?")
For all the posts FOTM has published on the Orlando shooting, go to our "Orlando Gay-Club Massacre" page.
H/t HenryMakow.com and FOTM reader Sher
~Eowyn