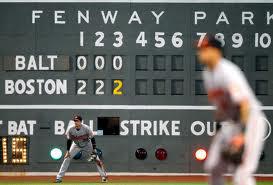 Clay Buchholz was excellent last night as the Red Sox broke a three-game losing streak and finally beat the Orioles at Fenway, 7-0.
Buchholz went all the way, and it was his first complete game in two years. He struck out six and walked just one.
The Sox scored two runs in each of the first three innings, and added another in the eighth for good measure.
Big nights for Daniel Nava (2 hits, 2 walks and 2 RBI), Adrian Gonzalez (3 hits and 2 RBI) and Kevin Youkilis (two hits and an RBI double).
The win moves the Red Sox three games behind Tampa Bay, who beat New York last night. The Rays are tied with Baltimore atop the AL East.
The unnecessary evil that is interleague returns tonight, as the Red Sox take on the Washington Nationals at Fenway, with Stephen Strasburg taking on Felix Doubront.