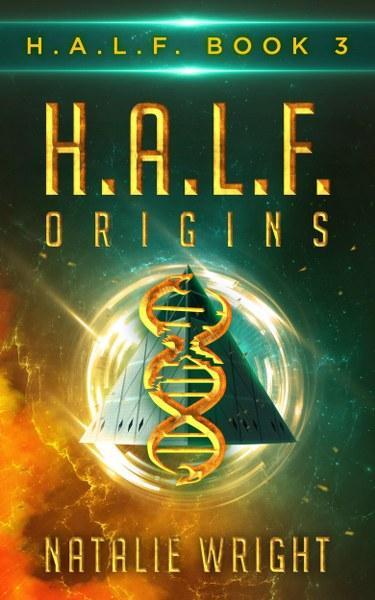 H.A.L.F. Series Book 3
by Natalie Wright
Genre: YA SciFi Fantasy
Alien predators attack Europe. A deadly virus spawns an epidemic. And a clandestine organization conspires to profit from chaos and forge a New World Order.
In this heart-pounding finale of the award-winning H.A.L.F. series, Tex, Erika and the rest are in a race against time. For months they've fought for their lives. Now they battle to save us all.
Tex and Erika are fugitives again, running for their lives. But when Tex falls gravely ill, a Navajo healer is his only hope for survival. Tex emerges from the ordeal changed in body and mind but with vital information: how to stop the predatory M'Uktah from destroying those he has come to love.
Erika Holt seeks a respite from the constant threats to her life but she's not about to give up. As she and Tex launch a mission to shut down the galactic highway used by the predatory M'Uktah, she grows closer to her troubled half-human companion. But what about her on-again, off-again boyfriend, Jack?
Jack Wilson, with his new friend Anna Sturgis, is determined to put an end to the Makers' schemes for world domination. Complicating matters, an anti-viral that could save millions from an alien virus has been stolen.
As both alien and human forces line up against them, the destiny of all mankind is hand the hands of these young warriors. And time is running out.
What Others are Saying about H.A.L.F.: ORIGINS:
"The latest satisfying addition to the H.A.L.F. series has something for everyone: exciting action scenes; great, complex love stories; fascinating new aliens; and relatable teen characters fighting to save the world and find their places in it." ~Alyssa H., Content Editor, Red Adept Editing
Goodreads
*
Amazon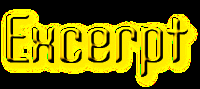 Raindrops pelted the windshield of the rust-bucket truck Erika had borrowed from Ian's dad. Nearly an hour had passed since she'd seen the lights of the last police car recede in her rearview mirror, but her fingers still shook as she turned on the windshield wipers. They were little help. The spittle of rain turned the dusty windshield into a muddy mess, and the sun-rotted rubber of the wipers streaked the glass.
The jacked-up truck tackled the harsh terrain of the desert like a pro. The police cars were no match for barrel cacti and creosote bushes as large as small cars. The local Ajo police that had tried to stop them likely didn't know that they were chasing a human-alien hybrid that had escaped, again, from a secret underground lab controlled by the clandestine organization known as The Makers. The Makers had surely spun the lies necessary to convince local law enforcement that Tex was a dangerous fugitive. Ironic. The lie had become the truth. Erika and Tex were, in fact, fugitives on the run and again fighting for their lives. It was like déjà vu all over again.
Erika's bottom was bruised from bouncing on the seat. Her wrists ached from gripping the wheel. After nearly an hour of rough riding, they hit a two-lane road going east. Erika was heading to New Mexico, where her Aunt Dana, her father's sister, lived. Without complications, they would get to Aunt Dana's in about eight hours. If she'll have us.
Tex had been quiet but awake as Erika navigated the bumpy ground. Once they reached the smooth pavement, he tucked his knees to his chest, hugged his arms around his legs, and became a silent egg-shaped blob on the seat next to her. Erika had seen him withdraw into himself before, but he was even more quiet and still than usual.
Erika wished he'd have stayed awake longer. She wanted to pry answers out of him. She had questions about his time with the Conexus, when he had been linked directly to their hive-mind collective. Ever since Dr. Randall had unhooked Tex from the Conexus, he was acting distant and short-tempered. Erika wondered what had really happened to him during his time with the Conexus. And what did he mean when he spoke of struggles for humans to come and the knowledge he got from the Conexus? She hoped he would answer these questions and more when they got to Aunt Dana's.
The dribble of rain became a hailstorm. Peanut-sized ice balls pinged the metal roof of the truck. Within minutes, the hail turned into a deluge. Erika turned the wipers to full blast, but that only smeared the windshield faster. The Tex blob remained eerily quiet and unperturbed.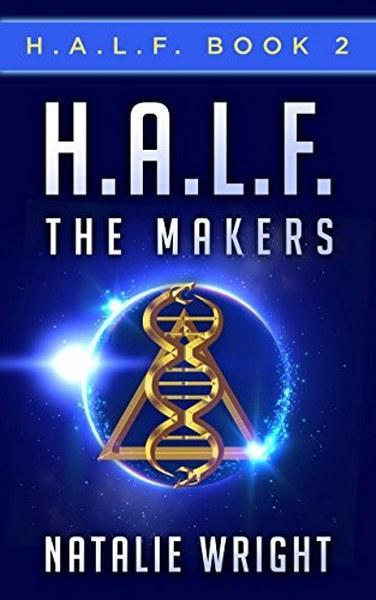 The Makers
H.A.L.F. Series Book 2
"Conflicts with alien races are given enormous depth in this engrossingly
written science fiction novel." ~
Forewords
Clarion Reviews
Goodreads * Amazon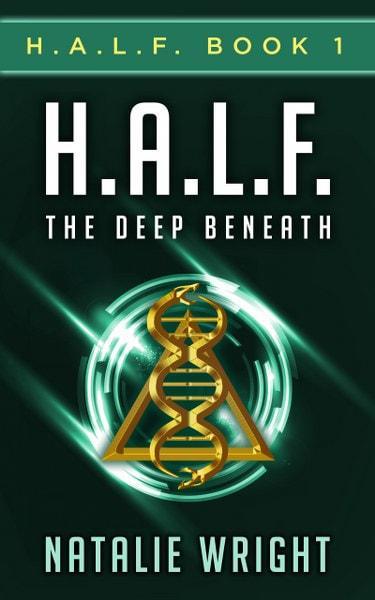 The Deep Beneath
H.A.L.F. Series Book 1
Can a Human-Alien Hybrid, Created to be a Weapon, Save us from a Secret
War we Don't Know is Coming?
Library Journal eBook Selection
Goodreads * Amazon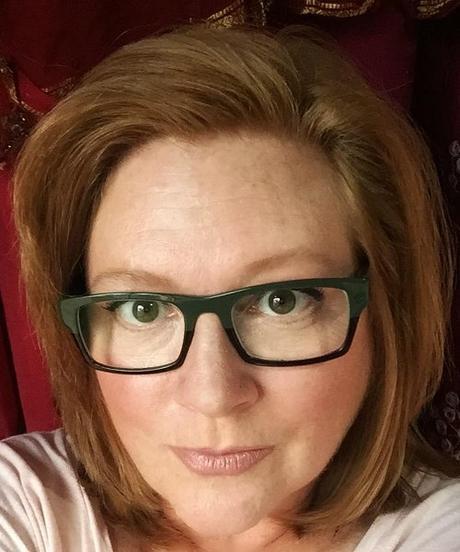 Natalie is the author of the award-winning science fiction series H.A.L.F., and The Akasha Chronicles, a popular young adult fantasy trilogy with over 2 Million reads on Wattpad. She lives in Tucson, Arizona with her husband, teen daughter, and two cat overlords.
Natalie spends her time writing, reading, geeking out over nerd culture and cool science, and meeting readers and fans at book festivals and comic cons throughout the western United States. Natalie appears frequently on radio, podcasts and vlogs such as The Speculative Fiction Cantina, Front Row Geeks and iHeart Radio.
Website

*

Facebook

*

Twitter

*

Pinterest

*

Google+

*

Amazon

*

Goodreads

Follow the tour HERE

for exclusive excerpts, guest posts and a giveaway!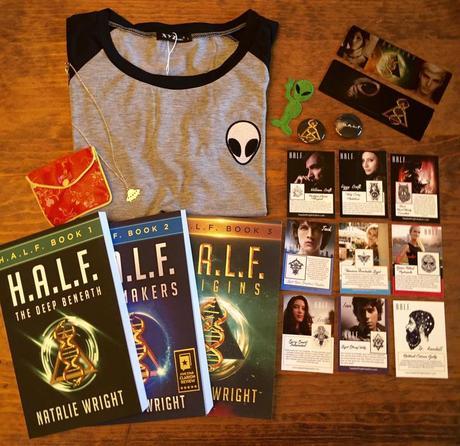 In celebration of the release of ORIGINS, the third and final book in the H.A.L.F. series, all pre-order customers have the opportunity to receive the following exclusive goodies:
●

  

A full-color, digital book extra, Lost Chapter and Cut Scenes. This book contains the author's commentary on cut scenes as well as photos illustrations. This book is only available to pre-order customers.●

  

A video retrospective of the H.A.L.F. series, complete with "soundtrack" for the series, an author interview, and tons of photos and illustrations documenting the series.




INSTRUCTIONS

:




It's simple to obtain the goods. All a customer has to do is:




1.

Buy the book in any format. Digital, paperback, hardcover, or audiobook, and at any retailer.




2.

Email a copy of the receipt (again, in any format—photo, screenshot, email receipt, etc.). Email the receipt to:

[email protected]




That's it. The author or her representative will follow-up and send the customer the awesome goodness of free gifts!


Additionally, every pre-order customer that avails themselves of the pre-order giveaway will automatically be entered into the ORIGINS Launch Mega Giveaway and have the chance to win the following:
●

  

GRAND PRIZE

:

1 Winner will receive the following: $100 Amazon Giftcard + Signed, Hardcover copies of the entire 3-book H.A.L.F. series + branded book swag, including metal bookmarks, complete set of H.A.L.F. Character Trading Cards®, keychain, and buttons + non-branded, retail swag themed to the book. Retail value of this prize is $240+


●

  

FIRST PRIZE

:

1 Winner will receive: $25 Amazon Giftcard + Signed, Paperback copies of the entire 3-book H.A.L.F. series + branded swag (as listed above) + non-branded swag. Retail value of this prize is $75+


●

  

10 Runner-Up Prizes

:

10 Winners will receive: A gifted copy of Amazon Kindle version of an eBook of the reader's choice from among Natalie Wright's published, single-book works (Emily's House, Emily's Trial, Emily's Heart, The Deep Beneath, The Makers, or ORIGINS). Retail value of this prize if between 99¢ to $3.99 (depending on book chosen and price at the time gifted).




Rafflecopter for Mega Giveaway

(runs 8/24 - 9/15).

You have permission to use the embed code or link to place this on your blog/Facebook page, etc.


a Rafflecopter giveaway