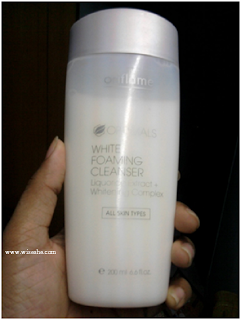 This is Optimals White Foaming Cleanser by Oriflame.
Product Claims:
Fair, light and bright skin is the dream of almost every girl. Therefore today I'll review one of my favorite products that Whitening Foaming Facial cleanser claims to cleanse and clarify the skin. It also claims to lighten the skin as it contains Liqurice Extracts and Whitening Complex.
Shelf Life:
3 years from the date of manufacture.
Price:
Rs 449.00. You can even expect some good discounts when it comes in the catalog.
Quantity:
200ml
One bottle can last up to 3- 5 months if you are using it on regular basis ( depending on the usage).
Packaging:
The packaging is very sleek & subtle. Its bottle is white in color with a matt finished silver – gray cap. The cap can be easily twisted in order to open and close. You just need to remove the cap and pour it to your hand through the small hole opening. Shape of the bottle is long and slightly flattened to ensure easy and comfortable grip.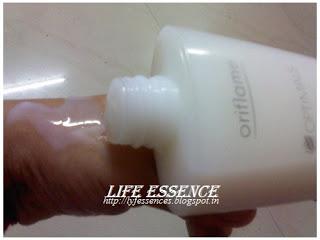 Directions to Use:
·

  
Apply it to wet skin.
·

  
Massage for few minutes to form rich lather.
·

  
After few minutes rinse – off with Luke warm water.
Experience:
My experience while using it very nice. It made my skin soft, lightened the marks and pigmentation, cleared sun-tan, toned and hydrated the skin well. It is milky white in color. The texture is smooth, similar to that of a lotion. It feels non- sticky, milky white, light- creamy semi- liquid. While using one can experience mild bleach like smell. Even if you are very sensitive to smells, this is the one that can manage. It does not seem to be perfumed so don't expect the smell to resemble any floral or spicy or any of the fragrances you could like. It doesn't lather much but the creamy lather works well. The foaming cleanser is extremely mild so I don't think anyone can face any problems. Incase your skin is extra sensitive and you are scared to try new products, you can go for a patch test, though the product does not suggests so. As it's a facial cleanser the prime areas to use is on face and neck. However I used it on my arms as well in order to get even skin tone. After cleaning your face with the cleanser, you will find your skin softer, cleaner, and light in complexion and slightly toned. The natural moisture required by the skin is maintained.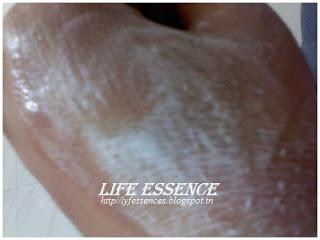 Pros:

·

  

The bottle's shape makes it very handy and one can easily carry in there vanity or purse.

·

  

It can be used by any gender i.e. male or female.

·

  

It is suitable for all skin types: Normal / Oily / Dry or T- Zone skin.

·

  

With the first use itself your skin gets at least one tone lighter.

·

  

Sun-tan and sun-burns are also visibly reduced with the regular usage.

·

  

Lightens pigmentation and marks.

·

  

Softens & tones the skin.

·

  

Better results than it claimed.

·

  

Regular use evens the skin tone.




Cons:

·

  

Lactic Acid and Glycol used in ingredient might make you slightly addicted.

·

  

There is no box packaging for the bottle.

·

  

Smells similar to mild bleach.




Rating:

4.75 / 5




Will I recommend it to others:

I'll definitely recommend this product. It makes your skin lighter, brighter, well toned, helps you get rid of unwanted marks with regular use. A must have in a women's vanity to ensure that nothing can hamper your beauty.




Stay Beautiful….




-

Richa Madan Sharma

  <