As we all know that masks help improve face texture and glow. They help uplift the face by tightening the loose skin in and around the face and neck areas. Today we'll review Optimals Oxygen Boost Face Mask by Oriflame.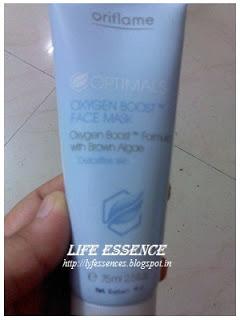 The Product Claim: 
This Oxygenating and moisturizing mask detoxifies and rejuvenates dull polluted skin. It is suitable for all skin types. It carries the oxygen boost formula which contains brown algae that is used to detoxify the skin.
Shelf Life:
Its boasts of a 3 year shelf life. Make sure you check the expiry date before buying this product.
 Price:
The cost of this product is 498 INR. If you are buying this product during discount or sale season you can avail it at a lower cost.
Quantity:
The quantity available for the mentioned price is 75ml.
Ingredients:
Aqua, Caprylic/Capric Triglyceride, Glycerin, Butylene Glycol, Dimethicone, Glyceryl Stearate, Peg-100 Stearate, Polyacrylate-13, Phenoxyethanol, Caprylyl Glycol,Tocopheryl Acetate, Dimethicone/Vinyl Dimethicone Crosspolymer, Polyisobutene,Parfum, Methylparaben, Xanthan Gum, Polysorbate 20, Sorbitan Isostearate,Propylparaben, Ethylparaben, Laminaria Digitata, Silica, Sodium Pca, Urea, Trehalose,Polyquaternium-51, Sodium Hyaluronate, Chlorphenesin, Ci 42090, Ci 17200.
Packaging:
It comes in a tube with flip cap that makes it easy to handle. This kind of packaging is found convenient to carry while traveling.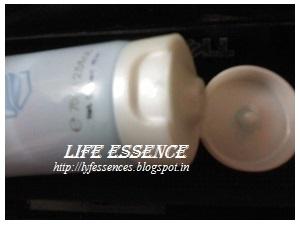 Directions to Use:
·

  
Wash your face and wipe it clean
·

  
Apply Optimals Oxygen Boost Face Mask
·

  
Leave it for 10 minutes. I left it on for 15 – 20 minutes and observed real good results.
·

  
Avoid the eye area while applying.
·

  
Wipe it off gently with a cotton pad.
Experience:
My personal experience with this product was very nice. It made my skin soft. In fact it also lightened the marks and pigmentation along my skin, cleared the sun tan, toned and hydrated the skin completely.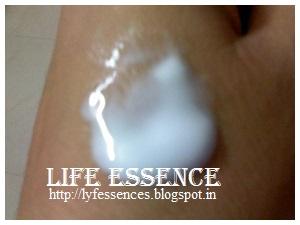 Colour: 
It is pale white with a tint of blue in color.
Texture:
The texture of this product is similar to that of a lotion.
The product is smooth and easy to apply. Interestingly this face mask does not dry up or get tight; instead it absorbs the moisture along the skin and removes its impurities.
Fragrance:
Caries a pleasant fragrance which is not very strong.
Sensitivity:
You might feel a slight tingling or burning sensation while using this product for the first time. You might even experience a few break outs along your skin. But as you start using this product regularly your skin will feel better and the break outs will disappear giving you a healthy and soft skin.
Effectiveness:
After using this product my skin feels heavenly. In fact now my skin appears bleached and moisturized. The best part of this product is that unlike other masks this does not get dry or harden itself. Hence you do not need to rub or scratch or peel the mask off to remove it. Now I have a softer and brighter skin. If you use it regularly it will help prevent the acne and lightens your skin.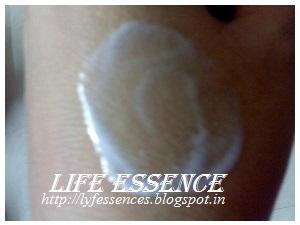 Pros:
·

  
It moisturizes your skin well
·

  
Easy to apply
·

  
Suitable for all skin types: Normal / Oily / Dry or T- Zone skin
·

  
Cures the after – effects of pollution
·

  
Detoxifies the skin
·

  
Prevents break outs along your skin
·

  
Serves what it claims
·

  
Travel friendly packaging
Cons:
·

  
A little expensive
The effects don't last longer
Rating:
3/ 5
Recommendation:
I feel it's a decent product. Don't expect much as it does not have long lasting effects. A quick fix product basically, useful when you don't have time for bleaching and cleaning! It can definitely be used as a basic hygiene regime as it detoxifies the skin. It is more of a treatment that helps improve the skin texture and helps maintain its healthiness.
Stay Beautiful….
-
Richa Madan Sharma