Organising my Bookshelves!
I finally decided that action needed to be taken. My books, which have slowly been crawling out of their assigned shelves and invading the rest of my bedroom, needed to be controlled! I decided I wanted to arrange them into YA, Graphic Novels and Adult Fiction/Classics. I wanted them to be in height order, which rules out keeping authors and series together due to having a mix of book heights, paperbacks and hardbacks. This was sad but I MADE THAT SACRIFICE FOR SOME SERIOUS HEIGHT ORDER!
Before:
My boyfriend posing with my, as yet, unarranged shelves and book pile: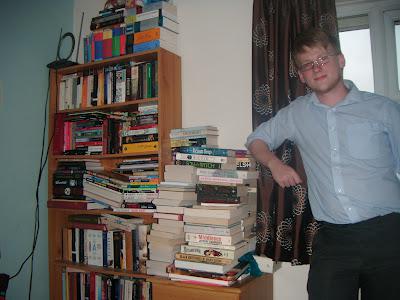 After:
The book pile has been tamed and placed into my cupboard. I mainly put the books I had read in here such as the 'Chaos Walking' trilogy and 'The Secret History'.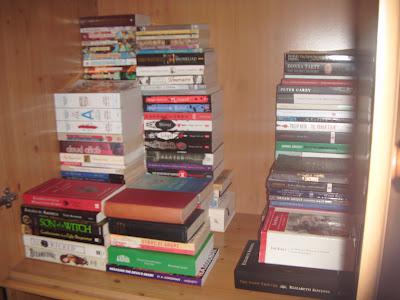 After: 
My nice, shiny, tidy new shelves!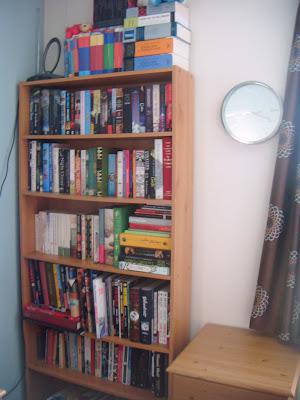 Top Shelf:
My 'Penguin Great Loves' boxset, my Harry Potters and my Anthologies. Oh and Hedwig, a Finnish hedgehog and mini Bagpuss.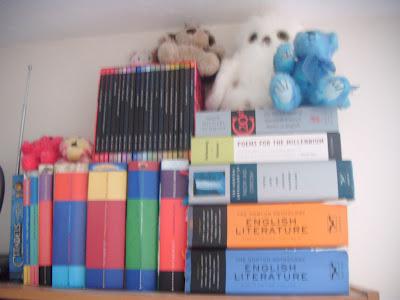 Second Shelf:
One and a half shelves of YA! Check dem out. Prizes for the person who can name the most! There is also some Neil Gaiman and Angela Carter up there and my beautiful Grimm's Fairy Tale's at the end in red.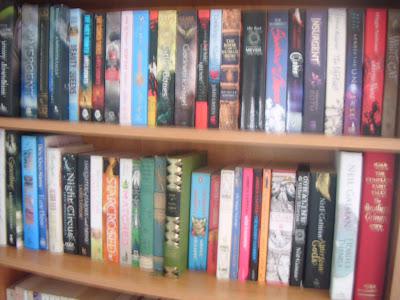 Third Shelf:
My pile of 'weird format' books on the right such as 'House of Leaves', 'Tree of Codes' and 'Captain Bluebear'. The rest is Adult Fiction; the green one is a sumptuous copy of 'Brideshead Revisited', next to it is a signed copy of Donna Tartt's 'The Little Friend'.The black and gold is 'Flappers and Philosophers' by F.Scott Fitzgerald. Then there is some Margaret Atwood, Nabokov and Kafka. Classy.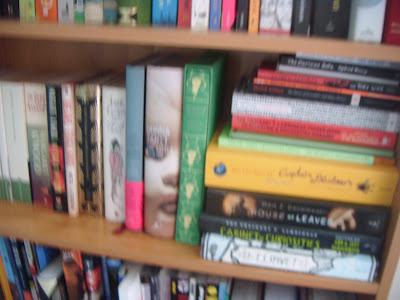 Fourth Shelf:
The Graphic Novel/Comic Book Shelf! Here you can see all my beautiful picturey books including 'Alice in Sunderland', 'Blankets', 'V For Vendetta', 'Maus', 'Watchmen' and 'Persepolis'. LOVE THEM ALL SO PRETTY!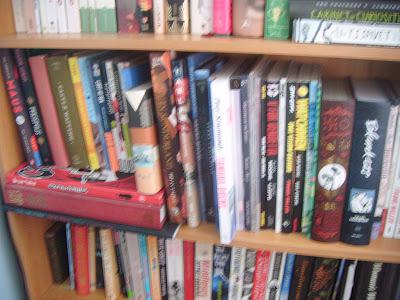 Bottom Shelf:
My 'BIG' books go on the bottom shelf. My beautiful, hardcover, illustrated books usually belong here. My lovely 'Charles Dickens' book, my illustrated 'Alice in Wonderland' and the 'Enchanted Dollhouse' pop-up book!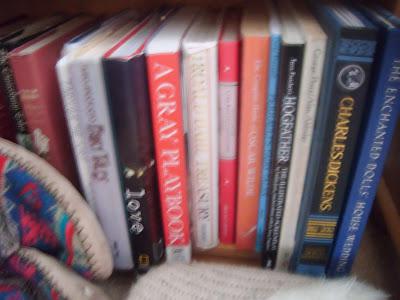 So yes, there are my pretty new lovely shelves! I'm so happy they are finally tidied and that I cleared a cupboard to make room for the surplus! I can't promise I'll be able to keep them this tidy but I will try!