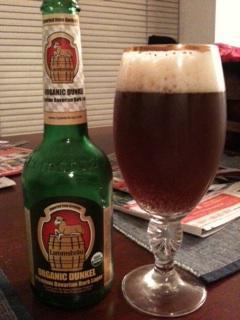 As mentioned in a previous column, the Germans have been serious about the purity of their beer (at least in writing) since the putting forward of the Reinheitsgabot (beer purity law) in 1487 and there are many breweries which uphold that tradition today.  As mentioned in the tagline of this website – People, Planet, Profit – no doubt there are a number of breweries moving in that direction.  It is difficult to imagine a brewery merging both concepts better than German brewery
Neumarkter Lammsbräu
, a brewery who's motto is "Ecology is long-term economy."
Neumarkter is a relatively small town located in Bavaria, a few miles west of Nuremberg.  The town is believed to have been a population center for almost 1500 years, though the first appearance of the town occurs in written documents dated from 1135.  Although home to Bavarian rulers during the 15th and 16th centuries, Neumarkter became a bit of an industrial town in the 19th century, eventually boasting the site of continental Europe's first bicycle factory.  In 1800, just before this boom period, the Ehrnsperger family purchased what was then the brewery and the guesthouse "Zum Goldenen Lamm" in Neumarkter.  The Brewery remained in business during both world wars, eventually leaving its original building in downtown Neumarkter.
In 1971, armed with a PhD and bold ideas, Franz Ehrnsperger took over the family business at the ripe age of 24.  By 1977, the company had begun its transformation into an eco-friendly brewery with the establishment of "environmental protection" as a company principle.  The first aspects of the brewery to turn eco-friendly were the "operations," including solar heating on the malt house roof and the conversion of the boiler to a natural gas hybrid.  Slowly, Dr. Ehrnsperger developed and incorporated organic ingredients, and by 1983, was brewing the company's first organic beers.  Other environmental aspects followed as technology improved, such as recycled paper and PVC-free bottle caps, and it even required the brewery to hire on an environmental manager in 1993.  The company continues to strive to "achieve economic success in harmony with ecological and social aspects," and hopefully will continue its success.
The Organic Dunkel, Lammsbrau's flagship beer, was one of the first organic brews.  Dunkel, from the German word meaning dark, is a traditional Bavarian specialty.  Lammsbrau pours a deep reddish brown, with some very nice head at the top.  On the nose, you can truly smell the malts, and it certainly has an earthy, "bready" scent with some faint ripe fruit, like plums.   An initial sip provides plenty of rich, sweet caramel with a slightly juicy tangy finish.  On subsequent sips, the tangy nature of the beer becomes more pronounced.  The dunkel has moderate carbonation, although it mellowed over its course, becoming richer, and creamier towards the end.  This is a superb dunkel, and at under 5% abv, makes for a good session beer.  Highly recommended.
Ratebeer score : 3.08/5
Beer Advocate score: 3.85/5
[Image by author]