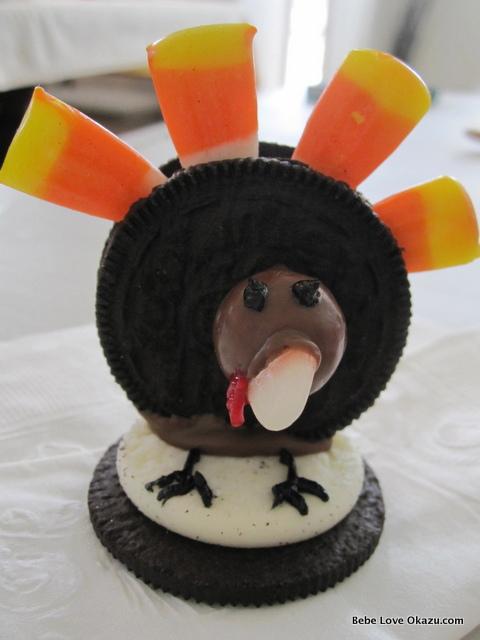 As Chick Hearn would say, "This game's in the refrigerator! The door's closed, the lights are out, the eggs are cooling, the butter's getting hard, and the Jell-O is jiggling…."
I'm not exactly referring to Saturday night's Lakers game where we beat Dallas (YAY – although I don't want to talk about Tuesday night's 2-point loss against Indiana) but with the exception of some turkey in the freezer, the door's definitely closed on Thanksgiving 2012.
After a rough start with a practically burnt turkey and yams that needed mopping-up off  the floor, we went on to enjoy a fabulous and delicious lunch with my family, and yet another delicious feast with my in-laws for dinner. It was a day of indulging in great food, family, friends and good times.
With all the excitement surrounding our Thanksgiving preparations, I had all but forgotten about a cute treat and activity that I planned for the little kids to make after our Thanksgiving lunch. It was midnight of Thanksgiving eve when I remembered these Oreo cookie treats that I watched Giada DeLaurentiis make on her Food Network show a few weeks ago, but I didn't have time to buy supplies. I decided we would just have to make these turkey cookies next year as I wouldn't have time to shop for all the ingredients, but thankfully a few things went wrong which required a trip to the market.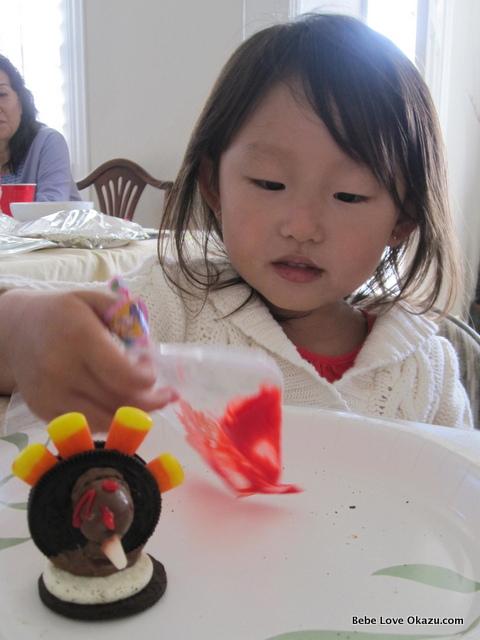 At 9:30 AM I received a phone call from Aya-chan who was really upset. After she texted me a few times about the yams giving her a hard time, it turns out they were very uncooperative, ultimately jumping out of her hands. Yes, she dropped the bowl of yams and they were all over the floor. I can laugh about it now, but she was so upset, I felt really bad for her. I knew everything would be fine and I told her as much that it was OK, and that lunch would be fine without the yams. But we decided she would look for canned yams at the market.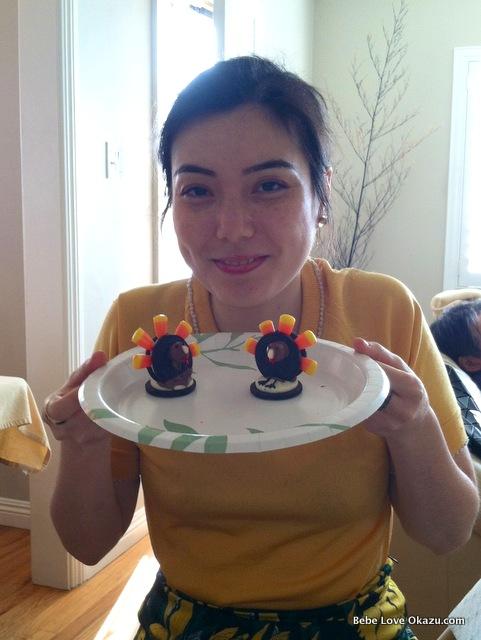 Photo Above: Bebe E kept referring to C-chan as her "special guest", who is in fact Aya-chan's cousin. Bebe E only wanted to make Oreo turkeys with her, and not anyone else!
When she went grocery shopping, Aya-chan picked up ingredients for the Oreo turkey cookies and she even made a few extra stops, just to find candy corn. Thankfully, we had quite a lot of whoppers from Bebe E's trick-or-treat bag, so we were able to make good use of those, and finally, I had chocolate candy melts in the fridge which was exactly what we needed for the "glue" to hold the turkeys together. Thanks to yams spilt on the floor, we were able to make Oreo turkey cookies!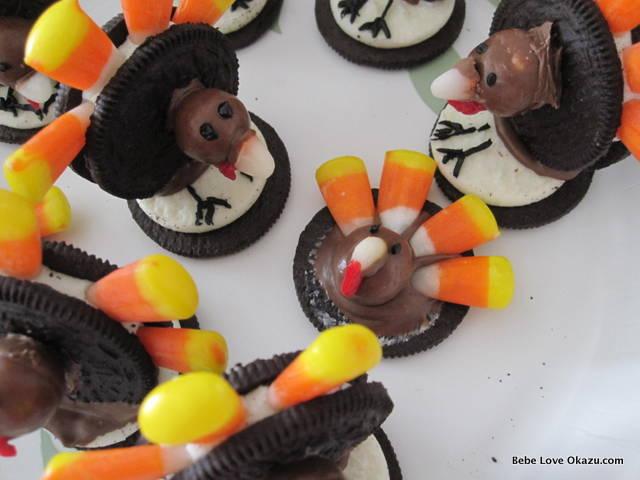 Photo Above: C-chan made mini turkey treats with the discarded cookies with no frosting. I thought they were quite cute.
As for our Thanksgiving disasters, my Auntie Sumiko found pre-cooked yams in the supermarket's deli section and those worked out quite well. We melted big fluffy marshmallows on top of the yams and all was right in the world once again. Well, almost…
As for the practically burnt turkey, it wasn't so bad. When I walked into my parent's kitchen, my brother looked at me gravely and said, "the turkey's burnt and what little drippings that are at the bottom of the pan are all burnt-looking."
It turns out that it was really the bottom of the pan that was burnt and there was still a decent amount of drippings in the pan. Also, the turkey wasn't blackened, which was a good sign. After a quick taste of the drippings, it still tasted of turkey and not char-burnt liquid so I decided we could still make gravy. While the turkey was a little on the dry side, it wasn't bad with a generous amount of gravy. All was well.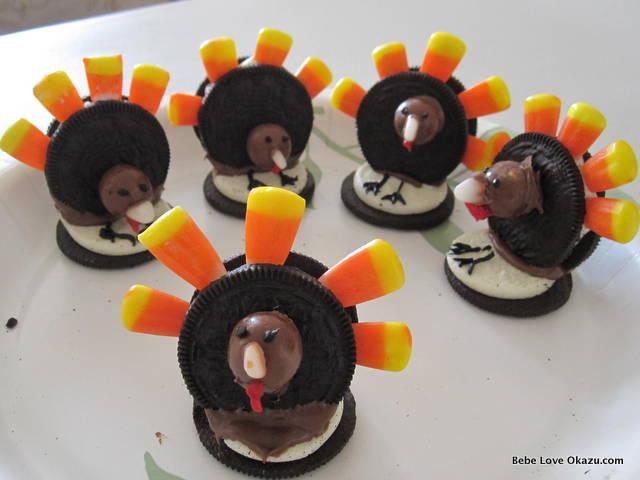 After lunch, the big kids: myself, Aya-chan, C-chan and Nene, all made Oreo cookie turkeys. It was a relaxing afternoon activity while the football game that we didn't care for played out in the background. For someone who doesn't like birds, the photo above starts to get a little creepy as the turkeys huddle together. It looks like they might be up to something. You know, it looks like they're conspiring or something, because we just feasted on their turkey buddy.Anyway, this was a really fun activity for the little kids (and us big kids) who enjoyed making Oreo turkeys, as well as Oreo dinosaurs. We all enjoyed ourselves and maybe we'll make these again next year and start a new tradition. :)
Print
Oreo Turkey Cookies Author: 
Judy | Bebe Love Okazu
Recipe type: 
Dessert
Serves: 
12
  Fun activity for making treats or dessert on Thanksgiving. Ingredients
24 Double Stuff Oreo Cookies
12 Whoppers
1 bag Candy Corns
1 bag Chocolate Candy Melts
Black icing (in tube)
Red icing (in tube)
Instructions
Separate 12 chocolate cookies from the stuffing and cookie. Set aside the side of the cookie with no frosting or stuffing.
Take two plastic Ziplock baggies and cut tiny holes in one corner of each bag. Place a small amount of black color icing in one bag, and a small amount of red icing in the second bag.
Place Whoppers in a small bowl and place Candy Corn in another bowl. Now you're ready to make Oreo Turkey Cookies!
Place 4 to 5 Candy Corn pieces into the side of the Oreo cookie so that the pointed tip of the Candy Corn is pressed into the frosted stuffing of the cookie. You can do this for all the cookies or assemble the cookies one at a time.
Melt ½ cup of chocolate candy melts in a microwave safe bowl a few seconds at a time. Mix the chocolate pieces periodically until completely melted.
Take one Whopper and dip it in the melted chocolate and place it in the upper center of the Oreo cookie. Hold and press for a few seconds to let the candy glue onto the cookie. This is the turkey's "head". Note: The Candy Corns should be the top of the cookie to look like the plumes of the turkey.
Next, break off the white tip of one Candy Corn and dip the flat end of the chocolate into the melted chocolate. Glue this "beak" onto the center of the Whopper candy.
Take the cookie with Candy Corn plume, and dip the bottom of the cookie into the melted chocolate. Glue this towards the back edge of the open faced Oreo cookie with the frosted filling facing up. Leave space in front of the turkey to make feet with icing. Make sure you hold the cookie in place and press down gently for just a few seconds to secure the cookie.
Using black icing, make the turkey's eyes and feet. Use the red icing to make the turkey's
Take the red icing and make the turkey's "wattle".
Your first turkey is done. Repeat and make an army of Oreo cookie turkeys.
If you're wondering what to do with the side of the Oreo cookie with no stuffing that was set aside. Feel free to eat it, or you can make "flat" turkeys by glueing on candy as in the photo on this post. Or, you can always eat the chocolate cookie. :)
3.1.02 3.1.02