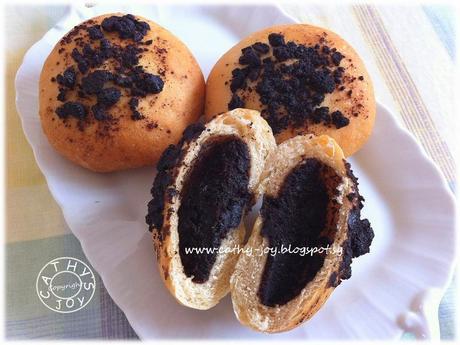 Blue Jacket flours are milled from top grades of hard red spring wheat (CWRS) from Canada. Today, I am going to use their bread flour & plain flour to make my Oreo buns. They were very soft & light in texture, absolutely yummy with the Oreo fillings. I simply could not stop at one bun! Give it a try if you are an Oreo fan =)
Oreo Buns
(recipe adapted & modify from Vivian pang Kitchen)  
Ingredients:
Dough
20g sugar
1/8 tsp salt
250g Blue Jacket Bread Flour
30g Blue Jacket Plain Flour
1/2 tsp instant yeast
130g water
15g Cowhead butter

*Direct method
*
Divide dough into equal portions. Roll out the dough & wrap with Oreo cream filling. Seal tight & shape into round. Place on silpat mat & proof for 1hr.
*Sprinkle
some crushed Oreo crumbs on top. Bake in preheated oven at 180C for 15mins.



Oreo cookies filling
30g
Cowhead butter


25g egg
120g Oreo biscuits (Put inside plastic bag. Together with cream filling crush with rolling pin)
*keep about 2 tbsp for topping 
2 tbsp milk powder
*Hand whisk butter till light. Add in egg and combine well. Follow the rest of ingredients. 
topping
2 Tbsp crushed Oreo biscuit from above