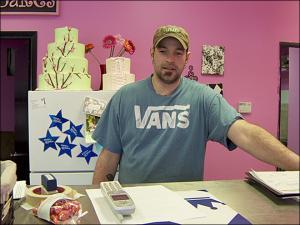 Sticking to his beliefs
Did Ore. baker break the law when he denied service to same-sex couple?
Komo News:  A Gresham baker is the subject of a state investigation after he refused to make a wedding cake for a same-sex homosexual couple.
Did Sweet Cakes owner Aaron Klein violate the law when he told the couple that he couldn't sell them a cake because "they were abominations to the Lord?"  That's what Oregon Attorney General's civil enforcement officers are looking into after one of the brides-to-be filed a complaint on Jan. 28.
The woman who filed the complaint said she had previously bought a cake from Sweet Cakes for her mother's wedding. It was fine. But when her partner went back for their wedding cake on Jan. 17, the owner refused.
Klein on Friday denied making the harsh statement, but admitted to a KATU reporter on camera that he did deny her service. "I apologized for wasting their time and said we don't do same-sex homosexual marriages," he said. I "honestly did not mean to hurt anybody, didn't mean to make anybody upset, (it's) just something I believe in very strongly."
But beliefs aren't enough to cover him under state law. The Oregon Equality Act of 2007 prohibits discrimination against people based on their sexual orientation and gender identity. The statute includes public accommodations, such as businesses.
Klein emphasized the importance of his religious beliefs, saying it outweighs his bottom line and the state law. "If I have to be to, I guess, be penalized for my beliefs, then I guess, well, that'll be what it is," he said.
The question now: whether his constitutional rights outweigh state statute.  "My First Amendment rights allow me to practice my religion as I see it," Klein said.
We asked Portland attorney Paula Barran whether this case falls under the 2007 statute. She said it did, but added that she did not know how the owner's religious beliefs would factor in.
"Statutes don't get to overcome constitutional protections, so if somebody had a religious-based reason for wanting not to trade with somebody, I think you have a really interesting test case for whether or not a statute like this can apply," Barran said.
There is no exception under the state's anti-discrimination law for religious beliefs. Ultimately, the case would be up for a judge to decide.  The woman who filed the complaint declined to comment to KATU until she receives further legal advice.
Of course the comments on the article are calling this man a homophobic. Heaven forbid he have a right to his personal religious beliefs. Being that this is Oregon, there's no doubt in my mind that the judge will side with the homosexual customer.
DCG